B.One Hub home automation controller review
Single-app control for all smart home devices.
One hub to rule them all
---
There are plenty of home automation devices available for the average user to just plug in and start using. But once you get a few, what you really need is a hub to bring them all together. The B.One Hub promises to do just that, and to save you a bundle on energy costs.
The problem is that most smart devices use their own unique smartphone/tablet app for control, and many use different underlying technologies, making them incompatible with each other. They also usually control just one or two types of devices.
Get connected
The B.One Hub is here to make sense of the confusing dog's breakfast of competing standards, protocols and apps that currently make up the DIY home automation options. But can it really be one hub to rule them all, and save you a heap on energy costs in the process?
The company behind B.One Hub, Adelaide-based Accumulus Energy Group (AEG), is aiming to disrupt the emerging home automation market. AEG's CEO, Anup Raghavan, says the B.One Hub will do this by providing a sophisticated home automation system that anybody can afford, which can also pay for itself within a year though home appliance energy savings.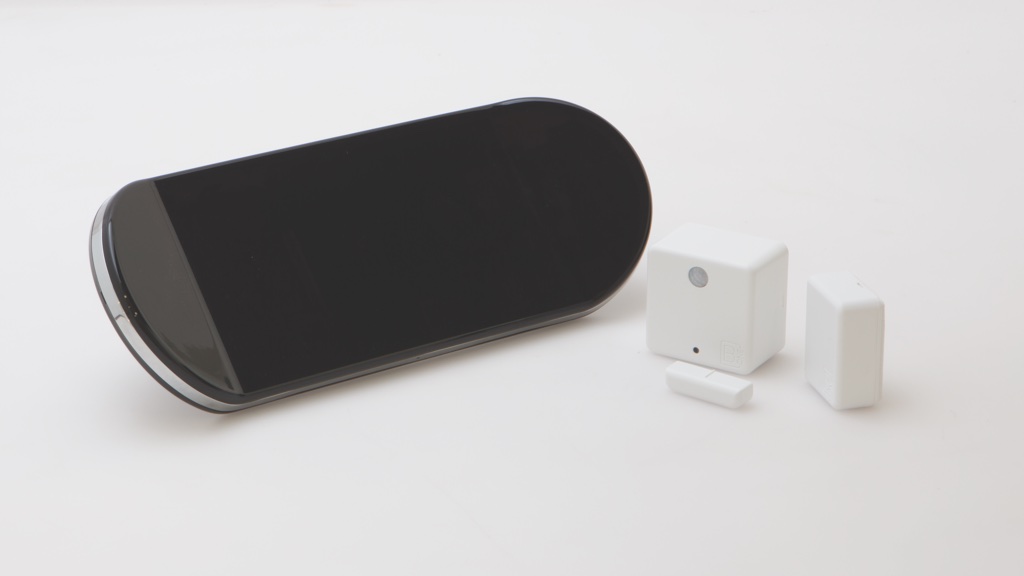 The B.One Hub with motion sensor and smart sensor.
Cut energy costs
As you add more network-connected gadgets to a home, the total cost of standby energy grows because IoT (internet of things) gadgets are always on and connected to your network, awaiting a signal to act. These include home security devices, lighting, watering systems, TV and entertainment systems and smart appliances.
Anup says the average Australian home uses between $2 and $4 per day just in standby energy from various electronic devices, which adds up to a significant cost over the course of a year. The B.One Hub is designed to start reducing this cost immediately.
It can tell how much energy is used by devices, allowing you to control and automate when they're on and off, which means savings on energy cost. This automation can be interactive, based on your use of the device. For example, motion sensors can activate lighting, music and other devices only when you're in the room and turn them off when you're not. But that's just the first step – B.One Hub is designed to learn, so it can manage things more intelligently. Anup says it gets smarter the more you use it.
He adds the B.One Hub can also make life easier by eliminating the confusion of juggling multiple remotes. The Hub can be trained to emulate all the remote controls in the home, consolidating their functions into just one smartphone app.
Automated security
The B.One Hub can integrate security for your home, giving you control whether you're there or not. A simple scenario is a visitor at the front door ringing the bell; this sends a notification to you on your smartphone so you can chat with the visitor and remotely unlock the door. Alternatively, a break-in scenario would have a door, window or motion sensor, which triggers a siren locally, notifying you via smartphone, turning on lights and recording the intruder via cameras.
Another away-from-home scenario is if you're on holiday, the home can be set up to behave as if someone was living there, with lights in different rooms turning on and off automatically, opening and closing curtains and operating TVs and music devices.
The B.One Hub made its debut at the US-based Consumer Electronics Show (CES) in January 2017 and is available in Australia now, but Anup says it's still growing in capabilities. Currently there are two options on offer:
B.One supports Bluetooth Plus, Z-Wave Plus, Wi-Fi (2.4GHz), IR (infra-red), and GSM/GPRS.
B.One Elite has all these and adds the Zigbee protocol.
Anup says a B.One Hub supporting Apple's HomeKit, which requires a special chip, will be available later this year. He says anyone with an existing B.One Hub that later wants to use the HomeKit will be able to swap it for the HomeKit model, although it'll mean re-doing the setup for the hub.
Hands-on
We had a hands-on look at the B.One, supplied by AEG, to get a feel for their vision of the Australian connected home. AEG also supplied a B.One motion sensor and smart sensor (for doors, cupboards, windows and so on) but not the B.One wireless siren.
The B.One was quite easy to set up and the app worked well with the supplied accessories, although we were limited by our lack of access to a wide range of third-party products to try it with. We did have a go at automating lighting using a LIFX smart bulb, but ultimately had no success in the short time we had available to try the product. However, we're planning a full comparative test of smart hubs, including the B.One, later this year and expect to have a range of various automation devices to ensure a more comprehensive evaluation.
Just getting started
Key to the hub's success in Australia is it being very easy for non-technical people to use and being highly compatible with other-brand automation devices in Australian homes. This is a work in progress, with more protocol support to come. It's still early days for off-the-shelf user-installable home automation in Australia and AEG is dipping its toe into the market slowly, with just a couple of trained suppliers who'll set it up in your home to get you started. This takes about two hours and is an optional but highly recommended extra. Anup says that doing it all yourself at this stage will limit what you can do with it. Eventually, however, he sees the B.One Hub as an off-the-shelf product in mainstream stores.
Anup warns not to buy the B.One Hub overseas and bring it to Australia as the local models are different internally and either may not work properly or use unauthorised frequencies. The B.One Hub you buy here is localised for Australia and New Zealand due to the need to meet regional approved standards for various chipsets it uses. You can buy components individually or kick off with a starter kit that includes a B.One Hub, wireless siren, two smart sensors and two motion sensors, then add other bits as needed.
B.One Hub
Price: $1150 (starter kit)
Contact: lightfactory.online
---
Join the conversation

To share your thoughts or ask a question, visit the CHOICE Community forum.