Kids' sports fees
Are your child's registration fees being used to subsidise older, professional players?
Sports fees a rip off?
---
Sport is a great way to get kids and families out into the fresh air, but it's not cheap, with registration fees as high as $400 for soccer teams. Parents have little choice but to cough up, but many are wondering exactly what they're getting for their money.
Coaching is generally done by unqualified volunteers who may have only a passing acquaintance with the game. Fields can also be in poor shape, and the quality of officiating can be questionable.
So where does the money go?
With 600,000 youth soccer players across the country all paying substantial fees, there appears to be a lot of development money on hand. But instead of progressing through a system that's meant to turn Australia into a world-class contender, many young footballers end up bailing out in their early teens.
In at least some cases, youth registration fees are apparently being siphoned off to bankroll elite regional teams, whose players may have a shot at the A-League or a national team. Yet there's little evidence that any of these teams or players are giving anything back to the youth teams that partly finance them, such as regular training or coaching sessions.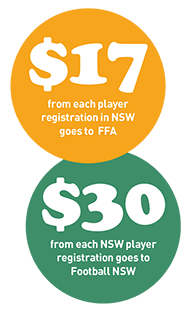 Former Socceroos midfielder and now Chief Soccer Analyst for SBS, Craig Foster, put a fine point on the issue in a blog post two years ago: "In some areas of the country, kids are paying registration fees of up to $400, which is ridiculous for a game that should always be available to all. This simply has to stop. It's counter-productive to football's progress." And he says it gets worse when it comes to selective youth teams, where fees can exceed $2000.
"The main reason for the [premier youth] fees is that premier and state league clubs are paying their first-team players hundreds of dollars a week and passing the cost on to the parents of their youth teams … The disgraceful gouging of parents must come to an end," Foster wrote.
He also pointed out that a "national study into the football economy is required to track where the registration fees go", and called on Football Federation Australia (FFA) to initiate such a project. So far though, that hasn't happened.
What is the Football Federation of Australia (FFA)?
Founded in 2004, FFA says in its mission statement that it has a "long-term vision is to establish Australia as a truly world-class football nation". In addition to helping build A-League and national teams, the association is accountable to the "football community".
According to its constitution, it's charged with governing state soccer bodies and leagues, and "encouraging football games at all levels". It appears to be a well-resourced organisation – its corporate partners include Qantas, Hyundai, Nike, Westfield, NAB and Optus.
While Foster didn't respond to our request for comment, FFA freely admitted "junior registrations" are a source of revenue for elite regional teams across Australia, most of which lack other reliable sources of revenue. "It's an issue we're trying to find a way to fix, but there's no overnight fix. It's a complicated beast," says FFR Public Relations Manager Mark Jensen.
In one example of the FFA's efforts to impose a national approach to youth clubs, it recently introduced an Australia-wide registration system. In the case of NSW, Jensen says FFA gets about $17 of each registration, while Football NSW gets about $30, a breakdown that's similar from state to state.
Of the 1.7 million youth players in the country (including schools and futsal), about 600,000 register with FFA via their respective clubs. The remainder of the money is then sent back to the clubs and is out of FFA's hands. "The new online system is purely an administrative tool so local clubs don't have to deal with the time-consuming task of processing hundreds of registrations," Jensen says.
Declining soccer skills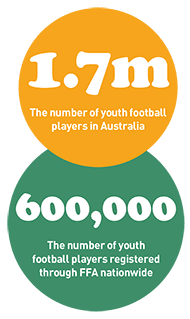 However, when it comes to financial management within clubs, centralised control has its limits. After FFA takes its cut of registration fees, it doesn't require transparency about where the rest of the money goes. Jensen acknowledges this is a problem. "Not all clubs disclose their costs online or in regular reports, and this is where you start seeing clubs gouging their players with fees as high as $400 or $500," he says. "It's definitely a concern for us. We want to make sure kids can get to the elite level without having to pay through the nose."
One way FFA is trying to cut down on gouging is by helping regional teams find ways to raise revenue other than through junior registrations, Jensen says. Another is by preventing regional teams from overpaying their players. To that end, FFA has proposed a salary cap on "home-grown" players – those who've come up through the junior clubs. However, it's still only a proposal at this stage. Jensen argues that FFA took steps in 2009 to arrest a noticeable decline in the skill levels of players aged 6-12, chiefly by appointing a national program technical director and offering free coaching clinics for parent coaches.
FFA expects the initiatives to pay off over the long term, but Jensen couldn't say when that might happen.
The US experience of soccer fees
It's a situation that will sound familiar to parents in the US, another country where kids play plenty of soccer, but which is a long way from World Cup glory. At his website Soccer Mom Manual, long-time US youth coach and blogger Mike Slatton says fees in the US have been on the increase since the late 1990s or so, when soccer clubs began paying coaches, hiring technical directors and requiring kids to buy jerseys for practice as well as for games, along with various other items of equipment.
Despite soccer being one of the biggest youth sports in the US, skill levels have remained stagnant - and Slatton thinks he knows why. "The greed that has permeated our country's youth soccer programs is holding up the development of our players by requiring every person who wants to play to pay outrageous fees that get more and more expensive as the players get older," he explains.
"If you leave out the horrible training and overwhelming payrolls, all that's left is four hours a week of toe taps on the ball, dribbling through cones, shooting on empty nets and a game on Saturday. At this pace, it would mean that our players would be in their 40s and 50s when they finally have the knowledge and experience to compete against European and South American teams for the World Cup trophy."
Closed books
Whether or not it's fair for community youth programs to help pay for the development of elite teams, it seems reasonable to expect a certain degree of transparency about where the registration money goes. CHOICE has heard from a number of consumers that insurance costs are sometimes cited as a reason for high fees, but how are parents to know whether this is the case if they can't see how much the association is paying in premiums?
According to the Corporations Act, any club or business qualifies as a "reporting entity" and must produce financial reports that meet certain standards if it's "reasonable to expect the existence of users who rely on the entity's general purpose financial report for information that will be useful to them for making and evaluating decisions about the allocation of resources."
In another instance, the regulator puts it more simply, saying reporting is required "if there are substantial sums of money involved". ASIC spokesperson Daniel Wright told us some soccer associations may be exempt from the act and instead be defined as incorporated associations. In this case, reporting requirements are determined by state agencies, are less stringent, and vary from state to state – but such associations may still have to lodge an annual financial statement.
In NSW, most soccer clubs are incorporated, says Laura Hofman, of the NSW Office of Communities. Under rules overseen by NSW Fair Trading, incorporated clubs must hold annual general meetings and release audited financial reports if annual revenue exceeds $250,000 or assets are over $500,000. (Clubs with less income and fewer assets need only submit a summary of their financial affairs to the AGM.) But there's no requirement that such reports be made publicly available outside the AGM, such as on the club's website.
Insider's view: The beautiful game turns ugly
In the youth-soccer-mad suburbs of greater Sydney, one CHOICE staffer and veteran soccer parent who wished to remain nameless has seen the results of the one-way support system play out firsthand.
Despite a steady rise in registration fees as his soccer-playing son grew older (he's now in his seventh year with a large suburban club), players continue to be coached by parents with varying degrees of soccer know-how, and are often officiated by young adults only slightly older than the players. Because of their obvious inexperience, these refs often come under withering attack from adult coaches when making a questionable call or, more likely, failing to make any call.
For this parent, the "beautiful game" has turned pretty ugly at times, especially when rougher teams have overstepped the boundaries of acceptable pushing, shoving, and sledging – and gotten away with it. With about 1000 players, this club is run by a delegate from the larger regional association with which it (and 16 others) is affiliated. This year, the cost was a comparatively modest $265 per player for the under-18s, and the online payment went to FFA. The club offers coaching clinics run by qualified personnel, but at an extra cost. It doesn't provide a breakdown of its finances to parents.
Insider's view: Football Federation of Australia (FFA) lack of transparency
One youth soccer club president in Sydney, who agreed to talk to CHOICE anonymously, believes FFA's efforts to centralise the administration of youth soccer aren't playing out well on the ground. He also says FFA added a three per cent charge when it introduced its mandatory national registration system and puts "pressure" on clubs to adhere to its latest initiatives. "From our point of view, we have to do what we're told," he says.
While this club president admits there's no transparency around the allocation of club fees or what FFA does with its cut of those fees, for him the bigger issue is lack of parental support. "We can't even get volunteers to help out at the barbecue, let alone help out with fundraising. It's the same 10 or 15 people who volunteer every season. Ninety per cent of the parents don't have any involvement at all in the club, and they seem to be the ones who do all the complaining about fees. People just have no idea what goes into it." The president is less forthcoming when asked if part of the rego fee was ending up in the coffers of affiliated regional associations. "I don't know anything about that," he says, although he is listed as the regional club's delegate on the youth club's website.
NSW Premier's Soccer Task Force
A recent report by the NSW Premier's Soccer Task Force included a breakdown of the big issues at one major body – the Illawarra Junior Soccer Association (now part of Football South Coast), which has 6700 players aged from 6 to 18.
High cost of registration for families.
Junior teams should have the best coaches instead of non-accredited volunteers.
Inappropriate and unqualified referees.
Lack of administrative and accounting skills at the club level.
Too many junior players burning out and leaving the sport at around age 14.
Poor technical skills, even in the top grades.
Too many factions and too much friction among organisations and clubs.
CHOICE verdict
In the end, the important question should be is your child's club coming clean on where its money is going? If it has substantial numbers and hefty fees, we think it should – especially if it's clear that quality coaching and officiating aren't part of the deal.
---
Join the conversation

To share your thoughts or ask a question, visit the CHOICE Community forum.