Dockless bikes and bike sharing
Are bike-sharing schemes such as Ofo, oBike, Reddy Go and Airbike a good idea?
Commuter convenience or bicycle bedlam?
---
Candy-coloured 'dockless' bikes are popping up (and flopping down) all over our cities. But just what are the ins and outs of bike-sharing schemes, and are they a good idea?
In this article we look at:
The case for dockless bike schemes
At CHOICE, we're all for schemes that make bike riding more accessible (we've even got our own share bikes here at CHOICE HQ), easing congestion on city roads and reducing carbon emissions. And the influx of privately owned, app-based bike-sharing schemes is promising to do just that. According to a White Paper released by Chinese bike-sharing company Mobike (which plans to launch on the Gold Coast in early 2018), bike-sharing apps have more than doubled the use of bicycles in China, and people surveyed by the company reported taking 55% less car trips since its arrival.
Unlike government-funded bike-share schemes, such as Melbourne Bike Share, the attraction of this service for commuters is that you don't need to go to a designated docking area to pick up or drop off the bikes. Similar to car-lending services like GoGet, you simply download the app, search your area for the nearest bike and reserve it for up to 15 minutes. When you find the GPS-enabled bicycle, scan the QR code to unlock the bike and off you go. Payment is made via the app.
The bikes are a cheaper option than a train fare – costing $1 to $2 for a 30-minute ride, though some require a refundable fee at registration (see 'Which bike to choose', below, for individual pricing) – and with thousands of bikes deployed in Melbourne, Sydney and Adelaide alone, if you live in a major city, you won't have to walk very far to find one.
"Bike-share schemes have a great capacity to help newer riders to be able to test out bike riding for transport without having to invest in a new bike and gear before they are confident riding will work for them," writes Bicycle NSW. "The more bike riders in any city or town, the more visible and safer riding is for everybody."
(Over)supply and demand
Overseas, the bike-sharing business is booming, particularly in China, where companies have flooded the streets with millions of bicycles. In Beijing alone, 2.3 million bikes have been released into the city's streets. Bluegogo, which was one of the top-three bike-sharing companies in China at the beginning of 2017 (and had planned to bring 99c bikes to the streets of Sydney) has reportedly gone bankrupt in its bid to become market leader. On its launch in China, the company pumped 70,000 bikes into three Chinese cities in one month.
Such an oversupply of bicycles is proving to be a major headache for authorities in Chinese cities, with users dumping broken bikes into large piles on the street, blocking walkways. In other countries, similar misuse of bikes is rife. In a Guardian article titled 'Manchester's bike-share scheme isn't working' the writer describes bikes in canals, bikes in bins, bikes stashed in people's backyards, and 50 bikes being vandalised in two weeks of Mobike's launch in the UK city.
In Australia, social media users have been snapping bikes 'parked' up trees, wrapped around street signs and floating in rivers. Melbourne man Tommy Jacket posted a satirical video on Facebook introducing the sport of oBike fishing in the Yarra river and likening the bikes to 'vermin'."They're like carp. You want them out of the water," he says.
Scott Walker, head of strategy at share-bike scheme Ofo Australia says, "Unfortunately, some people are choosing to engage in, what is quite frankly, subversive behaviour. It's a shame this minority is preventing people from using common-use bikes available to make people's lives and daily commutes easier and more enjoyable."
The bike-share services urge users to report any misuse or damage of the bicycles via their apps (some offer reward points for doing so). And as part of the terms and conditions, they ask that all riders obey Australians laws and regulations while using the service and to responsibly park the bike in a 'designated area' when finished.
CP Lim, head of oBike Australia says, "As bike sharing is still in its infancy, we are working closely with the government and other relevant stakeholders to instil civic-mindedness, promote cycling etiquette and responsible use among users. In the long run, we're confident that ongoing public education will help build a community of gracious and considerate riders."
What to look for and safety
Dockless bike companies claim to produce bikes with durability and rider comfort and safety in mind – though we haven't had the opportunity to put them through their paces in our labs. And while they claim to provide regular checks of their fleet, inevitably damaged bikes will be missed. Before unlocking the bike, give it a thorough check to make sure it's roadworthy (and to make sure you don't get stuck with damage someone else caused). This includes inspecting the tyres, frame and seat, and testing the brakes and the bell.
Also make sure that a helmet is provided, as Australian law requires that all riders wear a securely-fastened helmet. Lim says that oBike is looking at adopting lockable helmets to curb theft. If you find any issues with the bike, report it through the company's app and search your area to find the next nearest bicycle.
If you're involved in an accident, or the bike is damaged or stolen while in your possession, contact the police immediately and then report the issue to the company, quoting the police reference number given to you.
By using the bikes, you're agreeing to the terms and conditions, so as with any service give these a thorough read beforehand. By signing up you may also be giving permission for your data to be shared with third parties (reportedly an additional revenue source for the services). For instance, Ofo's Ts & Cs say, "If you have consented, we may collect and use your personal information for additional purposes such as ... informing you of other third party products and/or services that you may be interested in."
Which bike scheme to choose?
Depending on which city you're in (Sydney and Melbourne have the lion's share), there are a variety of services to choose from. We take a look at the major players, which may be rolling into a city near you soon.
Airbike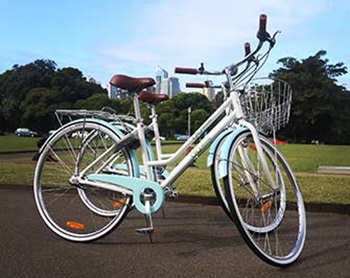 Airbike is a student-developed service for the University of Sydney. While only 50 bikes are currently available around the uni and on the streets of Pyrmont, founder Angus McDonald says there are plans to launch at universities around Australia. The service has no registration fee and it offers loyalty points for being a responsible user and reporting damaged bicycles.
Cost: $1.30 for 30 minutes.
Website: airbike.network (app available on iTunes and Google Play).
oBike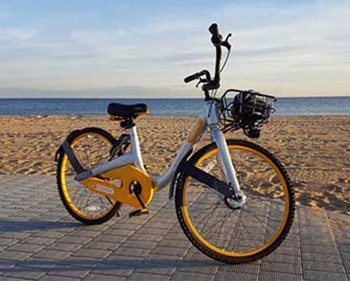 Singapore-based oBike plans to bring bike-sharing to 80 cities worldwide by the end of the year. Here in Australia it's deployed at least 2500 bicycles in Melbourne, Sydney and Adelaide. oBike also offers a points system for users doing the right thing, such as reporting a damaged bike.
Cost: $1.99 per 30 minutes. A refundable deposit of $69 required.
Website: o.bike/au/OBike (app available on iTunes and Google Play).
Ofo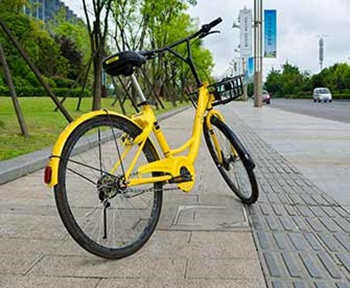 Chinese company Ofo was the latest to land in Sydney in November 2017 and is endorsed by Bicycle NSW. Ofo currently operates in 14 countries including China, Austria, Japan, the UK and the US. Here in Australia, Ofo currently has 700 bikes in Adelaide and Sydney. "Following on from our successful pilot scheme in Adelaide and our launch in Sydney, we have no other imminent launches planned but keep an eye on our Facebook," says Ofo's Scott Walker.
Cost: Bicycles are $1 for 30 minutes, with a maximum charge of $5 per ride.
Website: au.ofo.com (app available on iTunes and Google Play).
Reddy Go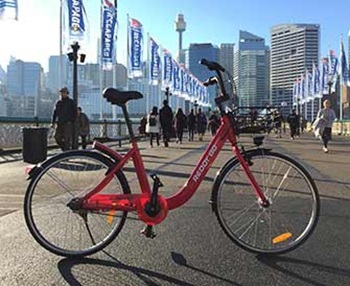 Reddy Go is currently only operating in Sydney with approximately 2600 bikes. "We plan to expand to more major cities across the nation in the next 12 months," says business development manager Tim Regler. Reddy Go allocates users a 'cycle score' on registration which can be "accumulated by carrying out bonus behaviours".
Cost: $1.99 per 30 minutes, plus a $99 membership fee on registration (Regler says this fee has been waived for the last couple of months so check on registering).
Website: www.reddygo.com.au (app available on iTunes and Google Play ).
---
Join the conversation

To share your thoughts or ask a question, visit the CHOICE Community forum.