Risky home loans on the rise - again
Banks have been approving home loans that can get you into serious trouble when interest rates go up.
A calculated risk?
---
Banks have been falling short of their responsible lending obligations, approving risky interest-only loans that can get you into serious trouble.
High demand for interest-only loans and banks failing to correctly assess your needs can create a dangerous mix if and when interest-rates go up again. Interest-only loans have much higher repayments once the interest-only period ends and expose borrowers to serious risks.
An ASIC investigation late last year into 140 consumer files from 11 lenders, including the big four banks, revealed:
In nearly one of three files, the bank had failed to consider if the interest-only loan met the consumer's requirements.
Banks were not properly assessing the consumer's real living expenses but instead relying on general benchmarks – a problem CHOICE also found in a recent shadow shop of mortgage brokers.
The corporate watchdog put pressure on the lenders and said all of them have changed, or are in the process of changing, their practices.
"The rest of the industry, including brokers, should now take note and swiftly review the practices they have in place to to ensure they comply with their responsible lending obligations," said ASIC Deputy Chair Peter Kell at the time.
But recent ASIC data shows that more than one in three new loans written in the current ultra-low interest rate climate are interest-only. In the first quarter of 2016, major banks approved $28.1 billion in interest-only homes loans. In the second quarter, interest-only approvals from the majors jumped to $35.2 billion.
The high-water mark was the second second quarter of 2015, when the big banks issued $43.5 billion in interest-only loans.
High risk is back in
Demand for interest-only loans grew by about 80% in between 2012 and 2015 and three other types of high-risk home loans are also on the market for those who have little or nothing in the way of a deposit. The loans leave very little margin for comfort if there's a change in circumstances, such as an interest rate hike or a decrease in income.
No deposit and low deposit home loans – currently used by a third of all new borrowers.
Family guarantees – offered by a raft of lenders including the big four banks.
40-year mortgages – available for borrowers who can't afford the repayments for standard 30-year home loans. (This one is about as risky as it gets.)
What you stand to lose
These types of home loan allow you to take the leap from renting to home ownership sooner, but they can also ruin your financial life. If you lose your job, get sick or are otherwise unable to keep up with the repayments, it may not be long until the bank asks you to sell your house or even repossesses it.
And if your parents or siblings guarantee your mortgage they may lose their house as well. As Katherine Lane, principal solicitor of the Financial Rights Legal Centre, told us, "the lenders always give themselves the option to sell either property, so it's possible the guarantor may lose their home first."
Warning signs
The Australian Prudential Regulation Authority also warned lenders during the interest-only home loan spike last year that they need to ensure borrowers can afford higher repayments when interest rates rise from today's historically low levels. Overseas regulators had similar concerns and acted on them. In New Zealand, loans to buyers with less than a 20% deposit have been limited to 10% of new loans since October 2013.
The combination of high-risk loans and a housing bubble is especially dangerous – and the RBA has warned that a fall in house prices is a real possibility. Borrowers with little equity could end up making mortgage payments they can barely afford, based on more than the house is worth.
How to protect yourself
Take these steps to protect yourself from getting into trouble with risky loans. Before going house hunting:
Check if you can afford the repayments if interest rates increase by three per cent.
Set up a high-interest savings account and transfer your expected mortgage payment with a three per cent hike factored in every week. This will accelerate your deposit savings and show you if you can afford the mortgage.
Once you've got the loan:
Try to make regular extra repayments to get a buffer.
Make lump sum extra repayments such as the refund from your tax return.
If your parents gave a guarantee, pay enough to make sure that they can get released from it as soon as possible.
Consider taking out a fixed loan or split your home loan between a fixed and a variable rate.
No deposit loans
Banks and other lenders have generally relaxed their lending standards. As of late last year, low and even no deposit loans were on the rise again. Consequently, home loans with less than a 10% deposit made up about 15% of all new loans approved.
One of the problems with a deposit of less than 20% of the loan is that you will be required to take out lender's mortgage insurance.
If you want to buy a $400,000 house and have only a $20,000 deposit, with you could be up for about:
$12,500 if you're a first-home buyer
$14,000 if you are up- or down-sizing
A handful of lenders allow you to add the insurance premium to the loan which would leave you with precious little equity in the home. If you paid a few thousand dollars more than the property was worth there's a real chance you wouldn't be able to repay the mortgage if you had to sell the home.
And while the lender is protected by mortgage insurance, you aren't. "If you have to sell the house and there is a shortfall, you are facing bankruptcy. The mortgage insurer who wants to collect the debt will not be afraid to enforce the debt which may include making you bankrupt," Katherine Lane from the Financial Rights Legal Centre told us.
One way to avoid paying mortgage insurance is to ask a family member, such as a parent, to guarantee all or part of your loan. A guarantee allows you to borrow up to 100% of the value of the home without paying mortgage insurance.
A guarantee can also be required:
if your income isn't enough to service the loan repayments
if you haven't got a good credit standing; for example, if you're a recent graduate and haven't had your job for long.
The lender will ask for a mortgage on the home of the guarantor. For elderly parents who are no longer in the workforce and who might have worked all their life to pay off the family home, a guarantee is a high risk strategy and certainly not advisable.
"Don't ever do it," says Credit Ombudsman Raj Venga, who is aware of cases where parents have lost their family home in these circumstances. "As you can imagine, this can be very traumatic for the guarantors."
Alternatives
If you're a parent and want to help your children with their loan there are alternatives to going guarantor.
Only agree to give a guarantee if you have enough savings to cover any problems that arise.
Give a gift to your children to help them with the deposit (but check on gifting rules if you're about to retire or on Centrelink payments).
Take out an unsecured personal loan and ask your children to make all or part of the repayments – the interest rate will be higher, but the risks are much smaller.
If things go wrong and the lender threatens to sell the house, get legal advice immediately. If you make a complaint to the Financial Ombudsman Service or the Credit Ombudsman Service the bank has to pause enforcement proceedings while the complaint is assessed.
The 40-year home loan
The riskiest of the three strategies is taking out a 40-year mortgage. As with any loan, you should aim to pay a mortgage off as quickly as possible. Extending a mortgage to 40 years doesn't help much with affordability, as the minimum repayment amounts aren't much lower. Instead, it can cost you thousands more in interest over the life of the loan.
What you pay for a $300,000 loan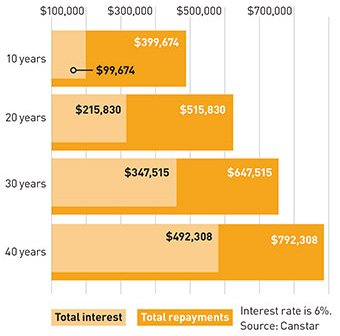 What you pay for a $300,000 loan:
click here for an accessible text-only version of this infographic.
Interest rates will go up and down during the term of your loan. According to Canstar:
7.6% is the average interest rate for standard home loans over the 20 years up to 2014.
9% and higher was the interest rate in 2008 at the peak of the last cycle
5.9% is the average interest rate for standard home loans in April 2014
How much will your repayments increase when interest rates go up?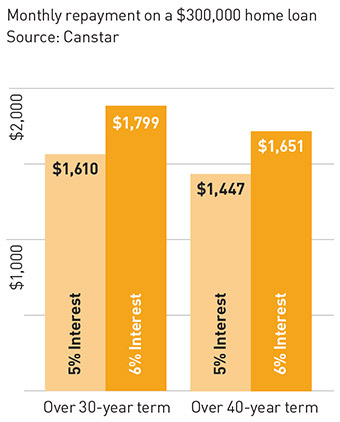 Monthly repayment on a $300,000 home loan:
click here for an accessible text-only version of this infographic.
On a $300,000 loan over 40 years any repayment savings compared with a 30-year home loan would be lost if the interest rate goes up from five per cent to just six per cent.
Want to know more? See other CHOICE reports on home loans.
---
Join the conversation

To share your thoughts or ask a question, visit the CHOICE Community forum.