CHOICE verdict
At less than half its recommended retail price, the Aldi Special Buy on the Ecovacs Deebot Ozmo 920 robot vacuum is certainly tempting. While we haven't tested this particular Ecovacs model, other models from the Ecovacs Deebot Ozmo 900 series have scored poorly in our expert tests. Our experts recommend that rather than being enticed by cheap prices or fancy features of robot vacuums, you should understand the limitations of this type of product and consider whether it's right for you before you buy. 
Price: $399

In big news for bargain hunters, Aldi is selling the Ecovacs Deebot Ozmo 920 robot vacuum cleaner on Saturday 11 September as a Special Buy for the discounted price of $399. It's available for a limited time only, while stocks last.
The idea of someone else doing the cleaning for once sounds enticing, but are robot vacuums actually all that effective? And is this a bargain worth snapping up?
Are the Ecovacs Deebot Ozmo robot vacs any good?
In our labs, we've tested two robot vacuums from the Ecovacs Deebot Ozmo 900 series – the 900 model and the 950 model (released at the same time as the 920 model around August 2019) – and both performed poorly, receiving CHOICE Expert Ratings of just 39% and 52% respectively.
These scores mean they are some of the worst performing robot vacuums we've tested. Both performed dismally for how well they pick up dirt from hard floors and from carpets (surely one of the things you're looking for in any kind of vacuum).
The Ozmo 950 model did score 'very good' for picking up pet hair and for detecting stairs, and it also has a mopping function, similar to the 920 model (CHOICE members can read the full review of the Ozmo 950 model).
Aldi's Ozmo 920 vs CHOICE-tested Ozmo 950
According to the manufacturer's website, the three differences between the Ozmo 920 and the Ozmo 950 are:
The Ozmo 950 has a bigger internal battery, and can run up to 200 minutes on one charge. The Ozmo 920 runs for 110 minutes.

With the larger battery, the Ozmo 950 has three levels of suction: Normal, Max and Max Plus. The Ozmo 920 has just Normal and Max.

The Ozmo 950 has a matte black finish, and the Ozmo 920 has a glossier black finish.
So, although we haven't tested the 920 model being sold in the Aldi Special Buy sale, the fact that the 920 and the 950 models are almost identical (and that the 950 model supposedly has superior features and still scores badly in our tests) is not a great indication that the 920 is a great bargain you should be snapping up.
Our experts recommend that you look beyond the cheap price tag and instead research how effective robot vacuums are in general, and whether a robot vac is right for you.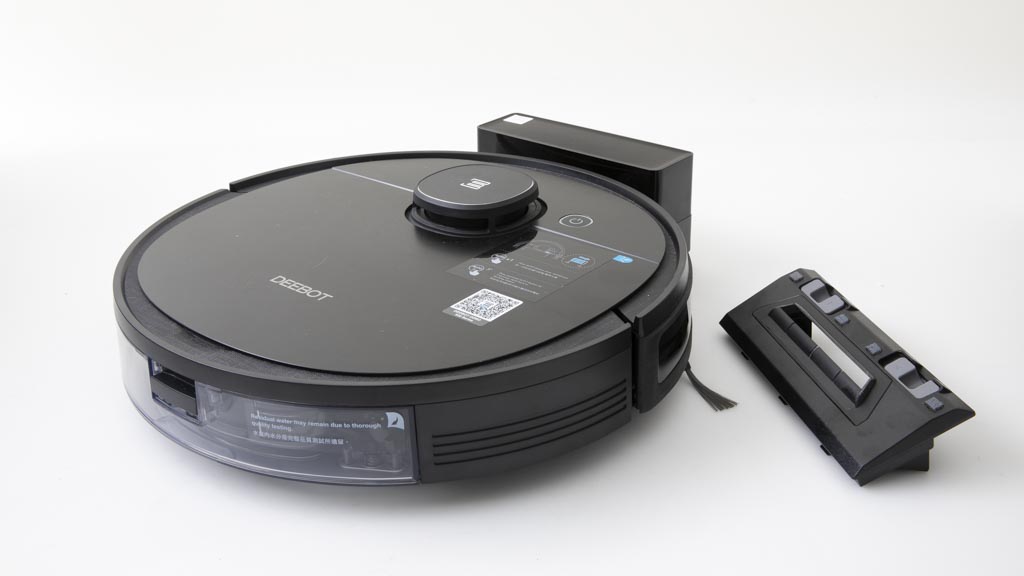 The Ecovacs Deebot Ozmo 950, which the manufacturer claims has some superior features to the 920 model on sale this weekend, scores just 52% in our current test.
What are the pros of the Ecovacs Deebot Ozmo 920?
As well as a mopping function, one of the selling points of this model is its 'advanced mapping' capabilities – its ability to create 'virtual boundaries' for areas you don't want to clean, and also app control. We don't test the effectiveness of the app control as part our review, but we do look at the mapping capabilities.
Our test expert Adrian Lini says a growing number of robot vacuums we've seen in our labs now include this type of technology.
This app screenshot shows how the cleaner maps the room.
"Basically, the robot vacuum will create a map of your home, which you can then view on an app," says Adrian. "The idea is that it then cleans more efficiently, and you can control areas you may not want it to clean.
"This technology is more effective on some models than on others – generally we find that an area has to be quite unobstructed for you to achieve a good clean with a robot vacuum."
Things that go bump
When reviewing robot vacuums, our testers look at how often the devices bump objects as they find their way around. Good sensors and cameras can help them avoid frequent and/or heavy collisions.
As for the Ecovacs models we've tested (the 900 and 950 models), our experts say they do hit objects, but only sometimes: "It usually slows down when within a few centimetres of the objects, making light contact."
This model includes voice activation via Google Home or Amazon Alexa, which are features we don't test in our reviews. Adrian says we've only seen one or two models in our labs with this capability.
Should you buy a robot vac?
Although they're convenient, our testing has found robot vacs still have a decent way to go compared with more hands-on stick, barrel or upright vacs you use yourself. Most models generally get lower scores for carpet cleaning and picking up pet hair on carpeted floors.
They also vary widely in price, so you'll have to decide whether to pick a budget model or splurge on a pricier one.
Experts: "It's not going to be a complete substitution"
CHOICE household appliance expert Kim Gilmour says, "Robot vacuum cleaners are really only useful for a top-up clean or for light cleaning after you've swept up or vacuumed properly. I wouldn't be looking to buy one as a replacement for a standard vacuum cleaner, or even a stick vac, as these are likely to do a better job, particularly if you have carpeted floors."
Robot vacuum cleaners are really only useful for a top-up clean or for light cleaning after you've swept up or vacuumed properly

Kim Gilmour, CHOICE household appliance expert
Adrian adds: "Robot vacs only really perform well on hard floors and often you need to be ready to make sure it doesn't get stuck or miss a spot. If you have hard floors, with a relatively open and clear space, and you're happy for the robot vac to do a quick clean everyday which you then supplement with a thorough clean yourself once a week or so, you might be happy with it.
"Basically, it's not going to be a complete substitution for cleaning or vacuuming yourself. But it might be useful for people who find vacuuming physically challenging or if you're so busy you can't always do it."
Owner: "I find I never really use it"
CHOICE staff member Melanie Stopic says she often finds she's doing as much work as her robot vacuum when she uses it.
"I bought one thinking it would be a really convenient way to lighten my cleaning load, as I imagined myself switching it on as I leave the house," says Melanie.
"In reality, I've found the opposite. For it to work properly, you really need to ensure your floors are pretty clear – my kids are always leaving toys or shoes around, so before I switch it on, I have to go around the house tidying first, so I find I never really use it."
Stock images: Getty, unless otherwise stated.
Join the conversation

To share your thoughts or ask a question, visit the CHOICE Community forum.