The Little Guy recycled stainless steel stovetop espresso maker ($699) is quite an impressive statement piece on your kitchen benchtop, but does it deliver professional barista results at home?
This shiny espresso machine has won several design awards but we wanted to test its performance for ourselves.
How it works
The Little Guy operates much like other manual stovetop machines and is very easy to use if you use the included instructional DVD. Two supplied coffee baskets give you the option of using either supermarket-bought coffee or freshly ground espresso-style coffee.
To get started, fill the boiler with water, add 20g of ground coffee to the basket then begin to heat. You can use an electric or a gas cooktop (so long as the flame doesn't exceed the circumference of the base). The Little Guy claims to be unsuitable on standard induction cooktops, other than on the specially designed Little Guy induction top which is sold separately ($199 RRP).
Each cycle produces two espressos. Once the espresso-making process is complete, there should be enough back-pressure in the machine to froth milk. We found that 100mL of cold milk took about one minute to heat and texture, however The Little Guy may not be ideal for frothing milk over this quantity as you may run out of steam. Note that you can only use the steaming wand after the coffee has finished extracting and it can't be used as a stand-alone function.
When it comes to repeat cycling, you'll need to let the machine cool down for around 20 minutes as it can become very hot. If you want to speed up the process you can place the machine under a running tap, but take care to pick it up using the rubber handles.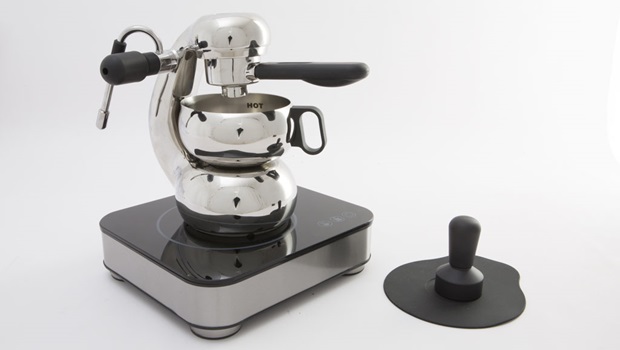 How we tested
To test The Little Guy, we used freshly ground medium-blend coffee beans and selected the professional espresso basket (the basket is the part of the machine that holds and filters the coffee). The professional basket has multiple holes and is only for very finely ground espresso-style coffee. A panel of six CHOICE staff sampled the resulting espresso, rating it from OK to good overall. Some found the espresso to be slightly watery and quite bitter however the general panel found it to be reasonably pleasant to drink and fairly neutral.
CHOICE verdict
The Little Guy needs very little cleaning and servicing, but there's quite a bit of time (and money) to be invested. The Little Guy will take about eight minutes to heat, with the extraction process taking approximately two minutes to collect around 60mL of espresso – adding quite a bit of time to your morning routine. Your investment will take you to just under $1000 if you buy The Little Guy espresso machine along with its induction top, which the manufacturer highly recommends for optimal performance.
Our out-of-the-box verdict is that while The Little Guy produces OK to good espresso, its taste won't quite blow you away. And although it looks good, it's quite an expensive piece of gear when some models recommended by CHOICE in our home espresso machines review can cost under $300.
Cost
$699, plus $199 for the optional induction cooktop.
Stock images: Getty, unless otherwise stated.
Join the conversation

To share your thoughts or ask a question, visit the CHOICE Community forum.