Shampoo for coloured hair
We test 28 shampoos for colour retention, including brands like L'Oreal, Pantene and Schwarzkopf.
Fading away
---
You're rocking your new hair colour, and you really don't want it to go down the drain in your first few washes. But hair care products can quickly strip hair dye; even spending time outdoors can fade your vibrant new shade.
Salon and supermarket shelves are stocked with 'colour care' products that make claims like "keeps colour looking vibrant", "10 weeks' colour protection" and "helps prevent colour fade" – but does using a colour care shampoo actually make any difference?
The test
We tested 28 colour care shampoos (listed in the table below) alongside Tresemmé Deep Cleansing Shampoo (a popular general shampoo for all hair types), Johnson's Baby Shampoo, and washing just with water. Samples of blonde human hair were dyed using three red hair dyes – Schwarzkopf Brilliance 43 Red Passion and L'Oréal Preference P67 Scarlet Intense Red, available from supermarkets, and Cosmo Service Personal Colour Intense Red Light Blonde, purchased from a salon warehouse.
The laboratory assessed:
Effect of washing by subjecting each sample of hair to 12 washes with each shampoo. The colour intensity was measured using a spectrophotometer before and after washing.
Effect of UV exposure by exposing a portion of each hair sample (after being washed 12 times) to the equivalent of six weeks' exposure to summer daylight. The colour change of the exposed and unexposed sections was then compared.
Down the drain
In our test, washing hair with water caused the least colour change after 12 washes.
When comparing shampoos, there's no clear winner. Although we didn't test these shampoos with their respective conditioners, the Nourish Coloured Hair Shampoo technically caused the least amount of colour change, while the Pantene Pro-V Colour Therapy was considered to have caused the most change. But can you pick it from the image?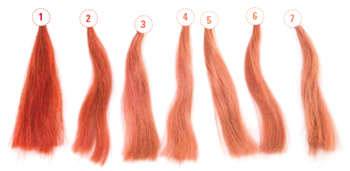 Hair sample 1 is dyed with L'Oréal Preference, pictured before any washing. The other samples show the colour change after 12 washes in the specified shampoo (or water).
Control - L'Oréal Preference
Water
Nourish Naturals Coloured Hair Shampoo
Schwarzkopf Extra Care Hair Repair With Liquid Keratin Ultimate Colour Shampoo
Tresemme Deep Cleansing Shampoo (popular general shampoo for all hair types)
Ecostore Dry, Damaged, Coloured Shampoo
Pantene Pro-V Colour Therapy
Even when it comes to UV protection, none of the shampoos appear to offer any specific benefits. However, we did find that of the three hair dyes chosen, the Schwarzkopf Brilliance dye held the colour better than the L'Oréal Preference, which had the most colour change. Statistically, the Cosmo salon dye wasn't better or worse than the other two.
CHOICE verdict
These colour care shampoos can be pricier than standard formulations (the regular Tresemme and the baby shampoo both cost under $2 per 100mL), but spending more doesn't mean you'll get better results. You can pay anywhere from $0.88 to $13.60 per 100mL for the shampoos we tested. Whether stated or not, these products want us to believe that you can have the 'just dyed' look for longer, but this isn't the case.
Based on our results, investing in these types of shampoos won't guarantee you the results you're looking for. So if you really want a 'colour care' shampoo, you might as well just buy a cheap one. Alternatively, why not buy a good general shampoo the whole household can use? If you're interested in the ethics of your shampoo, find out which brands performed the best in our ethical shampoo investigation.
Shampoos tested
| (Click here to order alphabetically) | Price per 100ml ($) | Size of shampoo tested (ml) | Price paid ($) |
| --- | --- | --- | --- |
| AG Hair Cosmetics Colour Care Colour Savour | 10.53 | 237 | 24.95 |
| Alchemy Ylang Ylang Shampoo | 6.66 | 225 | 14.99 |
| DeLorenzo Instant Rejuven8 Shampoo | 5.85 | 375 | 21.95 |
| Dove Hair Therapy Colour Radiance | 2.18 | 320 | 6.99 |
| Ecostore Dry, Damaged, Coloured Shampoo | 4.54 | 220 | 9.99 |
| Fudge Colour Lock Shampoo | 6.65 | 300 | 19.95 |
| Garnier Fructis Fortifying Shampoo Colour Last Revives Colour | 2.18 | 250 | 5.45 |
| Goldwell Dual Senses Colour Fade Stop Shampoo | 8.48 | 300 | 25.45 |
| Herbal Essences Colour Me Happy Vibrant Colour Shampoo | 2.20 | 300 | 6.59 |
| John Frieda Brilliant Brunette Colour Protecting Moisturising Shampoo | 6.40 | 250 | 15.99 |
| Joico K-Pak Colour Therapy Shampoo | 7.00 | 300 | 20.99 |
| Juuce Protect Colour Vamp Shampoo | 6.94 | 345 | 23.95 |
| KMS California Colour Vitality Shampoo | 9.65 | 300 | 28.95 |
| L'Oreal Elvive Colour-Protect Protecting Shampoo | 2.40 | 250 | 5.99 |
| Matrix Biolage Colour Last Shampoo | 7.24 | 400 | 28.95 |
| Nourish Naturals Coloured Hair Shampoo | 2.80 | 500 | 13.99 |
| Organic Care Colour Shield Ultra-Protection Shampoo | 0.88 | 400 | 3.50 |
| Pantene Pro-V Colour Therapy | 2.25 | 350 | 7.89 |
| Paul Mitchell Colour Care Colour Protect Daily Shampoo | 6.65 | 300 | 19.95 |
| Pure Colour Angel Bath Shampoo | 9.65 | 300 | 28.95 |
| Redken Colour Extend Shampoo | 7.65 | 300 | 22.95 |
| Schwarzkopf Extra Care Hair Repair With Liquid Keratin Ultimate Colour Shampoo | 1.72 | 400 | 6.89 |
| SP System Professional Colour Save Shampoo | 13.60 | 250 | 34.00 |
| Sunsilk Co-Creations Vibrant Colour Protection | 1.55 | 400 | 6.19 |
| Tresemme Colour Revitalize Colour Vibrance Protection | 1.28 | 900 | 11.49 |
| Vitafive CPR Colour Anti-Fade Shampoo | 7.32 | 300 | 21.95 |
| Wella Brilliance Shampoo For Coloured Hair | 9.60 | 250 | 24.00 |
| Yes to Cucumbers Colour Protection Shampoo | 2.93 | 340 | 9.95 |
---