Dyson Supersonic hair dryer review
Is Dyson's first hair dryer worth the high price tag?
Supersonic hair drying
---
Dyson – a household name for vacuums, fans and heaters – has set its sights on the hair care industry, releasing its very own hair dryer called the 'Supersonic'. At $499 it's the most expensive hair dryer we've come across, and it's leaving many wondering: is it any good?
CHOICE verdict
It all comes down to price. Are you willing to fork out $499 for the Dyson Supersonic hair dryer? At that price you can buy yourself a large appliance like a washing machine or dishwasher. But if you can afford it and your haircare regime warrants this type of investment we doubt you'll be disappointed.
Unique design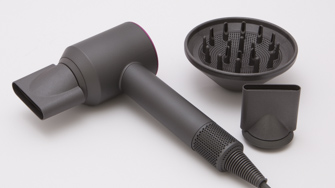 Overall, we were impressed with its performance and ease of use. To see how it stacks up against the rest, take a look at our hair dryer review.
Apart from its price tag, the stylish and unique design of Dyson's Supersonic hair dryer immediately sets it apart from everything else on the market. Also unique to this hair dryer is the fact that its filter and motor is built into the handle. This balances out the weight and shape of the dryer nicely, making it pleasant to hold.
It comes with three speed settings and four heat settings with LED indicators. It also has a cool shot function (a quick blast of cool air to help set your hair style) and three accessories – concentrator, smoothing nozzle and diffuser – which attach into place magnetically. The air filter has an easily removable cover and there are useful indicators to alert you when the filter needs cleaning or if there's a fault with the hair dryer.
Interestingly, the words ionic, ceramic or tourmaline, which we hear so much about when it comes to hair dryers, aren't mentioned when it comes to the Dyson. Instead, the technology behind it seems to be more about retaining the hair's natural shine and preventing heat damage to your hair in the first place. It does this through a 'glass bead thermistor'. This measures air temperature 20 times a second and reports it to a microprocessor that regulates the temperature.
Our test
Performance
We were eager to get our hands on on the Supersonic and we conducted three main tests to assess the performance of the hair dryer.
Drying rate: We measure how quickly the hair dryer will dry your hair and found the Dyson to be very good for this.
Airflow speed: We measure the range of airflow speeds at the lowest and highest speed settings, 15cm from the front of the dryer. We couldn't fault the Dyson in this test and it received an excellent result.
Temperature range: We measure the temperature range at the lowest and highest settings, 15cm from the front of the dryer – the Dyson was only OK for this test.
It's among the lighter hair dryers we've tested and it's the quietest.
Ease of use
We also loaned the hair dryer to a user panel of five CHOICE staffers to rate its ease of use. The trialists found it very comfortable to hold with excellent markings that were easy to read and understand. Operating the air speed and temperature controls while using the hair dryer was more difficult - the electronic controls means you have to move the hair dryer away to see what setting you're choosing. It also performed very well for styling.
---