Apple iPad 6th-gen review
Hands-on with the new standard 9.7-inch iPad, now with Apple Pencil support
Drawing attention
---
Though its actually the entry-level iPad, the sixth-generation model is arguably the most significant release since the original iPad upended our expectations of what a portable computer could be on its debut eight years ago.
The new 9.7-inch iPad is notable for several reasons: it sets a new, relatively low-cost entry point to the full-sized Apple tablet (at less than half the cost of the cheapest iPad Pro) and works with the Apple Pencil stylus. Plus, it heralds a renewed push by Apple into its traditional education stronghold, where the main challengers are cheap Chromebooks. We take a hands-on look.
In this article:
Though appearing identical to the previous model, this iPad has an A10 Fusion processor, the same found in the iPhone 7 series, for a claimed 40% speed boost (50% for graphics). Of course, with every new model you expect a decent speed bump. What's important is that it's powerful enough to enable a swathe of new augmented reality (AR) apps.
What's even more important is that the updated screen now works with the Apple Pencil. This brings a crucial iPad Pro capability to the mass market, which is a game-changer.
We've had considerable hands-on experience using the new iPad with the Apple Pencil, courtesy of Apple, and found it a very worthwhile update if you want the fluidity, accuracy and versatility of using Apple's own stylus.
Not just for artists
For everyday users, the good news is you no longer have to pay a double-price premium for a 10.5-inch iPad Pro or a 12.9-inch iPad Pro just to use the Apple Pencil (sold separately for $149). If you're artistically inclined, you can stop finger painting and start creating fine art using Pencil-optimised apps such as Pixelmator, Affinity Photo, Procreate, Adobe apps and many more.
But non-artists also benefit. You can use the built-in Markup feature to instantly annotate photos, PDFs and screenshots, or choose from a fast-growing batch of Pencil-optimised productivity apps, including Apple's own newly enhanced Pages, Numbers and Keynote. Pages, in particular, benefits with a new Smart Annotation feature that anchors handwritten changes to text so they stay attached as the document reflows or changes.
Pages also now lets you make interactive digital books for iBooks and a presenter mode gives you a text-only smooth scrolling teleprompter – which you can use for making speeches, videos or podcasts.
Apple's own Notes and Mail apps are also improved specifically for use with Apple Pencil, while standout third-party annotation and PDF markup apps optimised for it include Notability, GoodNotes 4 and MyScript Nebo. There are many more Pencil-powered apps to choose from though – to get a comprehensive list, type "Apple Pencil apps" into the search box on the App Store.
iPad's AR push
Put simply, AR brings virtual objects into the real world, and though the iPhone is often more conveniently located in your pocket, the iPad's size makes it a better AR device in many cases. The iPad's larger screen provides a bigger lens through which to view the AR world.
The promise of Augmented Reality (AR) in education is starting to become evident also, with the 6th-gen iPad's processing power showcased at launch by new education-oriented AR apps, including:
Froggipedia literally brings a virtual and very lifelike frog to the table, for examination and even detailed dissection.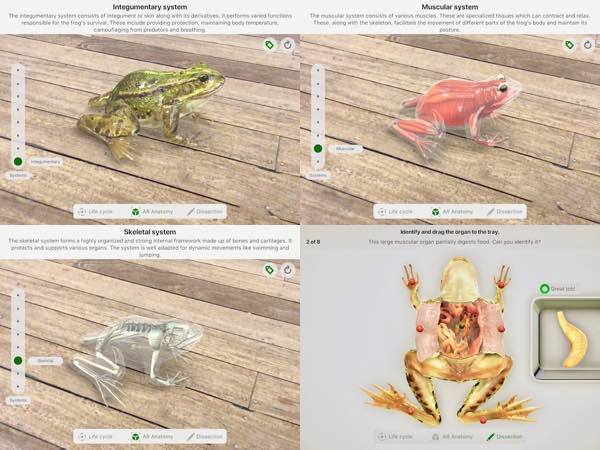 Four screens showing how Froggipedia lets you examine and even dissect a virtual frog.
Boulevard AR puts a life-size painting from London's National Portrait Gallery in your home. It's 8K (8000 pixels wide) so you can walk up to it and get a very close-up look and yes, you do need to make room for it. It sits on a virtual easel, so you can even walk around it.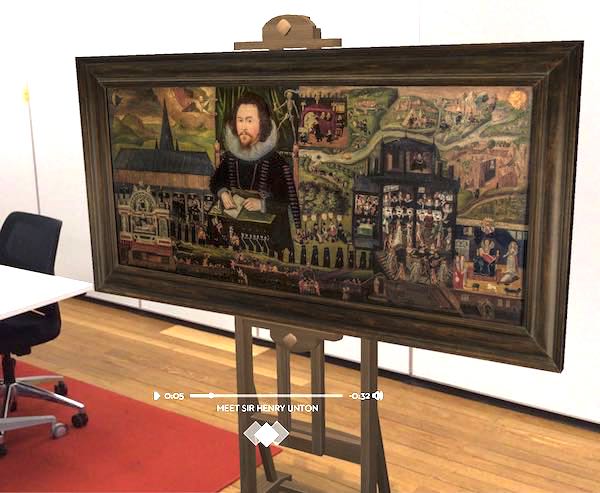 You can walk up to and even around Boulevard AR's portrait of Sir Henry Upton.
WWF Free Rivers is a detailed tabletop eco-simulation of a river landscape that you can interact with to see the impact of development.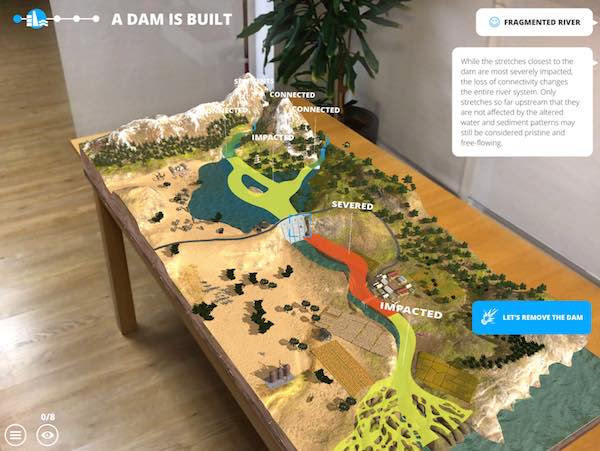 WWF Free Rivers is a detailed AR eco-simulation you can set up on a table.
AR advances
The potential of the iPad as a useful AR device was further illustrated with Apple's release of ARKit 2 at the company's Worldwide Developer's Conference (WWDC) this month. New features including object recognition, image tracking and Persistent AR, which allows users to leave virtual objects, such as a 3D puzzle or art project, in the real world and come back to them days or weeks later without having to start again from scratch.
The ARKit 2 software is built into the coming release of iOS 12, which includes a new Apple app called Measure that uses AR to quickly size-up real-world objects and a new file format for AR called USDZ, developed in collaboration with animation giant Pixar. It will make AR objects available across Apple apps including Messages, Safari, Mail, Files and News. You'll also be able to quickly place 3D objects into the real world to see how they look in a particular space, much like the existing IKEA app that lets you see virtual furniture in your home before buying.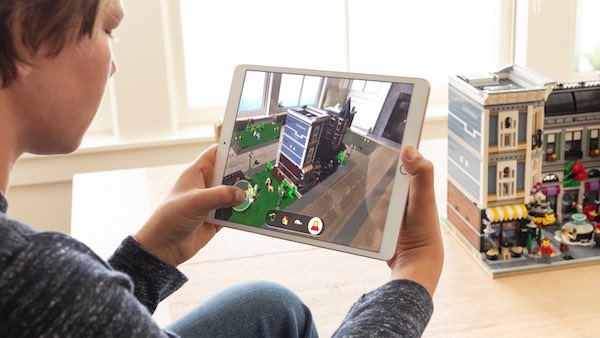 Persistent AR lets you leave virtual objects in the real world and come back to them later.
iPad vs iPad Pro
The question you might ask yourself is, should you buy this iPad or go for the iPad Pro? The answer is not as difficult as you might think. The 6th-gen iPad gives you all of what most people need, at less than half the cost of the cheapest iPad Pro. But at that price, as you'd expect, it misses out on some Pro features. But are they features you need?
The iPad Pro models have a bigger screen (10.5 inches or 12.9 inches); quad speaker sound (iPad has stereo), more screen features (TrueTone ambient light adjustment, P3 colour gamut and better anti-glare), faster processors, higher-res camera and faster screen (Apple's ProMotion 120Hz variable refresh rate), and Smart Connector for direct hookup to the Apple Smart Keyboard. They also have a laminated screen, eliminating the tiny gap between the Pencil tip and the line it draws which you can see on the iPad if you really look hard. For a pro user that tiny gap might be noticeable, but it's unlikely that most people will even see it, let alone care.
Which iPad is for you?
If you really need the bigger screens, you need the Pro models. If you're a graphics professional, you probably need the Pro models. If money is no object you might not need, but will probably get, the Pro models (don't rush though, as upgraded versions are just around the corner). For everybody else the greater bang-for-your-buck will steer you to the 6th-generation iPad.
Though technically not as fast as the iPad Pro, our experience in everyday use is that this new 6th-generation standard iPad has plenty of speed, so you're not missing out. It's designed to run every iPad app in the App Store smoothly, including the demanding AR apps that are becoming a drawcard for the platform. Apple demonstrated its increasing focus on AR with iOS 12, previewed this month at Apple's WWDC (worldwide developer conference).
Much of the focus of the fanfare around the new iPad's launch announcement was around Apple's push for it as an essential tool for students and teachers, but the reality is that, graphics professionals aside, if you want to use an Apple Pencil, this really is the iPad for the rest of us.
---
Latest Electronics and technology