How to change your Facebook privacy settings
What you can do to limit your personal data being shared by Facebook.
Lock up your data
---
Earlier this year, the Cambridge Analytica (CA) scandal found Facebook in hot water. It came to light that the Facebook user data of more than 87 million people was harvested by an app and sold to the CA data analysis firm, which used it for targeted advertising on behalf of the Donald Trump presidency campaign.
Fewer than 300,000 people agreed to the terms and conditions of the app that collected their information. The data of the remaining (roughly) 86.7 million was gathered through a loophole in Facebook's policies, allowing app creators to collect data about the friends of their app's users even if those friends had never used the app themselves.
The loophole has since been closed and Facebook has begun enforcing harsher restrictions on how user data can be gathered and used. However, the event has caused many people to ask just what data they're sharing and with whom. The good news is you can check.
Since the scandal, Facebook has introduced more options for you to control your data, but they're buried within Facebook's Settings menu. If you're interested in controlling your Facebook data, and you don't want to delete your account altogether, here are the steps you can take.
In this article, how to:
Change your privacy settings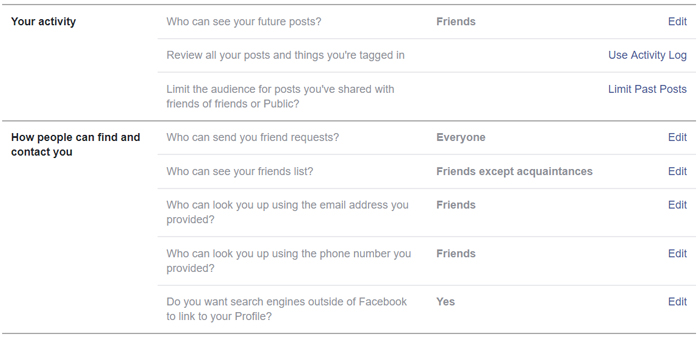 Check what other people can see about your Facebook activity. If your profile is set to public, your timeline, photos or friends list might be visible to anyone.
1) In the Settings menu, select Privacy on the left.
2) Read each line and select your level of privacy. Some, such as Who can send you friend requests, only let you choose between Everyone and Friends of friends. Others, such as Who can see your friends list, are more specific, even letting you create your own custom filter. From this menu, you can also hide your Facebook page from appearing in any external search engine results.
Block apps and websites from using your data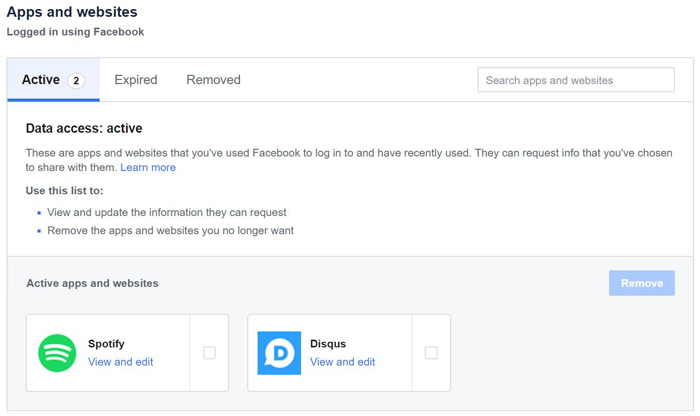 You may be taking a mental tally of all the Facebook apps you've clicked Accept to, or the websites you've signed in to using your Facebook account. The good news is Facebook has begun limiting who can use your data.
If you haven't used an app for more than 90 days, Facebook now considers any permissions you gave to have expired. If you still want to see and control which apps have access, follow these steps:
1) In the top right-hand corner of the web or mobile app, click the dropdown icon. Then click Settings
2) On the left, select Apps and websites. From this screen you can view your Active, Expired and Removed apps.
Active apps and websites are ones you've logged into within the last 90 days. These can still request from Facebook the information you agreed to share with them when signing up.
Expired apps and websites are also ones you've logged into with Facebook, but haven't used for more than 90 days. They still have access to data you've previously shared with them, but they can't make new requests unless you use them again.
Removed apps and websites are ones you've removed from your account since 2015.
Block advertisers from using your data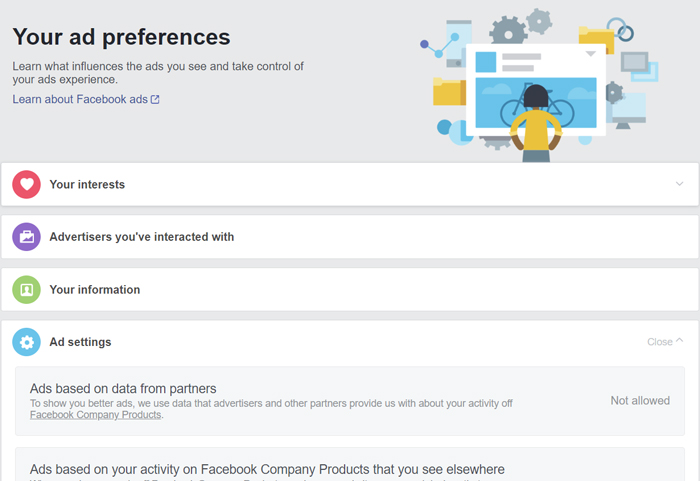 You can stop Facebook providing your data to advertisers directly.
1) Go to Settings via the dropdown icon in the top right.
2) Select Ads on the left.
3) Open the Your information tab and manage settings that share your relationship status, job title, education and interests.
4) Open the Ad settings tab and set those options to Allowed or Not allowed, depending on preference. You can also temporarily disable specific ad topics via the Hide ad topics tab.
Alternatively, you can go to the Your interests tab and make advertisements more relevant to you by pruning topics you don't like.
Location history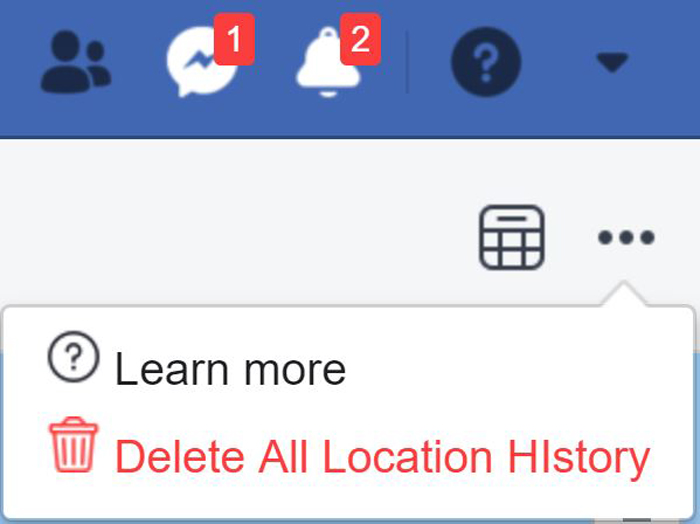 You may have given Facebook permission to track your location.
1) Go to Settings, then Location.
2) Enter your password to view your location history.
According to Facebook, your location history is private and can be deleted at any time. You can also delete individual days.
Timeline and tagging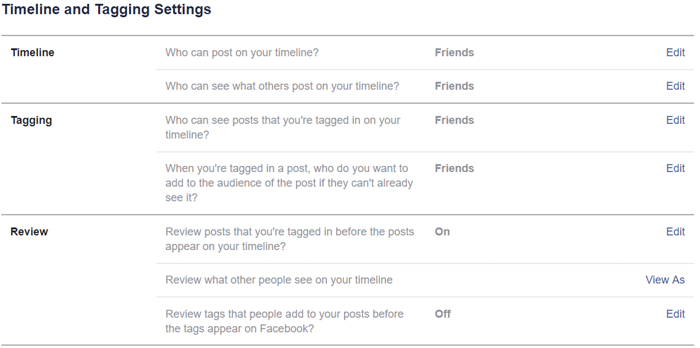 You can restrict whether content you've been tagged in turns up on your timeline without your permission. This isn't something that will change what data can be collected about you by apps and advertisers, but it's an easy way to keep unwanted tags being made public or visible to your friends list.
1) In the Review section, turn on Review posts that you're tagged in before they appear on your timeline.
2) Do the same for Review tags that people add to your posts before the tags appear on Facebook.
3) You can also click View as to see your profile as a stranger would. This helps you see any information you've made public that you'd rather not.
Keep in mind that reviewing all tags will increase the amount of hands-on attention your Facebook profile requires, as you'll need to give the OK before things become visible.
Read more:
---
Latest Electronics and technology
Join the conversation

To share your thoughts or ask a question, visit the CHOICE Community forum.