Kingston HyperX Alloy mechanical keyboard review
This $169 keyboard is designed for gamers – particularly first-person shooters.
The keys on the board go clack, clack, clack
---
Kingston is the latest company to throw a mechanical keyboard into the arena with its HyperX Alloy.
Gamer versions are a little different from everyday mechanical keyboards as they usually have additional features, such as hotkeys (keys that can be reprogrammed by the user).
The Alloy, part of Kingston's HyperX gaming range, aims to take things one step further, with a keyboard designed specifically for first-person shooter (FPS) players.
What's a mechanical keyboard?
Mechanical keyboards have been the boutique typing alternative to standard plastic models for decades. Each key has an independent switch that provides audible and physical feedback, which means you hear and feel each keystroke. This is opposed to basic keyboards, which are quiet but not as satisfying to use.
Mechanical keyboards have always been popular with serious typists, but there's also a large market among gamers who require fast, accurate keystrokes.
Alloy offers minimalist design
The Alloy tries to stand out from the pack with a supposed minimalist design, which eliminates the usual keyboard surround (bezel), leaving the keys standing up proud of the base. You won't find dedicated media buttons or hotkeys either, and while it certainly looks a little more bare bones than most keyboards, these changes don't translate into significant space savings, compared to standard keyboards.
However, these adjustments do make for a fairly light, mechanical keyboard that weighs less than 1kg, but it's not so light that it moves on the desk during use. Despite the minimalist build, the Alloy doesn't compromise on key size, spacing (pitch) or key travel, although letters and numbers are slightly rectangular. Unless you're dying for those dedicated media buttons (which are still included as function keys), transitioning across from a standard desktop keyboard shouldn't be difficult.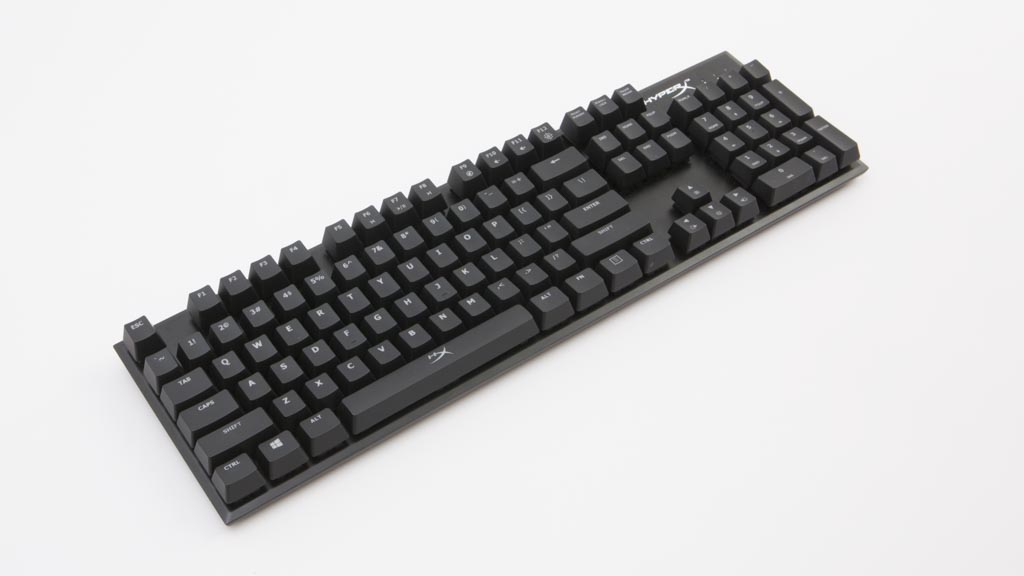 Function keys (F-keys) are positioned slightly differently. Instead of following the natural incline of the keyboard, they sit a little lower than the number row. This makes sense for an FPS keyboard, as shooter games rarely use the F-keys. If you play a broad range of games, particularly real-time strategy titles such as StarCraft, you may want to consider another model or brand, as these games can use F-keys more often. If you're in the heat of an intense online battle, that split second spent reaching a little further for a key can make all the difference.
Build quality
Switches under mechanical keys are available in a range of colours, which denote certain features. Cherry MX Brown keys, for example, are designed for limited noise, but with a tactile response. The Alloy we looked at uses the popular Cherry MX blue switches, which feel sturdy and responsive, with a loud (but satisfying) "click" on each keystroke. You may find this a little distracting during games that try to create a calming or terrifying atmosphere using low-volume, suspenseful and ambient sounds, such as survival horror titles.
Also, the Blue keys may register inconsistently when they're repeatedly tapped at high speed but novice and enthusiast players are unlikely to notice. Professional players and serious enthusiasts may want to check out the Red range, which is suited for rapid play.
The Alloy comes with a handy little key remover that makes cleaning and modification easy, and it also includes eight red textured replacements for primary FPS keys (1, 2, 3, 4, W, A, S, and D). These help identify the keys with touch or a passing glance, which is especially handy when you can't afford to take your eyes off the screen in the heat of battle.
Kingston has used good quality components, for the most part. The steel-topped base looks smooth with just enough reflectivity for a light red ambient glow, and the USB cable used to connect it to your computer (mechanical keyboards aren't wireless) is braided for added protection.
Beneath each key is a red LED light with adjustable brightness and six effects settings. You can change these using the function keys, with no additional software, which is a nice touch. Key plastic doesn't feel quite as nice as higher-end models such as the Filco Majestouch 2 ($225), but you're unlikely to notice unless you compare multiple keyboards side-by-side.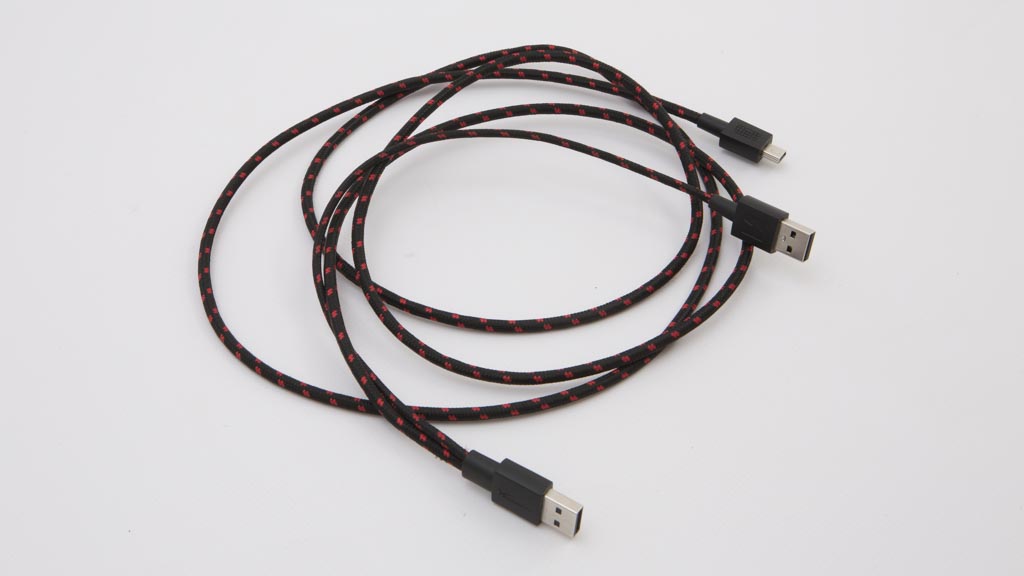 Bells and whistles
When you lay down around $160 for a pro-grade device like this, it's reasonable to expect a few extra bits and pieces that set it apart from your run-of-the-mill keyboard. Kingston has added some nice touches to the Alloy, but nothing that make it a "must buy."
"Game Mode" enables N-key roll over and anti-ghosting (independent key scanning when you press more than one at the same time) for greater response accuracy. It also turns off the Windows key, so you can't accidentally open the Start Menu mid-game. There's also an additional USB port on the back of the keyboard for phone charging. This draws power from a second connector attached to the cable. You will only need to plug both ports into your PC if you want to use the charger.
While you wouldn't normally associate keyboards with travel, the Alloy is surprisingly portable. It comes with a padded carry bag, and the USB cable is removable, which may make it a popular option for gamers heading to LAN (local area network) events.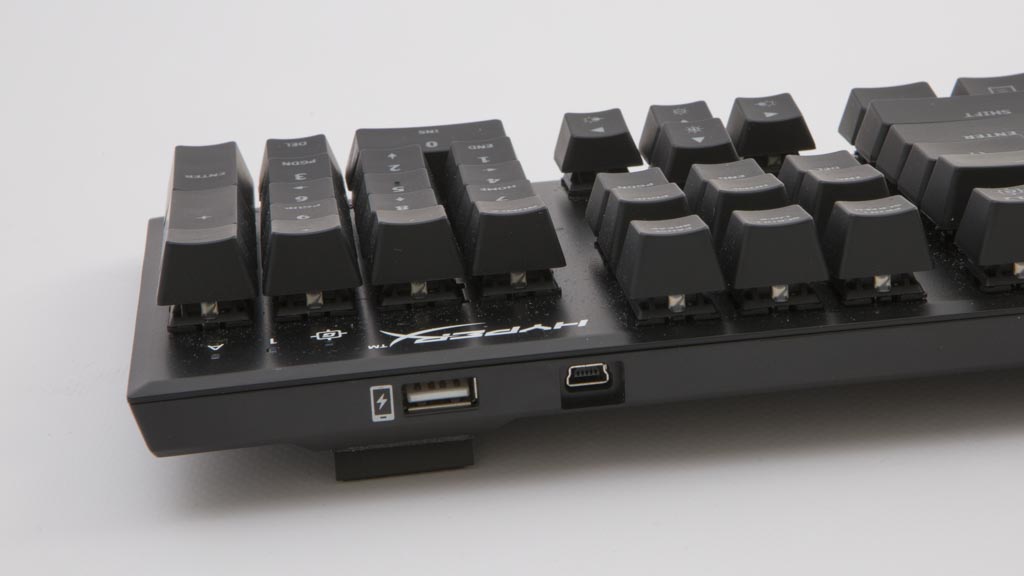 Verdict
The Alloy might not provide any major benefits for fans of shooters, aside from the F-row design, but it looks nice, it's responsive and typing feels natural. There's a rapidly expanding market of well-made mechanical keyboards, so it all comes down to whether or not this model feels right for you. Try to spend some hands-on time with the Alloy if you can, because personal preference is the only thing to go on with a keyboard like this, as it isn't any better or worse than the rest of the pack.
Compact keyboard alternative
If the Alloy feels like too much keyboard, you could always pick up the Alloy FPS Pro, which is a condensed version released in late 2017. It's more or less identical in terms of use, functionality and flaws save for the following elements which have been removed to cut down on size. The Pro doesn't have a:
Number pad
USB charge port
Carry bag
Replacement tactile keys for FPS controls
This shaves about 100 grams off the weight, and around $40 from the RRP bringing it down to $129. But the metal base and responsive Cherry Red mechanical keys, make for a sturdy, satisfying typing and gaming experience. It still feels solid, despite the lighter build.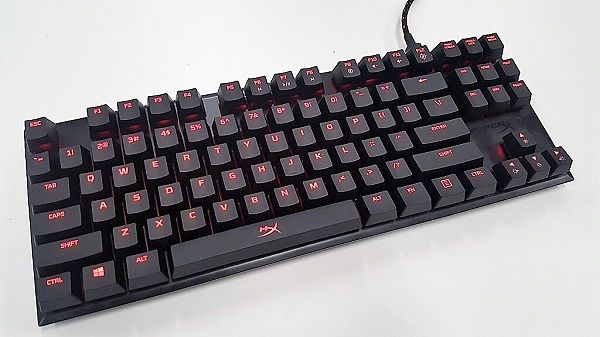 The Pro is squarely aimed at enthusiast and professional gamers looking for a keyboard that they can take on the road, with extra space to move their mouse. While it's certainly much easier to slip into a backpack or suitcase than the Alloy, HyperX should have included a carry case to stop the keys from popping off during transit.
For everyone else, it's the same as the Alloy sans the number pad, with a slightly lower asking price. So, perhaps consider if you're on a very strict budget, or can't spare the extra desk space that the full-sized model demands.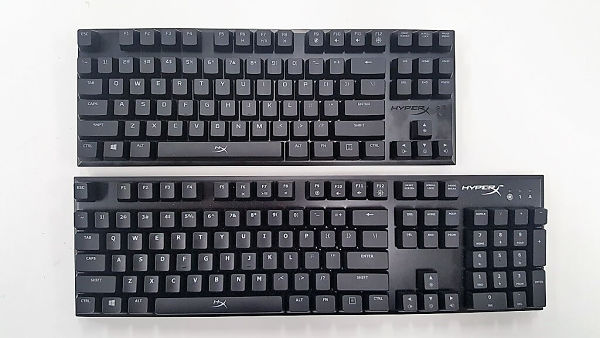 Alloy (bottom) and Pro (top) size comparison.
---
Latest Electronics and technology
Join the conversation

To share your thoughts or ask a question, visit the CHOICE Community forum.