Kensington Thunderbolt 3 Dock and Mobile Dock reviews
Kensington's laptop docks offer added security and multiple connection ports.
Lock it and dock it
---
How do you lock up your laptop to prevent theft?
The thin-and-light design trend means not all models these days come with the once-ubiquitous Kensington lock slot, nor room for much in the way of connection ports.
Kensington has the answer to both problems with its LD5400T Thunderbolt 3 Dock with K-Fob Smart Lock. We borrowed one from Kensington to test how it worked.
We also borrowed their SD1600P USB-C Mobile Dock, ideal for those on the move, to get a closer look at how it works.
CHOICE verdict
If your laptop doesn't have a lock slot, the Kensington LD5400T Thunderbolt 3 Dock is an ingenious solution that could stop it from being pinched when your back is turned.
The dock also includes a range of ports for connecting external devices and extra displays, but you need to leave your laptop open while it's in the dock, so strong login security is recommended.
LD5400T Thunderbolt 3 Dock with K-Fob Smart Lock

Price: $450


Contact: kensington.com
This multi-port dock comes with its own built-in lock slot and cable, plus enough ports to keep most people happy, including:
It includes:
4 x USB 3.0 ports (two are powered)
gigabit ethernet
DisplayPort
headset port
USB-C.
There's no HDMI, but an adapter can be used. Kensington has three on offer:
USB-C to HDMI
USB-C to VGA
DisplayPort to HDMI.
We used a third-party USB-C to HDMI adapter with no problems.
In order to connect to the dock and use all its functions, you'll need a laptop with a USB-C port that supports Thunderbolt 3.
The dock will support an external 5K monitor or two 4K monitors.
To secure a 11-15in Windows or Mac laptop:
extend the powered dock arms using the supplied encrypted wireless key fob
place the laptop with screen open on the scratch-resistant base of the dock
push the arms back in to lock it in place.
To unlock:
use the keyless fob to unlock the dock to remove the laptop.
Extra security
The dock has its own lock slot and cable for tethering to something immovable, such as a pole or desk.
It can also be secured to a desk via hidden screws which sit underneath the laptop when it's in place, so they can't be unscrewed without first unlocking the dock and removing the laptop.
The supplied documentation for using the dock is minimal (pictures only) but once we'd worked out how to connect the security cable and use the fobs (for unlocking only), we tested it with several laptops from 13.3in to 16.6in.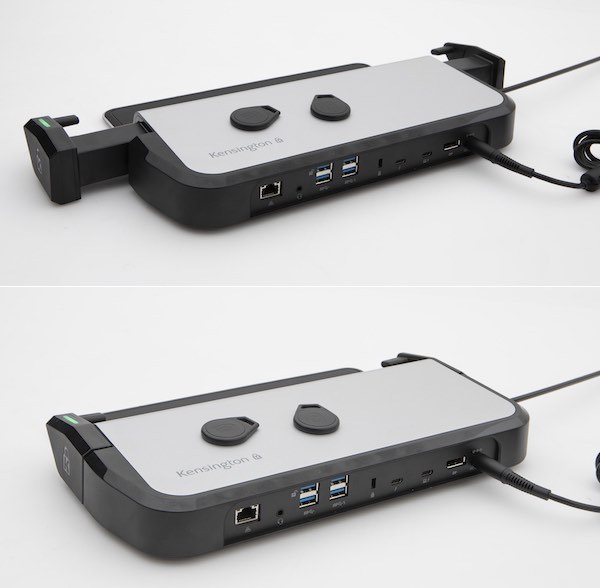 The Kensington LD5400T Thunderbolt 3 Dock with arms open and closed.
It's important to note that once the laptop is in the dock, you can't close it. So the laptop needs to be shut down, put to sleep or screen-locked when unattended.
The dock also limits the range of screen tilt and care must be taken that the arms don't contact the screen.
Fortunately, the locking arms don't obstruct the laptop's side ports, but the dock wouldn't suit a laptop with ports at the rear.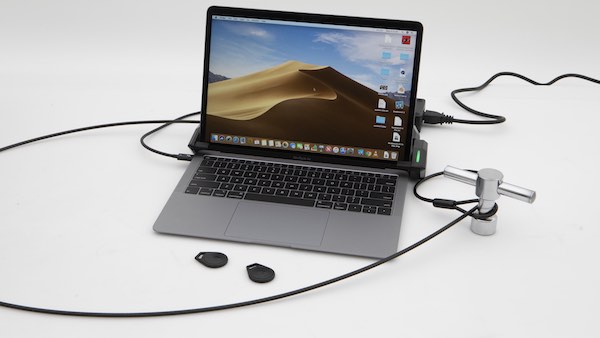 Once in the dock, the laptop screen can't be closed so strong login security is recommended.
If your laptop supports power delivery over USB-C, then this too will be supplied by the dock, which has its own power supply (20V at 8.5A, for 170W total, but delivers 85W over the USB-C Thunderbolt 3 port). This power supply also drives the motors that move the arms of the dock.
We found that some laptops may need to have their BIOS or Thunderbolt drivers updated in order to work properly with the dock, though that's not unusual for new devices.
For example, the HP Pavilion x360 that we used for testing required an update to its BIOS. Prior to that, the screen didn't work properly when connected to the dock via the Apple adapter.
This new compact mobile dock gives slimline laptops a few more ports when you're on the go.
CHOICE verdict
This USB-C mobile dock is an easy way to add HDMI, USB 3.0, and ethernet to any USB-C-based laptop that lacks these ports (and that's quite a lot these days).
This $100 hub is no chore to carry and makes a handy companion if you're regularly on the move.
SD1600P USB-C Mobile Dock
Price: $100
Contact: kensington.com
Multiple ports and compact design
The SD1600P is a USB-C Mobile Dock with pass-through charging.
It gives you:
two USB 3.0 ports
one USB-C port (for plugging a USB-C power supply that passes through to the laptop to charge it)
ports for full-sized HDMI (4K), VGA (1080p), and gigabit ethernet.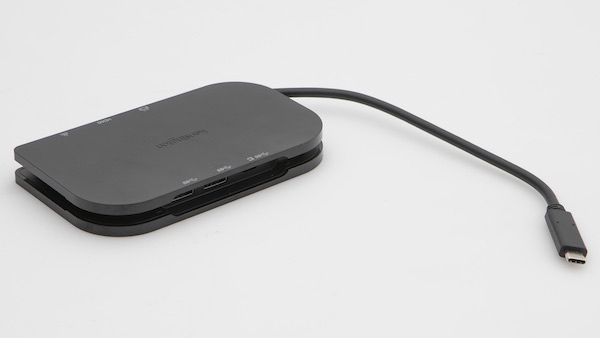 The Kensington SD1600P USB-C Mobile Dock is light and compact.
We tried it out successfully with various devices. Note that only one external display is supported at a time, so VGA and HDMI can't both be used together.
The palm-sized hub is light (107g) and compact (135mm wide, 78mm deep, and 16mm thick).
It also comes with a 200mm USB-C cable that wraps around it, tucked out of the way in a groove when not in use.
Related:
---
Latest Electronics and technology
Join the conversation

To share your thoughts or ask a question, visit the CHOICE Community forum.