Notification: In December 2020, after years of campaigning by CHOICE and other organisations, the Australian government introduced mandatory safety standards for button batteries. This standard will help prevent children from gaining access to the batteries which, if swallowed, can be lethal. Manufacturers, suppliers and retailers have been given 18 months to comply with the new standards.
Every week children are admitted to hospital with suspected button battery ingestions despite regulations meant to make them less accessible.
Andrea Shoesmith, whose daughter Summer died in 2013, wants to know, is anybody listening?
A little girl with a big personality
Summer Steer was just four years old when she died on the last day of June in 2013.
"She was a trickster," says her mum, Andrea Shoesmith. "She loved playing jokes on me. She would tell me there was someone at the door while I was in the middle of cooking dinner – there wasn't.
"She told me one day that there was a chicken outside and I thought she was playing more tricks but that time it was true. She was very loud, funky, very active and very cheeky."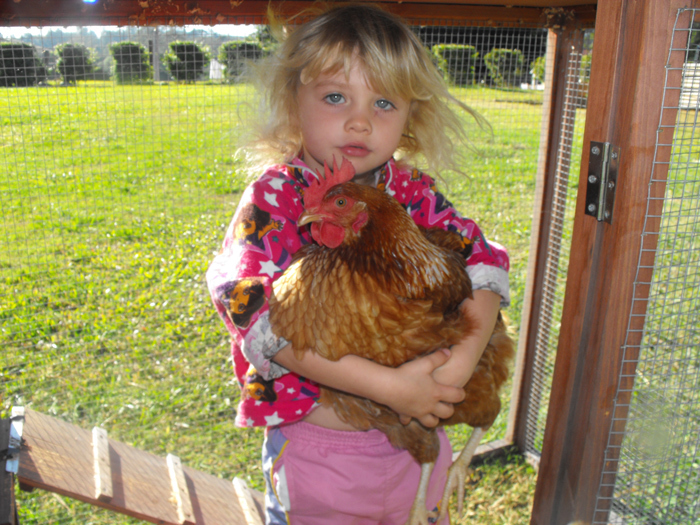 Summer with the chicken.
Looking at the photos of the little girl you can see the mischief on her face.
"She was also just so beautiful," Andrea says. "People used to stop us all the time and tell her how beautiful she was."
Summer loved bike riding, and looking for grubs and worms in the backyard, but she also had a nurturing side. She had a favourite baby doll, Kai, who went everywhere with her and she loved changing the doll's nappy. She was also especially protective of a friend she had at kindy, a little boy with developmental delays.
Unfortunately, that little girl with the big personality and the kind heart never had a chance to grow and develop into adulthood.
First symptoms
The first signs that something was amiss appeared a couple of weeks before she died.
"Summer kept saying there was something in her throat. I took her to the doctor a couple of times and they diagnosed giardia," Andrea explains.
Summer was prescribed antibiotics, but because she was still eating and continued to be active, there wasn't too much concern.
Summer woke up in the night with a bloody nose and then vomited blood
For Andrea, alarm bells truly began to ring when Summer woke up in the night with a bloody nose and then vomited blood. Andrea called an ambulance but Summer spent just 15 minutes in the Emergency Department before being discharged.
Leaving the hospital, only three metres from the entry, Summer once again vomited blood and was readmitted. This time, she was kept in hospital for a few hours before being sent home, with hospital staff believing that her symptoms were due to the earlier nosebleed.
Andrea and Summer left the hospital at around 6.30 in the morning. At home, Andrea settled Summer onto the lounge where the little girl fell asleep.
Only an hour later Summer awoke, stood up, again vomited blood and quickly collapsed. Andrea once more called an ambulance.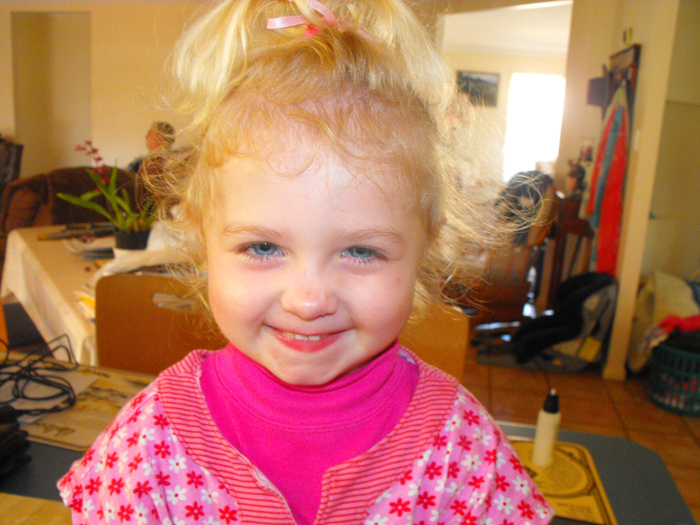 "She was also just so beautiful," Andrea says.
A diagnosis
With her condition now markedly worse, Summer was intubated in preparation for an airlift to Brisbane.
At this time, a routine X-ray was given in order to ensure the tube was properly placed and the battery was discovered. Andrea initially felt a sense of relief at this news, glad that there was finally an explanation for Summer's illness.
Knowing what was wrong, however, wasn't enough. The airlift left Noosa at about 12.35pm, but Summer went into cardiac arrest as she was being taken off the aircraft.
She entered the operating theatre at the Royal Children's Hospital in Brisbane at about 1.00pm but despite the efforts of the surgical team who now intervened, Summer was pronounced dead at 1.45pm.
Before and after
Like many parents, Andrea didn't know at the time just how dangerous button batteries were.
"I didn't have a clue," she says. "Now, I see them on the ground and it's just so disappointing that the danger still isn't taken seriously.
"These batteries are shiny, they're attractive to kids and they look like a lolly.
These batteries are shiny, they're attractive to kids and they look like a lolly
"I know of one little boy who only weeks ago brought home a toy containing one of these batteries which he was able to remove. Luckily, his mum happened to turn around just as he put the battery in his mouth and she was able to fish it out. That's still happening."
Knowing that the coroner recommended changes to the way batteries are designed and packaged, Andrea is frustrated that children are still being injured by these common items.
"It's just so disappointing. Is nobody listening?" she asks.
A call for action
Andrea strongly believes not enough is being done to protect children from the dangers these batteries pose.
"I know there's a code, but it's voluntary, and nothing happens if it isn't followed," she says.
"I think it needs to be mandatory and there needs to be punishments if it isn't followed."
In the end it's children's lives that are being put at risk, and for Andrea, it's simply not good enough.
"These things are like loaded guns and they're everywhere. I feel like we're being fobbed off," she says.
Related:
How do you know if a product is safe?
Stock images: Getty, unless otherwise stated.
Join the conversation

To share your thoughts or ask a question, visit the CHOICE Community forum.