Uber update enables location tracking
7 December 2016 | An update to Uber's app is sparking privacy concerns.
Do you really need to know my location?
---
Uber's latest update (3.223.1), issued on December 6, now gives the popular app the ability to track your precise location from the time you order a car up until five minutes after the trip ends – even if the app is running in the background.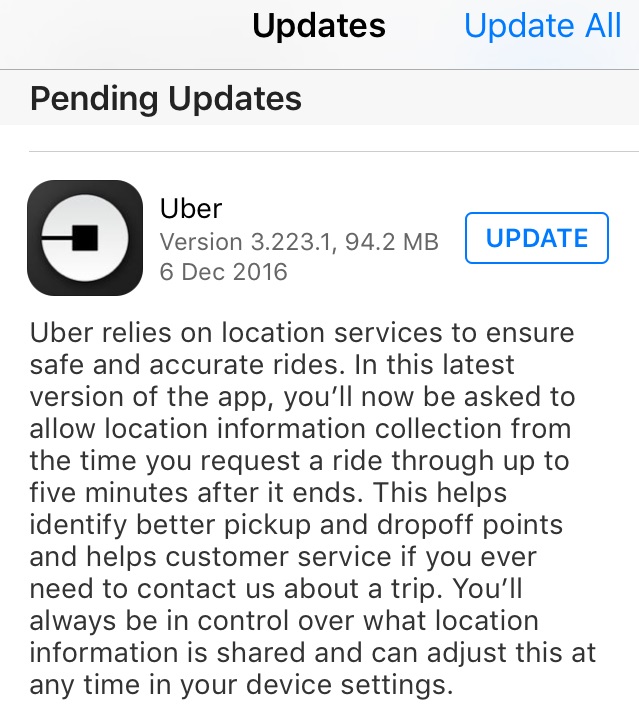 Uber's update version 3.223.1
Prior to the update, Uber had only been collecting information about the trip through the driver's phone rather than riders', which meant information prior to starting the trip and once the trip ended was not being collected.
Location services' access: "Always" or "Never"
While Uber says it is not collecting location information all the time, the update now requires users to enable the Uber app to access to their location either "Always" or "Never". Previously Uber riders were able to select "While Using the App". In addition, its privacy policy doesn't detail when your location can be accessed via the app.
Uber's user privacy statement, which it updated in June 2015, reads: "If you permit the Uber app to access location services through the permission system used by your mobile operating system ("platform"), we may also collect the precise location of your device when the app is running in the foreground or background. We may also derive your approximate location from your IP address."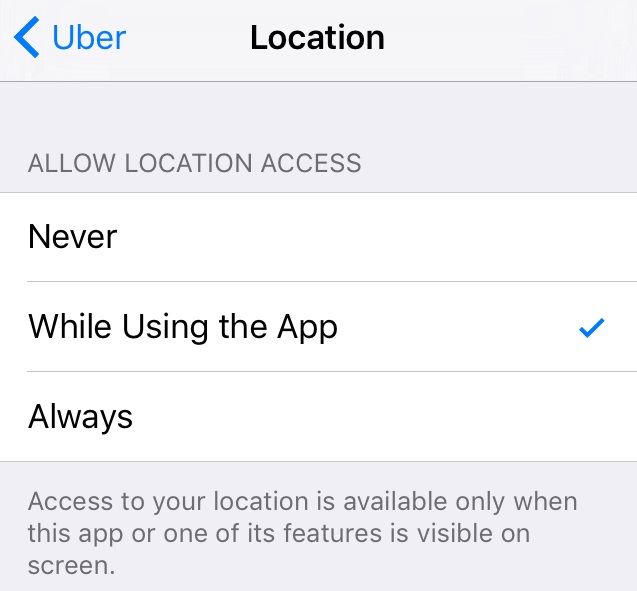 Settings' screenshot prior to update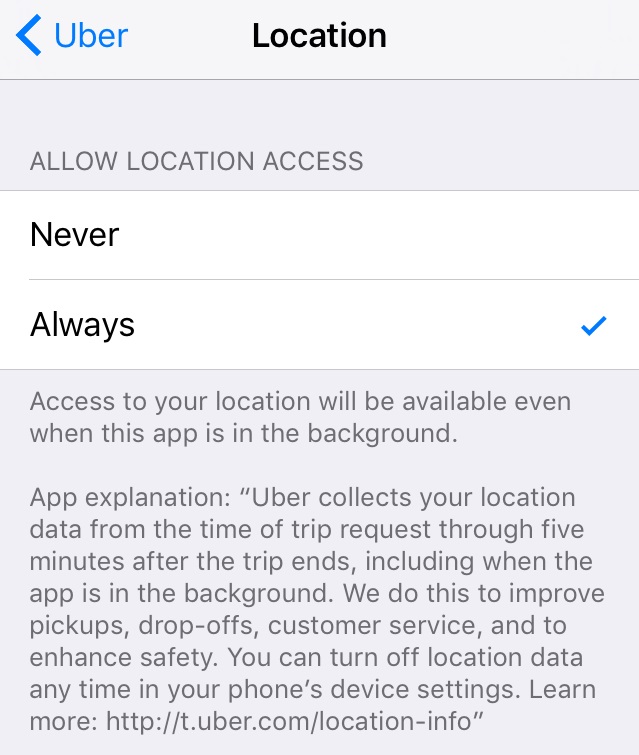 Settings' screenshot after update
Improved pickups and safety
Uber says it has made this change to "improve pickups, drop-offs, customer service, and to enhance safety".
In terms of pickups, however, it's unclear how this will make much difference, as the ability to send current location data for pick-ups already exists. In terms of enhanced safety, the argument is that it will help Uber understand when someone gets dropped off on the wrong side of the road, for example, and then needs to cross a busy road with traffic.
When we asked Uber whether consumers should be worried about the tracking and collection of their location data, their response was evasive: "We're always thinking about ways we can improve the rider experience from sharpening our ETA estimates to identifying the best pick up location on any given street. Location is at the heart of the Uber experience, and we're asking riders to provide us with more information to achieve these goals. To give people control over the information they share with us, riders can choose which of these new features they want to use."
Avoiding location tracking
For those who have updated their Uber app but who do not want to be tracked, you will need to change the location services access setting to "Never" and then manually enter your location when booking a ride. To do this:
On Android: Settings → Apps → Uber → scroll to "Permission" → toggle "Location"
On Android Lollipop (5.1) and earlier: Settings → Location → toggle Off
On iOS: Settings → Privacy → Location Services → Uber → choose "Never"
---
Join the conversation

To share your thoughts or ask a question, visit the CHOICE Community forum.