Deadly Takata 'alpha' airbags rupture in up to 50% of cases
Early faulty models installed in 50,000 cars from Toyota, Lexus, BMW, Honda and Nissan.
---
Takata 'alpha' airbags that rupture in up to 50% of cases are in 50,000 Australian cars, but the car companies recalling them have yet to warn drivers of the increased dangers these older-model inflators pose.
Vehicles from Toyota, Lexus, BMW, Honda, Mazda and Nissan have alpha versions of Takata inflators installed in more than two dozen car models widely sold in Australia, an ongoing CHOICE investigation has found.
These alpha versions of Takata inflators have a significantly higher chance of shattering when an airbag deploys. Testing has found approximately 1-in-400 Takata inflators can crack, but with early alpha versions, the possibility of an airbag rupture can be as high as 1-in-2.
The National Highway Traffic Safety Administration (NHTSA), a US safety body that has taken a leading role in the worldwide recall of Takata airbags, issued a "critical warning" in June 2016 on alpha inflators.
"The air bag inflators in these particular vehicles contain a manufacturing defect which greatly increases the potential for dangerous rupture when a crash causes the air bag to deploy. Testing of the inflators from these vehicles show rupture rates as high as 50 percent in a laboratory setting."
Out of the ten fatalities linked to Takata airbags in the US, eight were caused by alpha inflators, the NHTSA revealed in June 2017.
Cracks, abrasions and scratches were found on 30% of them, while 10% sustained 'severe damage'...
Manufacturers in Australia have recalled 155,490 vehicles due to these inflators, but since the first cars were recalled in 2009, our ongoing investigation found a third of them remain unrepaired.
And the remaining 50,134 Australian car owners won't be told their vehicles have alpha inflators installed, even though car makers have been aware of the increased risks for at least a year.
The Australian arms of Honda, Toyota, Lexus, BMW, Mazda and Nissan haven't mentioned alpha inflators (or PSDI inflators, as they are technically known) on company websites, dedicated recall sites or news sites. The recall notices posted on Product Safety Australia don't detail the higher risks of an airbag rupture; some don't even recognise the potential risk of death. Nor have these companies issued media releases in an effort to reach the remaining owners.
The dangers of an alpha inflator rupturing are so high that Honda US, upon being warned of the increased failure rate by the NHTSA, is offering its customers a service unavailable to those in Australia.
"Honda [US] will provide free alternative transportation during the necessary repairs, and, if the owner is either unable or uncomfortable driving the vehicle in for repair, the company will tow the vehicle for free to the nearest authorized dealer," the company writes in a fact sheet.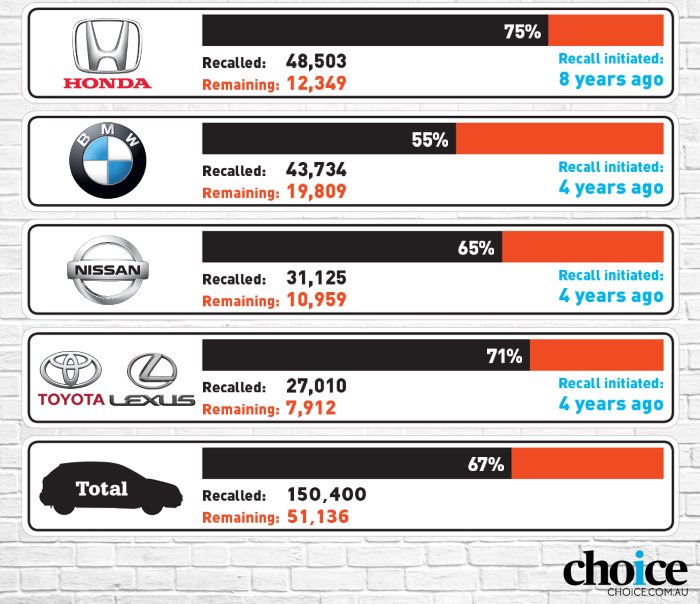 Click here for a text-only accessible version of this infographic.
Car manufacturers contacted by CHOICE confirmed loan vehicles were only available on a "case by case basis" – a term used by more than one car maker on the issue. But when CHOICE mystery shopped Honda Australia's dedicated call centre, enquiring about an Accord manufactured in 2001 (a car known to have alpha inflators and therefore considered dangerous to drive) a customer service representative told us: "Honda doesn't provide a national loan car program, Sir."
Takata's airbags degrade over time and its alpha inflators are its oldest, aged 11 to 18 years. The Department of Infrastructure and Regional Development, which has overseen the recall of of Takata airbags in Australia since 2009, has recalled 100% of alpha inflators.
"Replacement of the airbags categorised as alpha has been prioritised and affected vehicle owners have been sent a number of letters regarding the recall of their vehicle," a spokesperson for the federal government body tells CHOICE.
"The department strongly recommends that affected vehicle owners arrange for the airbag in their vehicle to be replaced as soon as possible by undertaking the actions outlined in the letters from the relevant vehicle manufacturer," the spokesperson adds.
The warning follows the death of a 58-year-old man in NSW, the first in Australia. He had received five recall notices from Honda.
...he urged drivers to get these airbags replaced without delay and warned: 'minor accidents may have tragic outcomes.'
Industry stakeholders will describe the problem with alpha inflators as an undisclosed 'manufacturing defect', but the high failure rate of these airbags is the culmination of several faults. Late in 2009, after being commissioned by Takata, the Fraunhofer Institute for Chemical Technology requested 60 alpha inflators for testing. Cracks, abrasions and scratches were found on 30% of them, while 10% sustained "severe damage" to the ammonium nitrate tablets used to inflate them.
Fraunhofer hypothesised alpha inflators "promote" moisture, which is widely believed to cause Takata airbags to degrade over time, but the tablets were a bigger worry: "they could make the booster propellant more energetic and could adversely affect ballistics."
How often alpha inflators rupture in Toyota, Lexus, Nissan, Mazda and BMW vehicles remains unknown. Testing of 245,000 Takata airbags found 0.27% (or 660 of them) ruptured upon deployment, while Honda confirmed the failure rate of its alpha inflators can be as high as 50%. For the remaining 50,134 vehicles still driving unrepaired in Australia, the rate of failure could be anywhere in between.
Takata would not comment on the record regarding the increased risk posed by alpha inflators when asked by CHOICE. A contact in Takata's home country of Japan, who has direct knowledge of the situation, acknowledged these inflators pose an increased risk. They do share the same core technology, but there are variations in how they have been installed in different cars. He urged drivers to get these airbags replaced without delay and warned: "minor accidents may have tragic outcomes."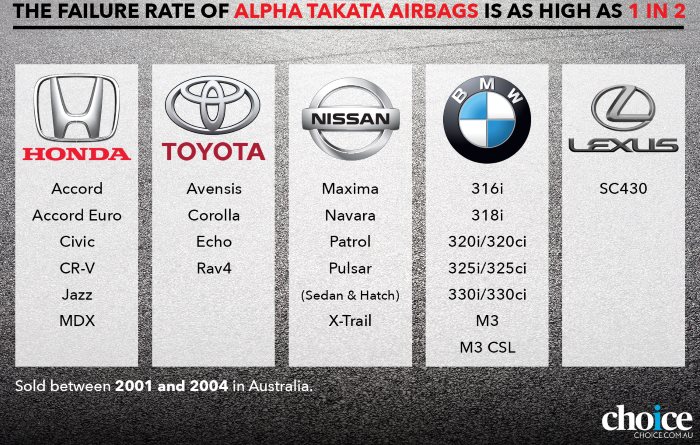 Click here for a text-only accessible version of this infographic.
The recall of 2.3 million vehicles for Takata airbags in Australia has proven to be a logistical nightmare. A parts shortage, retrofitting issues and the availability of authorised technicians has resulted in typical wait times of six months. Since the recall started with two-thousand Honda vehicles in 2009, and then widened to include additional car manufacturers in 2013, 850,000 airbags have been repaired. There are still 1.6 million cars waiting to be repaired under the recall, which isn't expected to be finished until 2020.
Manufacturers struggled for years with a parts shortage and, as CHOICE revealed last month, car makers resorted to making like-for-like replacements of defective recalled airbags, in some cases. Owners of cars from Mazda, Toyota, BMW, Lexus, Subaru and Honda were not told they received an identical replacement. There are concerns the owners of these cars will ignore future recall notices thinking they have already had their airbag repaired.
CHOICE understands like-for-like replacements are no longer being carried out in Australia. People affected by the recall who take their car in for a repair will either receive an airbag from another manufacturer, or a Takata airbag fitted with a "desiccant"; that is, a drying agent intended to fend off the moisture that causes these airbags to breakdown. The NHTSA issued a warning to Takata in late 2016: if it cannot prove the revised airbags are safe by 2019, then it will need to recall them too.
Update I: The Product Safety Australia site has since added tags denoting the cars fitted with alpha inflators. This followed the publication of our article.
Update II: The article has been updated to include references to Mazda, which recently disclosed that alpha inflators are installed in its cars. The number of alpha airbags recalled and the number of them repaired have also been updated, making them accurate as of 21 September.
Update III: Australians driving a car with an alpha inflator are entitled to special concessions under the compulsory Takata airbag recall. This includes having the car towed to dealerships, or even having a technician replace the airbag on site.
---