Car makers gouge drivers on repair costs: ACCC
The industry hoards valuable information from independent mechanics to keep profits thick.
---
Car makers are protecting inflated servicing costs by engaging in conduct that limits industry competition, a draft report from the ACCC has revealed.
The Australian Competition and Consumer Commission's (ACCC) yearlong investigation into the new car market has found manufacturers charge an average mark-up of 64% on new car repair and servicing, and that car makers withhold information from independent mechanics in a move that ensures the margins remain thick.
Car dealers made an estimated $64 billion in the most recent financial year, with the repair and servicing sectors found to be worth $24.8 billion.
"Manufacturers and authorised dealers generally earn higher profit margins from the sale of parts and servicing than from new car sales," says Rod Sims, chair of the ACCC. "This provides an incentive to limit competition for the repair and servicing of new cars."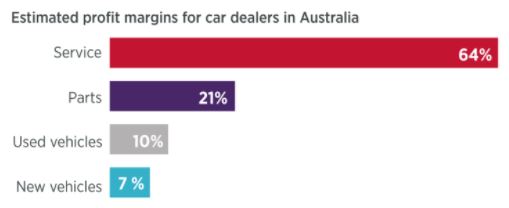 Infographic provided by ACCC.
Click here
for accessible text-only version.
Car makers were found to maintain these inflated prices by withholding valuable information from independent mechanics, conduct that ultimately limits competition in the industry.
The onboard computer systems in modern family sedans can contain several-times more lines of software code than an aeroplane's system. A 2010 Ford with an automatic transmission, for instance, contains 10 million lines of code, while a Boeing 787 Dreamliner will have 6.5 million. Luxury sedans are known to have over 100 million lines of code.
But car makers are not providing independent mechanics with the technical information needed to service new cars, or delaying the transmission of that information, despite the industry in 2014 voluntarily committing to share the same information as they do with their authorised dealers.
"This lack of competition hurts new car buyers who have fewer options to get the best deal for repairs and servicing, and restricts independent repairers from competing on a level playing field," says Sims.
"For new cars to be properly repaired and serviced, independent repairers need access to electronic information and data produced by car manufacturers."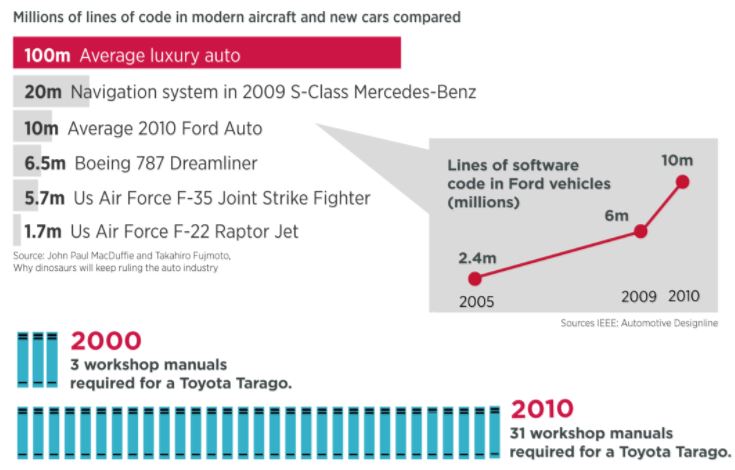 Infographic provided by ACCC.
Click here
for accessible text-only version.
The competition watchdog is recommending it be mandatory for car makers to share this information with independent repairers, in the hope it will increase competition and lead to lower repair and servicing costs for consumers.
The ACCC draft report also found the car industry relies on a dominant "culture of repair" for dealing with car defects and failures, and that it has established rigid complaints handling systems and policies in an effort to prevent new car owners from receiving a refund or a replacement.
Other issues of concern that were identified include the widespread signing of non-disclosure agreements to secure a repair, and the publishing of inaccurate fuel performance figures.
More than 10,000 complaints about car manufacturers were made to the ACCC in the last two years, while motor vehicles account for approximately 20% of all complaints dealing with consumer guarantees.
---
Join the conversation

To share your thoughts or ask a question, visit the CHOICE Community forum.