Airbags that kill: Australia stalls on Takata airbag recall
With over a million defective models yet to be replaced, will Australia's first fatality be its last?
---
Millions of potentially fatal airbags recalled
More than 100 injuries and a dozen deaths
1.4 million Australian cars still driving with defective airbags
It was the airbag that left the 21-year-old Australian hospitalised in serious condition. It happened early on a Monday morning in April. Forecasts say the weather was a fine 25 degrees. She was driving down McMillans Road in Darwin when a car pulled out suddenly. At 8.11am, there was impact. Her airbag deployed within 0.05 of a second. Were it a different airbag, made by a company not involved in decade-long cover up, she would've been okay, but the airbag went off explosively and a shard of metal shot at her face.
"This type of crash, in normal circumstances, would not have caused this level of injury," says Sergeant Mark Casey of the NT Major Crash Investigation Unit.
The unnamed 21-year-old was the first Australian to fall victim to the largest recall in automotive history, but the laws of probability indicate she will not be the last. A hundred million vehicles are affected worldwide by the recall of Takata airbags. More than 180 people have sustained injuries as severe as blinding, paralysis and severed vocal chords. The global death count to date stands at 18.
The recall of Takata airbags in Australia is 21 times bigger than that of Volkswagen's emission tampering scandal, and yet – even though it has led to injuries and fatalities – there's little awareness, little outrage. Thirteen manufacturers have these airbags fitted in over fifty models of cars, with prices as varied as a $15,000 Honda Jazz to a $526,000 Ferrari 458. Manufacturers doubt they'll get close to replacing all of the cars affected. Concerns swirl as Takata files for bankruptcy.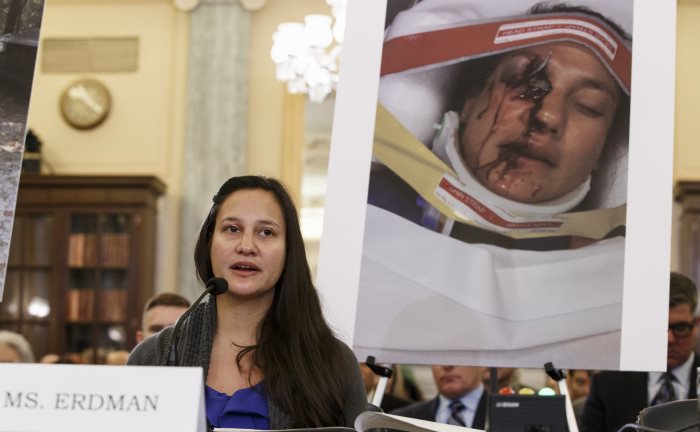 Image: US Air Force lieutenant Stephanie Erdman was injured in one eye when a defective Takata airbag deployed in her car during a 2013 crash. The results of the accident can be seen in the photo over her shoulder. Photo source: CBS News
More than two-thirds of the 2.1 million cars recalled in Australia still haven't had the faulty airbags replaced. Toyota – which has recalled the highest number of cars at 529,000 – has replaced the airbags in 31% of them. Mazda has 234,000 affected cars, but has only recalled 12% of them.
"We'll be lucky if we can get a clearance rate of over 50%," one manufacturer tells CHOICE.
"Manufacturers are dependent on a third-party supplier [Takata] to service this kind of recall," says another. "If the parts stock doesn't exist, the manufacturer cannot commence the rectification process."
'Shrapnel' is the word used to describe the debris fired by a defective Takata airbag. Police reports and unsealed court documents detail the airbags violently exploding, sending "metal shards, shrapnel and/or foreign material" into the cabin where the car's occupants sit captive. The shards have been known to puncture people's eyes, face, neck and chest.
When Hai Ming Xu (age not disclosed) was found dead at the scene of an accident in 2013, the extent of his injuries led US police to think he was shot in the face. Another defective airbag deployment in 2014 inflicted such grievous injuries that US police believed the accident was caused by a stabbing, to the extent their investigation sought a "person of interest".
The odds of an airbag rupturing are as high as a coin toss in some cars...
The ammonium nitrate propellant that makes a Takata airbag so small, so cheap and so popular has been identified as the reason why they explode. The chemical compound – used to inflate the airbag after a controlled charge releases it as a gas from a canister – turns volatile over time. When these defective airbags deploy, the ammonium nitrate burns aggressively, causing its metal canister to explode into pieces that tear through the fabric of the airbag.
This is what happened in 2009 to Gurjit Rathore, a 33 year old whose car was hit by a mail truck in Virginia, USA. Court documents reveal the shrapnel from the airbag shot into her neck and chest, causing her to bleed to death in front of her three children.
It is the violence – not frequency – of the airbag's defective deployment that makes this product failure so unsettling. A 95-page report examining the rupture of Takata airbags was published by the US National Highway Traffic Safety Administration (NHTSA) in June last year. Tests of 245,000 airbags conducted by the safety body found 660 had ruptured. If you were to apply the same percentage of these failures to the 1.44 million cars in Australia yet to be recalled, the number of airbags that would deploy defectively would be 3889.
Video: Slow motion footage of Takata airbag testing
The odds of an airbag rupturing are as high as a coin toss in some cars. Early "Alpha" models of Takata's airbags have a manufacturing defect that results in them rupturing in up to 50% of deployments. Safety authorities warn, with urgency, that "folks should not drive these vehicles unless they are going straight to a dealer to have them repaired immediately". In Australia, CHOICE's investigation found there are more than 50,000 of these inflators in Honda, Toyota, Lexus, BMW, Mazda and Nissan vehicles still driving unrepaired.
The sheer size of the recall – unprecedented in reach – has made it difficult for car manufacturers to replace the defective airbags. The recall was initiated in Australia in 2009, when it was believed only a few thousand Honda vehicles were affected. It wasn't until 2013 that the recall widened to include the cars of other manufacturers. In that time, CHOICE's investigation found less than a third (661,750) of the affected cars in Australia have had the airbags replaced as of April 2017.
Defective Takata airbags are being replaced with defective Takata airbags, in some cases...
Manufacturing and installing a hundred million replacement airbags takes time, expertise and money, and in the interim most car owners are left waiting. This has led to people being notified that their car is affected, and then in the very same letters, being told they will have to wait until replacement parts become available. The recall letters we've seen – from manufacturers including Honda, Toyota, Subaru and Mitsubishi – suggest the wait is approximately six months, though many people have had to wait months longer. Takata anticipates the recall won't be completed at least until 2020.
Defective Takata airbags are being replaced with defective Takata airbags, in some cases. Manufacturers are installing fresh versions of the recalled airbags as a temporary fix, after investigations revealed the fault develops over time. Takata claims it can take 12.5 years; the NHTSA estimates six years; event zero – that is, the first airbag on record to rupture – occurred after 2.5 years. How long it takes for an airbag to rupture appears to fluctuate according to the geography, the moisture in the air and the overall heat.
CHOICE asked the manufacturers affected in Australia if they applied this temporary fix to the cars they have recalled. Many confirmed a percentage were treated with like-for-like replacements and will therefore have to be recalled again. BMW, Toyota, Lexus, Mazda and Subaru are among the brands that have made identical replacements. Most other manufacturers declined to share this information with the public.
The Department of Infrastructure and Regional Development is overseeing the Australian recall. When CHOICE asked about like-for-like replacements of Takata airbags, the federal body chose not to answer our questions. Instead, it replied with the statement: "The Department is satisfied that the action being taken by manufacturers to replace airbags addresses the current identified risk."
Australian drivers believe they have a right to remedy under Australian Consumer Law, but the competition watchdog says there's little more that can be done. The Australian Competition and Consumer Commission (ACCC) says: "Where a manufacturer or its Australian representative has issued a recall for affected vehicles and is replacing the airbags, it is unlikely that the law would provide for remedies beyond what is already being offered."
Takata knew of the airbag defects as early as 2000, but the company went to great lengths to cover up the dangers. A former engineer testified in a court case that the company 'gamed' procedures intended to make sure the inflators were airtight in 2001. Other engineers claim 50 inflators were tested in secret in 2004, but executives ordered the results to be destroyed after two of the inflators cracked. In a plea agreement negotiated with the US Department of Justice this year, where the Japanese airbag supplier was fined $US1 billion, Takata pleaded guilty to "repeatedly and systematically falsify[ing] critical test data related to the safety of its products," and that it did so for more than a decade.
Since this investigation, a 58-year-old Australian man has been killed...
Takata submitted a bankruptcy filing late last month, as it struggles under the financial weight of recall costs. Almost all of its assets are being sold off to a rival company, Key Safety Systems (KSS), other than those needed to manufacture replacement airbags. Takata doesn't have a presence in Australia, but a representative in Japan directed us to a global release, which read: "Takata expects to continue to meet demand for airbag inflator replacements without interruption." Once the company fulfills its obligations under the recall, it will shut down.
Proceeds from the $US1.59 billion sale to KSS will be used to fund the cost of the recall and the $US1 billion penalty handed down by the Department of Justice. The penalty is composed of a $US25 million fine, a $US125 million fund for the victims that were injured, and a $US850 million fund to recover the recall costs of automakers, which too were found to be "defrauded by Takata".
The 21-year-old Australian was driving a Toyota the day she was injured. Toyota confirmed her Rav4 was part of a recall campaign, the most recent being announced on 10 April 2017 – just two weeks before the accident. It's not known if she received the notice in time, if she had and was waiting for parts, or if she ignored the recalls that happened years earlier. An ambulance rushed her to Royal Darwin Hospital where she was still in serious condition a week later. That was two-and-a-half months ago and, as of the time of writing, it is where she remains.
Updates
21 July 2017: Since this investigation was written, a 58-year-old Australian man has been killed by the defective deployment of a Takata airbag.
24 July 2017: The ACCC has announced it will investigate the recall of Takata airbags, within 24 hours of CHOICE sharing our findings.
The number of vehicles recalled has risen since this investigation was written. A further 200,000 cars have been recalled, pushing the total number of vehicles affected in Australia to 2.3 million. The percentage of replacements has slightly improved, however, as 850,000 cars have now been processed under the recall.
14 August 2017: CHOICE has revealed alpha inflators are fitted to five more carmakers than just Honda. This information, which has not been previously reported worldwide, has been used to update this article.
28 Feb 2018: The recall of Takata airbags has been made compulsory by the federal government. The recall strengthens the rights of consumers and poses penalties if carmakers fail to follow its guidelines.
Get more information on what you need to do in our Takata recall FAQs.
---
Join the conversation

To share your thoughts or ask a question, visit the CHOICE Community forum.