Australia's best washing machine brand
We've calculated Australia's top washing machine brand for performance, reliability and customer satisfaction.
What brand of washing machine is best?
---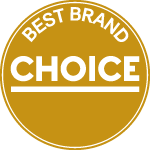 CHOICE has tested around 220 washing machines over the past four years in our labs, covering much of the $700 million annual market in Australia. We see great washers, as well as some lemons.
Occasionally, you might need to know about a washing machine model that we haven't tested. To this end, CHOICE Best Brand helps guide you when choosing a product – with the knowledge that not only has the brand performed well overall in our lab testing throughout the year, but it's also well regarded by CHOICE members for customer satisfaction and reliability.
And because front loading and top loading washing machines are very different, this year we've introduced separate categories for each of them, though as no top loading washing machine currently has a CHOICE recommendation, we are not awarding a best brand for top loaders this year.
Best Brand results are for CHOICE members only.
Our washing machine buying guide is free, and has lots of great advice from our experts.
Want to see more? Get full access to this expert information, plus all our product and service reviews. (Billed quarterly at $26.95.)
Already a CHOICE member? Log in now
Join now
---