Shonky winner Ikea gets real about leather couches
19 October 2015 | Ikea takes the guesswork out of buying leather couches.
Clearing up the confusion
---
In a win for confused furniture shoppers, furniture retailer Ikea has now updated its Australian website for leather couches.
The iconic Swedish furniture store received a 2015 Shonky Award earlier this month for having the 'hide' to list sofas and furniture covered in a leather-look "durable coated fabric" under the leather couches section of the store's website.
Prior to receiving the Shonky, Ikea got our attention when we were covering the difficulties Australian consumers can encounter when looking to buy a couch upholstered in leather (read our article Buying a leather couch for more on what to look out for). We found that as there's no formal certification scheme in Australia, the onus is on the consumer to dig deep into product descriptions to find out exactly what a couch is covered with.
The Ikea site was particularly confusing as all couches upholstered in a leather-look fabric as well as couches where only the 'contact areas' are covered in leather were all listed together under leather couches.
Uncoated truth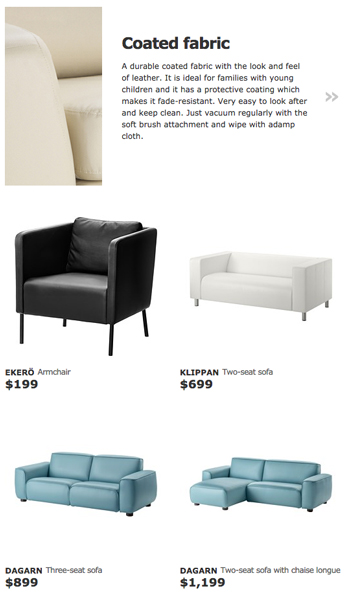 The recently updated Ikea website now lists clearly which couches are fully upholstered in leather, which have the contact areas covered in leather, and which are covered in the coated fabric – which means there's no more guesswork required. Great news for confused consumers!
CHOICE CEO Alan Kirkland says this update shows the value of the Shonkys in driving positive change for consumers. "Within a matter of days, we have ensured that Australian Ikea customers will know what they are buying. We have also sent a powerful message to other furniture retailers," he said.
We contacted Ikea for comment on the positive changes to their site. The store provided a statement saying that Ikea is committed to improving customer experience both in store and online. "All sofas displayed in store include complete information about their material composition on the price tag and now we have made changes on the website to make this information even more visible online."
---
Join the conversation

To share your thoughts or ask a question, visit the CHOICE Community forum.