Hands-on with the Microsoft Surface Go
The popular Surface Pro tablet is now available in a 10-inch alternative.
---
This new, smaller version of the Microsoft Surface Go wants to be the device you never have to think twice about taking with you, because even though the Surface Go is made of metal it weighs just 520g (plus another 244g if you add the optional keyboard – and you should). Compare that to similarly priced laptops that tend to be plastic and weigh about two or three times more.
The Go's Pentium Gold processor is economical with both processing power as well as energy use, but the speed sacrifice is worth it if you're the kind of user who's always on the go.
The two standard models offer:
64GB storage and 4GB of RAM, very much entry-level for a modern PC – $599
128GB storage and 8GB RAM, the preferred option for most general-purpose users – $840.
Don't forget the extras
For optimum useability you'll also want the optional Signature Type Cover keyboard at $200, which also doubles as a screen cover. While some apps may be fine with touchscreen input via finger or, better yet, the pressure-sensitive Surface Pen ($140), Windows isn't generally well-designed for keyboardless use.
At first we found the keyboard a tad cramped for continuous typing, as you might expect because it's sized to match the 10-inch screen, but we got used to it fairly quickly with frequent use. The built-in trackpad has five-finger multi-touch support, which we found responsive and smooth.
The Surface Go resembles its bigger sibling, complete with rear kickstand support for 165 degrees of layback. All the important hardware is behind the high-resolution (1800 x 1200 pixels), 10-inch screen. It has a front-facing 5MP (megapixel) camera and rear 8MP camera.
Microsoft claims up to nine hours of battery life for video playback – enough to enjoy at least a few episodes of your favourite TV series. And despite its super-portable size, you can still turn the Go into a desktop computer via optional Surface Dock ($300) and Surface Mobile Mouse ($55).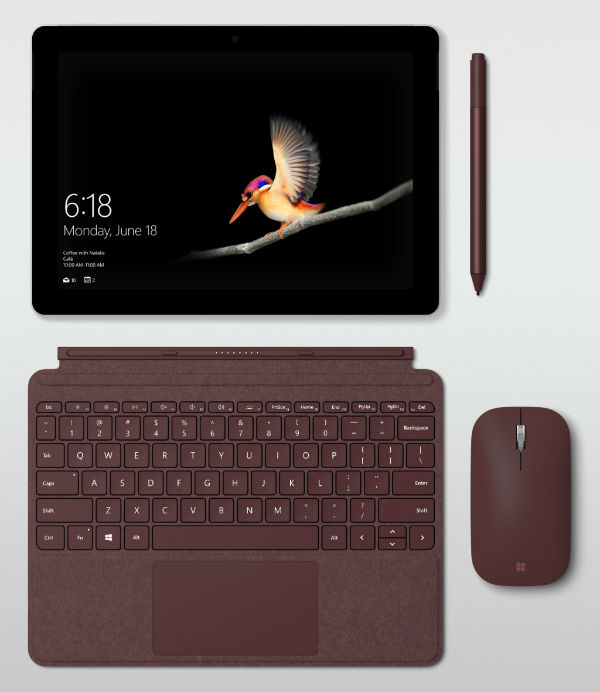 The Go ships running Windows 10S – a version of Windows 10 that only lets you install apps from the Windows app store and works with S-mode compatible accessories. Windows 10 S is optimised for better battery life and the app store restriction is aimed at improving security by only allowing Microsoft approved apps. If you find that a little too restrictive, you can upgrade to full Windows 10 Home for free, but once done you can't ever go back to 10S.
The Surface Go also comes with current standard 802.11ac Wi-Fi and Bluetooth 4.1, but LTE (cellular) wireless will soon be an option. Ports include a single USB-C, SD card reader, headphone jack and Surface Connect port for accessories.
The verdict
So, should you get the Surface Go? It's a small but premium package with plenty of potential for on-the-go users, straddling the size divide between smartphone and small laptop. If you're looking for an ultraportable laptop for Netflix, web browsing and productivity using Microsoft Office, with the convenience of a lightweight one-handed tablet for writing and drawing, the Go is a stylish contender.
It'll push your budget to add all the optional accessories that make it truly versatile, but you can start with the basic unit and keyboard and add pen, mouse and dock as you need them. For kids, the entry level model could be the ideal school companion, but adult users should opt for the extra RAM and storage of the upper model.
---
Latest Electronics and technology
Join the conversation

To share your thoughts or ask a question, visit the CHOICE Community forum.