Surface Book 2 review
Hands-on with Microsoft's second-generation two-in-one laptop that converts to a tablet.
One for the pros
---
Microsoft's second generation Surface Book has been a long while coming, as the original model was first unveiled back in 2015. But technological improvements since then make this a worthy successor. We went hands-on with the latest model 13.5-inch Surface Book 2, courtesy of Microsoft, to find out where the improvements make the most impact.
In this article:

This model is more of an upgrade than a reinvention, but it's a big upgrade. Microsoft has retained the basic look and feel of the Surface Book that helped make it so successful, but has tweaked important features such as connectivity and it's boosted the power considerably.
Jumping from 6th generation processors to the latest 8th generation Intel Core i7 CPUs brings a significant speed boost, though note that the $2199 entry-level model still has the 7th generation Core i5 chipset.
Surface detail
Here's what we found in our new Surface Book 2, the $4499 top-line model of the four standard configurations being offered:
Processor: Intel Core i7-8650U at 1.9GHz (four cores and Hyper-Threading for a total of eight threads).
Memory: 16GB Graphics: NVIDIA GeForce GTX 1050 with 2GB of RAM.
Storage: 1TB SSD (solid-state drive) with PCIe connectivity rather than SATA .
Cameras: High resolution for both front (2560 x 1440 pixels) and rear (3226 x 1836 pixels). Windows Hello works with facial recognition, so you can log in using your face instead of typing in a password.
Connections: Now includes USB-C (the previous model had a Mini DisplayPort). Paired with a suitable USB-C hub this makes the Surface Book 2 even more versatile. For example, we tried it out with a third-party J5Create USB-C hub to provide 4K output via HDMI to our TV, Gigabit Ethernet, and USB 3.0, two USB 3.0 ports, and a full-sized SD card slot.
Wireless: As you'd expect, Wi-Fi (802.11ac) and Bluetooth (4.1) use the latest standard.
Weight: 1623g (screen-only 711g; power adapter 387g).
Physically, the Surface Book 2 looks much like its predecessor. The screen is held to the base by magnetic poles and a "muscle wire" that relaxes when an electric current is applied, such as when you press a button on the keyboard to release the screen so it can be detached. Once the LED on the release button goes green, you have about 10 seconds to lift it off the base and you'll need two hands to do this – one to lift the screen and the other to hold the base down. The laptop doesn't have to be switched on to be detached, but it does need power via internal battery or mains.
As with the previous model, the 13.5-inch display screen is excellent, with 3000 x 2000 pixel resolution (267 pixels per inch, which is right up there with Apple's Retina display qualification). The screen is glossy, but quite bright and has good contrast and colour.
You can detach the screen and use it as a tablet, or flip it around and re-attach it facing backwards for use as a stand-alone display screen or folded back on the underside of the base to create a chunky tablet that has full laptop power.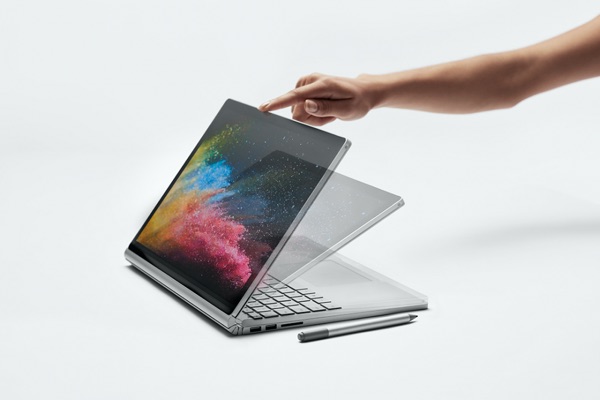 Folded back like this, there's a bit of an incline if you rest it on the table that could make drawing and writing more comfortable. And you'll need to purchase the optional extra Surface Pen for $139.95.
We found the 'watch-band' screen hinge (Microsoft calls it the Dynamic Fulcrum Hinge) a little softer this time, which is an improvement. The hinge on the original model was quite stiff, requiring two hands to open, but you can easily lift the lid open with one hand on the Surface Book 2.
The base includes a second battery and holds the GeForce graphics adapter, so if you detach the screen for tablet use it relies on the slower built-in Intel integrated graphics. The grip under the base hasn't improved though. The laptop still moves around on the table easily, just like the original Surface Book.
Our review model Surface Book 2 is blisteringly fast, as you'd expect in a top-line model with 8th-generation Intel Core i7 processor, a powerful graphics card, plenty of RAM and an SSD (though we found the Wi-Fi speed only OK). This model can take on anything you throw at it, from design, graphics and video to games and virtual reality.
It's also ideal for what Microsoft calls Mixed Reality (and Mixed Reality Ultra), which is supported in the latest Windows 10 Fall Creators Update and headsets and hand-held motion controllers from third-party manufacturers Acer, Dell, HP and Lenovo.
Windows Mixed Reality gives you a virtual home that offers various experiences as you move from room to room, letting you view and operate movies, apps, games and holograms. You can also use your voice to invoke the Cortana digital assistant.
For more powerful computers such as the Surface Book 2, Windows Mixed Reality Ultra has some extras including:
crisper visuals and a higher refresh rate (90 frames per second)
more apps and experiences, including highly graphics-intensive games
a window on desktop that mirrors what you see in mixed reality
recording and sharing of videos (and photos) of mixed reality experiences.
The Surface Book 2 design is well thought out and supported by high-quality components. We found the Surface Book 2 keyboard very comfortable to type on. It has a white backlight with three intensities, but we found the backlight doesn't provide much contrast against the grey keys and is only really useful in a fairly dark environment. The touchpad is large (109mm x 70mm), feels smooth, supports all common gestures (though you need to enable double-tap and drag) and doesn't get in the way while typing.

Microsoft claims up to 17 hours of battery life (when screen not detached), though we didn't measure this on our review model but will have the results in our next laptop test. Being conservative, you should expect at least a full day's normal usage on battery power.
The 15-inch version isn't available in Australia yet, but there's no argument that even the 13.5-inch Surface Book 2 is a powerful and slick premium 2-in-1 laptop aimed squarely at professionals (especially the high-end models). It builds on the experience gathered from the first generation, and Microsoft has taken the time to put together a winning combination of performance and features.
Which model you buy will largely be determined by what you can afford. While the 7th-gen powered i5 model starts at a reasonable $2199, the price quickly escalates to $2999, $3799 and $4499 for the 8th-gen i7 models. Choose wisely, as it could be another couple of years till the next upgrade.
Surface Book 2
From $2199
---
Join the conversation

To share your thoughts or ask a question, visit the CHOICE Community forum.