iPad Pro 10.5 + iOS 11 review
Hands-on with the up-sized iPad Pro and the new iOS 11 with its iPad-specific improvements.
A better laptop alternative
---
The 10.5-inch iPad Pro came out ahead of its time. Though the new mid-sized iPad launched in June with many hardware upgrades, it was lacking the operating system improvements that could see it fulfil its potential as a mobile productivity powerhouse. That changes today with the release of iOS 11, the biggest software update in iPad history.
With iOS 11, the iPad has finally broken free of its humble iPhone origins and stepped out boldly into laptop-competitor territory with a slew of new iPad-only productivity features that you won't see on the iPhone. We take a hands-on look at both.
In this article:
Pro features
Apple describes iOS 11 as 'a monumental leap for iPad' and that's probably not an exaggeration. The new OS brings with it long overdue productivity features that make the iPad a much more capable laptop alternative.
Most notable are improved multitasking for juggling multiple apps at once, a new Files app for managing files from a central place, whether on the iPad or in the cloud, a customisable Dock and stronger support for the Apple Pencil.
It's not just the 10.5-inch iPad Pro that gets the goodies, as iOS 11 will run on older standard iPad models, though faster ones will fare better and it's the iPad Pro that benefits the most.
Both the 10.5-inch iPad Pro and its 12.9-inch bigger brother offer the 'pro' benefits of faster processor in the A10X Fusion chip, quad speakers and the same cameras (12MP rear and 7MP front) available on the iPhone 7. Plus, there's support for the optional Apple Pencil and direct clip-on connection to the Apple Smart Keyboard (now in a larger size for the 10.5-inch model).
We've been playing with iOS 11 on the iPad Pro 10.5 since the first public beta version (which was, as you would expect, a little flaky). The lure of its new productivity features was too great to resist. Stability improved with each public beta release until the final consumer version available now, which is a free upgrade. While the iOS 11 changes are welcome, we found that it takes a little while to get to know and get the most out of them. Even (or perhaps especially) if you're a daily iPad user, it can be hard to break old habits. It's not the old iPad, and it's not a Mac – it's somewhere in-between.
iOS 11 changes for iPad
Here's a brief rundown of what to expect from iOS 11 on the iPad:
The Files app
The iPad has always lacked a 'desktop' like a regular computer and while it still doesn't have one, Apple's new Files app goes a long way to letting you access all your files from a central spot, whether they're on the iPad or other iOS devices or in cloud storage such as iCloud Drive, Dropbox, Google Drive and Microsoft's OneDrive.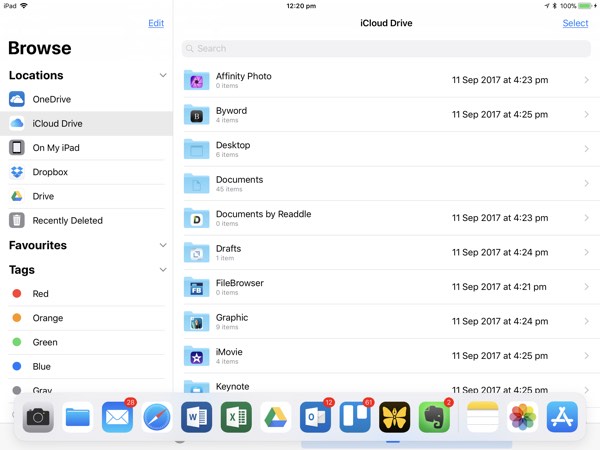 The new Files app is kind of like the Mac's Finder for iOS.
The new Dock
And just like a desktop Mac, the iPad now has a customisable dock that pops up with a swipe to let you access your favourite apps from any screen. It also has a special area on the right-hand side for recently used apps and those open on your iPhone or Mac (via the Handoff feature that lets you continue work from one device on another).
Multitasking
Using multiple apps gets a boost too, going from the previous two apps in split-screen view, to several. You can have two open in split-screen mode, plus a third floating and repositionable, plus video running in a small window. Note, however, that you still can't edit two documents from the same program at the same time.
A nice touch is that multiple app pairing like this is maintained when you flick to the app switcher view (by swiping up from the bottom of the screen) so that you can instantly go back to working without having to set up the multi-app view again.
Drag and drop
Possibly the most timesaving and productivity enhancing feature is the introduction of 'drag and drop'. This takes advantage of the multi-touch screen to let you move text, photos and documents between apps. You can, for example, open the Files app to find an image and drag it as you use another finger to flick up the dock to show other apps, such as Mail, then touch it to launch the Mail app, create a new email and drop the picture into it.
You can highlight text or a photo and drag and drop them from one document to another on the same screen. For example, you can drag and drop text and pictures from Safari into Notes if you have them open side-by-side. This works with Apple's apps and it will take an update of third-party apps to include the feature. The new multiple selection feature takes advantage of the multi-touch screen to let you select more than one item at a time. To do this, you start dragging one file and hold it, then tap any other file to add it to the selection pile under your finger. If you change your mind just take your finger off the screen.

You can also launch an app straight into split-screen mode by dragging its icon from the dock and dropping it beside an open app on the screen.
The new app switcher brings Spaces to the iPad, showing apps and pairs of apps plus a reworked control centre that includes shortcuts for many features and some new ones including screen recording.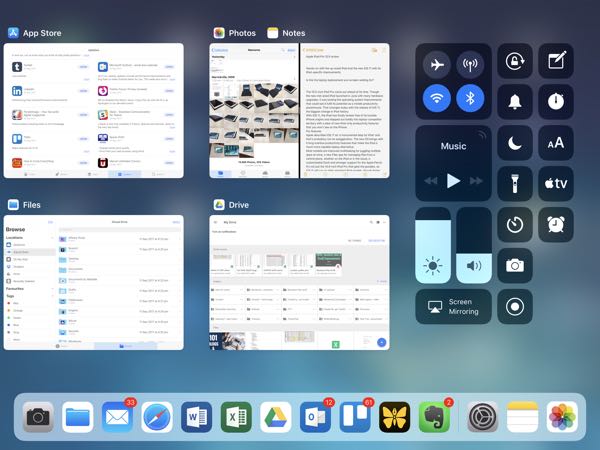 The revamped app switcher includes settings shortcuts.
Take Note
One of the things that separates the iPad Pro from the standard iPad is the ability to use the Apple Pencil, and some new features make this even more attractive. You can launch straight into hand-written notes by tapping the Pencil on the lock screen to open the Notes app. This 'instant notes' feature is as quick as putting a real pen to real paper, and instant markup lets you do the same to annotate a PDF. And you can now do inline drawings in Notes and also in Mail.
The Notes app gets even more love with a new built-in document scanner that lets you snap a pic, straighten and optimise the image and save or share it quickly. You can, of course, also sign a document with the Pencil before sending or saving it.
Onscreen keyboard improvements include swiping-down on letters to get numbers, symbols and punctuation, thus avoiding the need to switch between onscreen keyboards.
Augment your reality
One of the showstopper features demonstrated for iOS 11 at its preview several months ago was AR (augmented reality), which overlays computer information on the real world viewed onscreen via the tablet's camera. Though not specific for iPad, Apple's take on AR is going to get a lot of attention because its inclusion in iOS 11 instantly makes iPhones and iPads the world's largest AR platform.
Though initially seen by many as a bit of a gimmick, AR captured the world's attention with the phenomenal success of the Pokémon Go game. Now, a year or so down the track, today's AR tech is far more sophisticated and is expected to become a daily-use feature for such things as on-the-go information and navigation, fashion and interior design, as well as games just to name a few. It's still early days but app developers now have the tools to create a new class of AR apps.
Compatibility
iOS 11 is compatible with devices going as far back as the iPhone 5S, iPad fifth-generation, iPad mini 2 and iPod Touch sixth-generation. Before you upgrade, make sure you have an up-to-date backup of your iPad, which you can do via iTunes or iCloud or, preferably, both. And, if you have the patience, wait a few days for the first round of minor updates to fix any little bugs or niggles that inevitably come with such a major operating system update.
If you're moving to the 10.5-inch iPad Pro, note that moving from 9.7 inches to 10.5 inches puts the new iPad Pro into Microsoft's 'over 10.1-inch' category, which means users have to pay to use Office apps ($129/year from 12 Oct 2017), just as on the 12.9-inch iPad Pro (and desktop/laptop computers). For the standard 9.7-inch iPad they're still free.
iPad Pro 10.5-inch hardware
The 10.5-inch iPad Pro gives you a 20% larger screen in a body that's only around 10mm taller and 5mm wider than the 9.7-inch iPad, while weighing the same and being actually a tad slimmer (by 1.4mm).
The 10.5-inch iPad Pro body is only marginally bigger than the 9.7-inch iPad (on top).
Screen resolution has increased from 2048x1536 pixels to 2224x1668 pixels, maintaining the same 264 ppi (pixels per inch) pixel density. The extra screen real estate makes side-by-side documents more usable and hardware improvements including faster processor and 'ProMotion technology' – a double-speed screen refresh rate of 120Hz gives a feeling of smoother fluidity and faster responsiveness especially when using the Apple Pencil, even though the pencil itself hasn't changed. Apple claims an 'industry-best, 20-millisecond latency' for the pencil.
To reduce power consumption and keep battery life at Apple's nominal 10-hour 'all-day' mark, the 120Hz higher refresh rate only activates when needed to match the movement of content.
Other screen improvements include a brighter Retina display (600 nits) and improved anti-reflective coating to make the iPad Pro better for daylight outdoor use.
The A10X Fusion processor is a combined six-core CPU and 12-core GPU that Apple says is up to 30% faster for general tasks and 40% faster for graphics, compared to the previous generation A9X that powered the 9.7-inch iPad Pro.
The screen has a wide P3-standard colour gamut and the True Tone automatic tone balancing feature, designed to go easier on your eyes. It adjusts the display's white balance on-the-fly depending on the surrounding lighting to provide a consistent picture, similar to viewing white paper.
Accessories
A larger screen means a new and slightly larger Apple Smart Keyboard ($235) with keys that are more spread out to give more room for typing. It attaches magnetically to the Smart Connector on the side of the iPad, so there's no battery to charge and no Bluetooth to pair – it's click-on-and-go. On the downside, there's no backlighting or top row of special iOS function keys that you get with some third-party keyboards.
Opening and closing it involves a bit of origami due to a double-fold, so it's a two-handed job. The very thin (4mm) keyboard is completely covered for protection, including liquid spills. The key mechanism is similar to the MacBook, with little travel compared to most keyboards, but is surprisingly good for touch typing with a little practice.
Though not much bigger in the body, the 10.5-inch iPad Pro also means a new range of accessories including a Smart Cover ($75) or Leather Smart Cover ($109), Leather Sleeve (with holder for the Apple Pencil) $189. The Apple Pencil is $145 and there's a new stand-alone sleeve for it called the Apple Pencil Case ($45).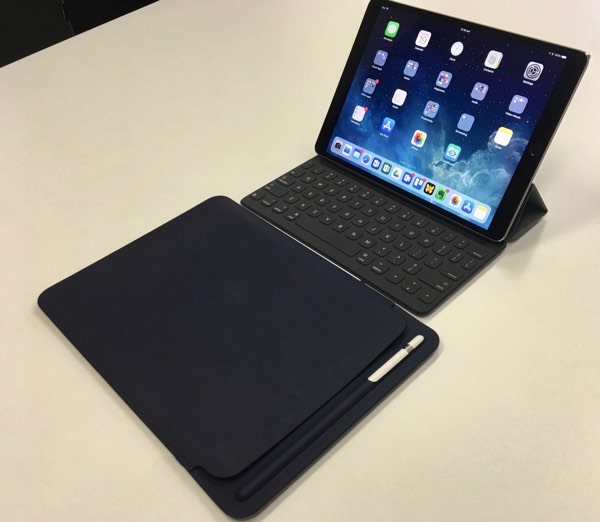 A new leather sleeve holds the iPad, keyboard and pencil.
Time to upgrade?
People who choose the iPad Pro range are looking to benefit from the Pro features – notably the better screen, sound and ability to use the Apple Pencil. As brilliant as the iPad Pro hardware has always been, it has been held back somewhat by an overly 'mobile' operating system. The release of iOS 11 changes the game and will make the iPad Pro 10.5 a serious contender for those looking to use it as a full laptop replacement.
If you're the owner of a recent model iPad from the past few years, such as the iPad Air 2, the release of iOS 11 will give it a new lease on life also, so you might want to use it for a while before deciding whether to upgrade.
But if you want a larger iPad experience that's the best available you'll find the 10.5-inch iPad Pro unbeatable – unless you go for the 12.9-inch version that is.
---
Latest Electronics and technology
Join the conversation

To share your thoughts or ask a question, visit the CHOICE Community forum.