Selfie stick review
CHOICE tests out some selfie sticks to see if they're stable and easy to use.
Selfie awareness
---
Love or loathe them, selfie sticks are here to stay. Outside the world's major tourist attractions, concerts and sporting venues, it's now common to see people attach a phone or compact camera to this virtual arm, extend it outwards, and take a snap of themselves to show off on Facebook and other social media.
British photographer Martin Parr has observed the selfie shift in tourist-packed cities like Venice and Rome. On his blog he writes dryly: "We used to have to ask a passing tourist to take the photo, but thanks to the selfie stick those days are over and we are now self-sufficient."
Selfie sticks can be intrusive or even dangerous, though, which has led to the telescopic tools being banned from many public places. If you're tuning into Wimbledon this July, don't expect to see any in the crowd. Countless art galleries, too, have forbidden them for fear of artwork being damaged, including the National Gallery of Australia and the National Portrait Gallery.
They can be annoying, but if you use them sparingly and respect those around you, they're also a useful tool for getting decent group shots. Remember, a selfie stick won't add much if your camera isn't up to scratch, so check out our recent selfie smartphones review for our recommendations.
Buying a selfie stick
There are different types of selfie sticks, but they generally all come with a spring-loaded mount to hold today's smartphones, as well as a conventional screw mount to hold light cameras or action cams like a GoPro. You extend them manually using the same mechanism as old-fashioned TV aerials. Most come with a way of triggering the phone's shutter from a distance: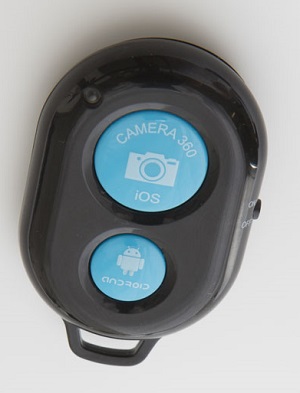 Selfie stick remote control
Separate Bluetooth remote: These small remote controls work independently of the stick. Handy for situations where the photographer isn't holding the selfie stick handle (such as when it's at an unusual angle), but easy to lose.
Shutter button built into handle: Typically a photo is taken wirelessly using Bluetooth, via the smartphone's native camera app or a free third-party app. These models have a rechargeable internal battery. Some basic models don't use a battery or Bluetooth at all; instead, you plug a 3.5mm cable into the smartphone's headphone jack. Shutter buttons built into handles are practical but could sometimes be tricky to access while also trying to hold your phone steady.
'No-frills' sticks: These don't have remote shutter buttons and are like traditional monopods. You'll need to use your camera or smartphone's timer function to take the photo.
Our test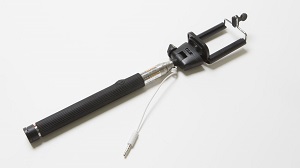 Selfie stick that plugs into headphone jack
So do they actually work? We bought 10 selfie sticks, ranging from a $70 model (the Kaiser Baas) that uses Bluetooth connectivity to remotely activate the smartphone shutter, to a basic $5 unbranded model bought at a random shopping centre stall. Most cost $25-$30.
We found that many selfie sticks looked the same apart from the branding differences, suggesting similar origins.
Ease of use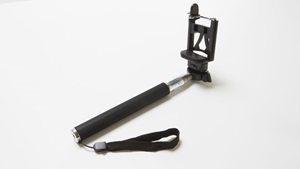 Selfie stick with shutter button on handle
Attaching our iPhone 5 and LG G3 test phones was very easy for all models. However, some sticks may rotate under a heavier phone's weight, which is what happened with four of our models when the stick was fully extended. All clamps felt secure during use, but the spring-loaded mechanism will probably weaken over time. The rubber pad on the Mobile Selfies model fell off during testing, and we also noticed that the rubber handle on the Selfie Stick Selfie Pro and the Crest may slide out of place when extending the stick. Models with three-sided clamps tended to feel sturdier than ones with only two, according to our tester, but it could depend on the phone you have.
Performance
Bluetooth connectivity was straightforward for the models that have it – you just need to pair the phone with the stick or remote on first use. However, as with many Bluetooth devices, you may run into some hiccups – the Olixar and Soniq models took a long time to connect and with some models, the Android shutter button did not work when trying to take a photo with our LG phone (we had to press the iOS button instead). Taking photos using the remote shutter button was successful with all phones. The Kaiser Baas requires you to press hard on the button to activate the shutter but models with no shutter button are reliant on your phone's timer (or voice-activated features, if available).
Durability
A selfie stick (or any stick) could give you a painful whack in the head if someone's manoeuvring it into place, especially if a camera is attached to it – this is one of the many reasons that some venues have banned them. To test how dangerous they could be, and to see whether they could withstand impact, we conducted an informal watermelon test with a GoPro camera attached to the $64 Kaiser Baas Selfie Pole and the $25 Crest Selfie Stick.
Both sticks demolished the watermelon with no problem, but the cheaper model did end up breaking in half when we tried to retract it. So they certainly could be used as a weapon, though the stick (and phone!) may not survive the experience. Here's proof of the havoc a selfie stick can wreak:
Verdict
If you're in desperate need of a selfie stick (and we've warmed to them, despite having our doubts prior to this test), any of these models will work and are sturdy enough for occasional use. However, investing in a well-constructed model is a good idea if you're into adventurous travel and sports.
Brand and model
Price paid
Phone clamp style
Extended length (cm)
Shutter button on handle
Requires charging/batteries
Connection method
Remote control
Dimensions (L x W x D, cm)
Weight (g)
Contact
Mobile Selfies Selfies
$50
Top-bottom
87.5
no
yes
Bluetooth
yes
30.5 x 5.5 x 4
147
mobileselfies.com.au
Kaiser Baas Selfie Pole
$64
top-bottom
70
yes
yes
Bluetooth
no
32 x 4.5 x 4
187
kaiserbaas.com
Olixar Selfie Smart Pole
$25
top-bottom
79
yes
yes
Bluetooth
no
31.5 x 11 x 3
128
accessorylabs.co.uk
Selfie stick Selfie Pro
$30
Three-
sided
78
fake button
yes
Bluetooth
yes
30 x 11 x 3
141
selfie-stick.com.au
Monopod Selfie Stick
$30
top-bottom
86.5
no
yes
Bluetooth
yes
30.5 x 5.5 x 3
132
Not supplied
3SIXT Snap Stick
$29
Three-sided
79
yes
yes
Bluetooth
no
31.5 x 11 x 3
141
3sixtgear.com.au
Soniq Bluetooth Selfie Stick
$30
Three-
sided
79.5
yes
yes
Bluetooth
no
31.5 x 11 x 3
141
soniq.com
Crest Selfie Stick
$25
top-bottom
87.5
no
yes
Bluetooth
yes
30 x 5.5 x 3.5
134
crest.com.au
Monopod (bought from random stall)
$10
top-bottom
78
yes
no
Cable to headphone jack
no
31.5 x 5.5 x 3.5
132
Not supplied
Unbranded (bought from random stall)
$5
top-bottom
79.5
no
no
None
no
31.5 x 5.5 x 3.5
132
Not supplied
---
Latest Electronics and technology