We're spending thousands more on fuel, real world tests reveal
Some cars use up to 59% more fuel than what's stated in the paperwork.
---
Australian drivers are spending thousands of dollars more each year on fuel because driving a car in the real world only vaguely resembles the emission testing undertaken in a controlled laboratory.
That's the takeaway message from a real-world test of 30 'top selling' cars by organisations including the NRMA, RACV and RACQ, under the banner of the Australian Automobile Association (AAA).
The cost of fuel in one petrol car tested was meant to be $2901 a year, based on the figures in its brochure, but test results found it will burn through $4497 of fuel in the real world*.
And the story is little different for alternative engine types. A diesel car tested was meant to cost $1950 to fill a year, but owners will have to spend $3100 instead because it can't match the optimised conditions of a laboratory**.
These two examples best illustrate how calculating fuel use in a lab does little to help consumers understand the running and environmental costs of the cars they're buying, says Michael Bradley, chief executive of the AAA.
"The current system is misleading consumers and regulators," he says. "Only real-world testing can drive down costs to consumers and deliver meaningful environmental benefit."
The AAA, not believing a sample of 30 was a fair representation of the market, didn't disclose the makes and models of the cars that were tested. It's recommending that the federal government name and shame poor-performing cars once results have been gathered on 60 vehicles.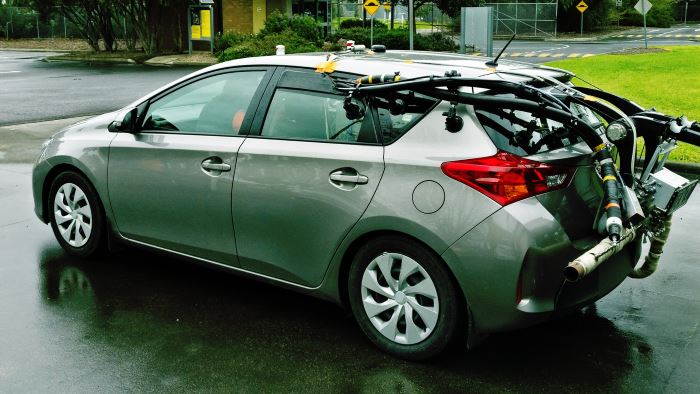 A Toyota Corolla having its emissions tested with a portable emissions measurement system (PEMS) on Australian roads.
Cars of all shapes and sizes were included in the test, including passenger cars, SUVs and light commercial vehicles. The disparity in fuel use was consistent across the diesel and petrol cars tested, as well as the one hybrid-electric car that was included.
Petrol-powered cars were using 23% more fuel on average, with the worst performing car – the one based on the opening example – using 55% more fuel than advertised.
Diesel cars were using 21% more fuel on average, with the least economical of the bunch using 59% more than what was calculated during the laboratory test.
The diesel cars in particular were producing more harmful smog and pollutants. Of the 12 tested, 11 of them tripled their limit for oxides of nitrogen.
Even the hybrid-electric car tested – likely intended to be a yardstick the other cars could be measured against – went way over its stated fuel use, and by such a margin that its results had to be omitted from the industry average.
Compared to its stated performance, which would have been calculated in a controlled laboratory, the hybrid used 166% more fuel when its battery was full, and 337% more when the battery was low.
Emissions regulations are based on testing in a laboratory, but the AAA wants the Australian government to mandate testing in the real world for new cars. It proposes using the standard set by the European Union and adapting it to suit Australia's common road speeds and warmer climate.
Mandating real-world testing and improving emissions standards will reduce fuel costs and improve health outcomes, says Tom Godfrey, head of media at CHOICE.
"Other jurisdictions, like the EU, have adopted real-world driving tests for emissions to complement lab testing.
"It's time Australia caught up so we don't become a dumping ground for inefficient and dirty cars that cost consumers more than they're expecting at the bowser," he says.
The AAA invested $500,000 in real-world emission testing after it was revealed Volkswagen and its subsidiaries were using 'cheat' software on its diesel cars to bypass emission testing. It commissioned consultancy firm ABMARC to test each of the 30 cars twice on Melbourne roads between May 2016 and June 2017.
--
*The worst performing petrol vehicle was a passenger car. These figures were based on filling its 45L tank with petrol once a week, with the price of fuel costing $1.24 a litre, based on data from the Australian Institute of Petroleum for the financial year ending in 2017.
**The worst performing diesel car was an SUV. These figures were based on filling its 60L tank with diesel once every two weeks, with the price of diesel costing $1.25 a litre, as per data from the Australian Institute of Petroleum for the financial year ending in 2017.
---
Join the conversation

To share your thoughts or ask a question, visit the CHOICE Community forum.