Volkswagen ordered to notify Australians of 'dieselgate' class action
Corporate websites and Facebook pages to clarify owner rights.
VW forced to come clean on recall
---
Volkswagen has been compelled by the Federal Court to post notices on its Australian corporate websites and Facebook pages notifying car owners of a class action seeking compensation, law firm Maurice Blackburn has announced.
Earlier this year, consumer groups including CHOICE called for refunds for Australian VW owners affected by the 'dieselgate' scandal, but the carmaker has continued to steer clear of such measures.
The notices are meant to clarify that the voluntary recall work may in fact have an impact on vehicle performance despite allegations made by Volkswagen that Australia's Department of Infrastructure and Regional Development gave assurances that it would not.
According to Maurice Blackburn, the judge in the Federal Court case found that no such assurances were made.
"A real issue needing clarification for VW, Audi and Skoda customers relates to controversial suggestions about the impact of the proposed voluntary 'fix' on the performance, fuel economy and service requirements of the vehicles – these class actions will determine whether these claims are accurate or not," said class action principal Jason Geisker.
"We think it is important for affected motorists to understand that any suggestion that Australian authorities have confirmed that the voluntary recall has no impact on these vehicles is simply not true."
Consumer groups call for compensation
Earlier this year, a case was made in an open letter addressed to the head of the Volkswagen Group for Australians who purchased a VW diesel before the emission scandal was exposed to receive refunds. The letter, which was made public, was signed by the chief executives of US group Consumer Reports and CHOICE.
"This was a global scandal and all affected consumers should be given access to similar remedies," said Alan Kirkland, the chief executive of CHOICE.
It's believed 99,672 diesel Volkswagens are affected in Australia. The refund would offset the money existing owners are losing as their cars depreciate due to the damage sustained by the brand.
Queenslander Peter Satchell found the value of his TDI Volkswagen had slumped when he traded it in for a new car.
"I had two VW TDI vehicles, and recently traded one [for] a new car. The trade in price was lower than it should have been.
"Dealers, including VW dealers, don't really want them on their lot," he added.
Affected owners in the US have an option unavailable to Australians. Not only will VW buy back their cars, but they will also receive an additional cash payment.
All of the VW owners affected by the global scandal should be entitled to the same reparations, said CHOICE's Kirkland.
"Just like in the US, Australian consumers deserve to be able to choose whether to have their cars fully repaired or to get a refund.
"It's time for VW to come clean, if it doesn't agree to granting Australians their full refund rights, it needs to explain precisely why they are running a recall and fixing cars."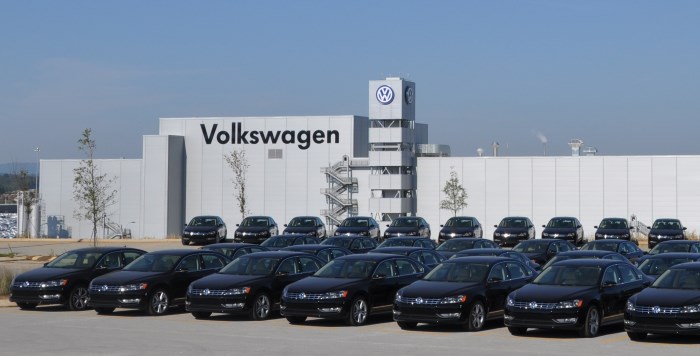 The VW Chattanooga manufacturing plant in the US
Volkswagen Australia has denied the use of defeat devices, claiming Australians are not entitled to the same remedies because our laws are not as stringent as those in the US.
"The regulations governing nitrogen oxide emission limits are much stricter for vehicles in the USA than in other parts of the world and the engine variants are also very different," Volkswagen Australia posted on its website earlier this year.
"We hold the view that there is no legal basis for compensation or customer actions in this connection in other parts of the world."
The only option available to Australian owners is an update to the engine management system as part of VW's recall process. VW owner Satchell says he's been kept in the dark on the fix.
"There's no explanation of what the 'technical solution' does, or what problems it fixes.
"VW Australia doesn't acknowledge that there is actually any problem with [the] vehicle, and the solution is the authorised dealer's responsibility."
The Australian Competition and Consumer Commission (ACCC) started proceedings in the Federal Court late last year against VW Australia and parent company Volkswagen Aktiengesellschaft.
The emission cheating software – fitted to diesel Volkswagens sold between 2008 and 2015 – breached Australian Consumer Law on multiple accounts, ACCC chair Rod Sims has said.
Volkswagen pleaded guilty in the US and was fined US$5.63 billion by the Department of Justice earlier this year. The company will spend a further $19.3 billion in the US as part of its settlement for allegations of cheating emission tests and deceiving its customers.
Will the recall work affect my VW's performance?
According to Maurice Blackburn, new notices on VW's Australian corporate websites and Facebook pages will contain the following updates for car owners:
The Volkswagen, Audi and Skoda software update does not simply remove the test mode. The software update will affect the manner in which the engine runs. It will:
Change the fuel injection settings, the number, timing and fuel quantity of injections used;
Increase the production of particulate matter (soot), which likely will lead to more frequent regeneration of the diesel particulate filter;
Increase the fuel injection pressure;
Increase the extent of exhaust gas recirculation into the engine; and
In the case of Audi Q5 vehicles equipped with an SCR system, change its operation resulting in the use of a larger amount of AdBlue.
Further details will include telling customers that:
Having the recall work done is not compulsory. Your consent is required before any recall work is done. Contrary to what we know some VW customers have been told, people are still entitled to access servicing, repairs or spare parts for their vehicle whether or not they've chosen to have the recall work done.
In addition, there is no impact on existing warranties for those that have decided not to have the recall work performed on their vehicles and not getting the recall work is not a waiver of any of your rights in our class action or otherwise.


Related:
---
Join the conversation

To share your thoughts or ask a question, visit the CHOICE Community forum.