Electric car charging stations and range anxiety
We look at the practicalities of keeping a plug-in electric vehicle charged in Australia.
Going the distance
---
Australians have been slow to embrace electric vehicles (EVs) compared to drivers in the US, Europe and China. Car makers often put this, in part, down to 'range anxiety', caused by the relatively low number of EV charging stations in our country.
Put simply, range anxiety is worrying that the car battery will die before reaching your destination and recharge point. In a country with a lot of long distance car travel, no-one wants to be left stranded.
So we asked the experts: where exactly can you recharge a plug-in electric vehicle, how long does it take, and how far will it get you. And … are we being unnecessarily anxious?
Why are Australians reluctant to embrace EVs?
While China has a smorgasbord of 70 plug-in EV models to choose from, Australia has only a handful. In Norway, where there's a suite of tax and rebate incentives for electric vehicle owners, EVs have reached a market penetration of 24%. Here at home, just 219 electric vehicles were sold in 2016 out of nearly 1.2 million new vehicle sales.
A report by ClimateWorks for the Electric Vehicle Council identified that sales would be likely to increase with a rise in the number of more affordable EVs on the Australian market.
According to Nissan spokesperson Peter Fadeyev, the problem is twofold: the need for government-led incentives for Australian buyers to choose an EV, and the "lack of publicly available EV battery recharging infrastructure".
However, Patrick Finnegan from E-station, a company that installs EV charging stations, says most people charge their plug-in EV at home, because they can conveniently draw on cheaper domestic or overnight power or, even better, use their free stored solar power.
Hybrid vs pure electric car: what's the difference?
There are two types of plug-in electric vehicle:
Plug-in hybrid electric vehicles (PHEVs), which have both an internal combustion engine and an electric engine that can be recharged by plugging into an external power source.
Battery electric vehicles (BEVs), which are purely electric.
(There are also hybrids that don't plug-in to charge, like Toyota's Prius range.)
How does the driving range differ for PHEVs and BEVs?
PHEVs generally have a much longer driving range than purely electric BEVs, thanks to the petrol engine. But in electric-only mode, PHEVs will have a lower range because of the added weight of the internal combustion engine.
PHEVs also come with the service and maintenance costs of an internal combustion engine, as well as the emissions and noise. But it's often possible to drive the hybrid in electric-only mode.
And remember, the driving range will be reduced by long mountain climbs, the number of passengers and luggage load, strong headwinds and high speeds.
What EVs are available in Australia currently?
The Electric Vehicle Council lists the current EV models on the Australian market on its site.
For a more comprehensive look at the range of pure electric, plug in hybrids and electric hybrids on offer in Australia go to the Government's Green Vehicle Guide and look for the Advanced vehicle search. Search by fuel type and find out the range, annual fuel costs and energy consumption for each model.
What's the range for a Tesla? How about a Nissan Leaf?
Here's a snapshot of some plug-in hybrids and pure electric vehicles available in Australia, and the range for each.
PHEVs – how far can they go?
BMW i8
Range: 37km in electric mode, 440km with petrol
About the car: BMW's i8 is a luxury sports car, with a 7.1kWh battery capacity, and costs approximately $318,993.
Audi A3 Sportback e-tron
Range: 50km in electric mode, 920km with petrol
About the car: This five-seater hatchback costs approximately $62,490 and has an 8.8kWh battery.
BEVs – how far can they go?
Tesla Model S
Range: 408–613km.
About the cars: There are seven variants of the luxury Tesla Model S. Prices range from $108,700 for the 60 to $209,800 for the P100D. Tesla says the Model S60 (60kWh battery) has a range of up to 408km, and the P100D with its (100kWh battery) can cover 613km on a single charge.
Tesla Model 3
Range: 345km
About the car: The more affordable Model 3 is due this year, with prices starting at US$35,000. Battery sizes haven't been confirmed.
Nissan Leaf
Range: 170km
About the car: The 2016 Nissan Leaf, designed for mostly city driving, has a 24kWh battery and costs $39,990.
BMW i3
Range: 200km
About the car: Also designed for city driving, the 2016 BMW i3 has a battery capacity of 33.2kWh and costs approximately $68,100.
How do I charge the battery?
All plug-in EVs in Australia have a lithium-ion battery. The plugs and connectors can differ between makes of vehicle so not all types of charge points can be used with all vehicles. Case in point: the Tesla Superchargers can only be used for Tesla vehicles.
There are generally three ways to charge a plug-in electric car and the time taken can vary between each model. These include, from fastest to slowest:
level 3, fast charging: using a high-voltage DC charger at a public charging station
level 2, home wall recharger: using an installed battery recharger
level 1, electrical socket: the car's mobile charge cable is plugged into an electrical socket directing electricity to the car's onboard charger.
Fast charging station: approx. 20–30 minutes
These level 3 DC recharging units supply power directly to the battery (instead of via the onboard charger), putting out 25kW to 135kW.
According to Patrick Finnegan from E-station, all the fast-charging stations in the eastern states are currently free, but Western Australia's RAC-installed fast chargers from Perth to Margaret River charge 45c per kWh. Finnegan predicts that, in time, DC fast chargers will be installed in highway service stations and city centres and will charge a fee for the power.
A fast-charging battery recharge station takes approximately 20–30 minutes to restore a fully depleted Nissan Leaf battery to about 80%.
Tesla's Supercharge stations only service Tesla vehicles, thanks to the proprietary plug style, and can be found strategically located between Melbourne, Sydney and Brisbane. It takes approximately 40 minutes to charge the battery to 80% (based on a 90kWh Model S).
Wall recharger – approx. 8 hours
For faster home charging, a wall recharger that converts AC to DC can be installed at home – or at restaurants, hotels and destinations. This is also known as a level 2 charger.
It takes approximately eight hours to recharge a fully depleted Leaf battery with a wall recharger.
The Tesla Model S comes with its own Tesla Wall Connector but also installs them as 'Destination Chargers' at hotels, restaurants, shopping centres and resorts.
Finnegan believes installed destination chargers may be increasingly available at well-placed hotels, motels, restaurants and retail points, attracting longer-distance drivers who'll need a few hours' or overnight charging.
Tesla advises that home-installation costs can range from $500 to $5000, "or more depending upon the scope of the work". The energy supply in some older homes may not support the additional load of charging a vehicle and may need an upgrade. Prospective EV buyers should investigate this before buying.
Socket outlet – approx. 14 hours
Plug-in EVs come with a charging lead that can be plugged into a GPO (general power outlet), which could be a standard or industrial outlet at home, work, the shops or elsewhere on the road. This is known as level 1, single-phase charging. The power feeds into the vehicle's onboard charger that charges the battery, usually overnight.
The Leaf comes with a 15-amp cable and it takes approximately 14 hours to fully recharge a depleted Leaf battery this way.
Audi's A3 Sportback e-tron can be charged using a standard 230v 10-amp outlet in about five hours. With an industrial outlet of 16 amps it can be charged in 2.5 hours.
Tesla says its six-metre long, 10-amp cable will provide a recharge rate of about 12 kilometres per hour.
How do I find a public charging point?
Charging points across Australia can be found at this map on the Electric Vehicle Council site, which utilises the crowdsourced PlugShare mapping tool.
PlugShare
PlugShare is a free, crowdsourced, global electric vehicle charging mapping tool that locates and describes recharging points across the world. It also facilitates peer-to-peer sharing of power access points.
PlugShare maps residential, company or government-owned power points, as well as high-power charging stations (Superchargers or DC fast charging). The map will filter charging points to suit your vehicle, and detail what type of outlet and power the point supplies. It may explain how to find it or if the owners charge a fee, and who you may need to call in advance if necessary. (Some are in people's homes and garages, carparks, caravan parks and motels.)
There's a supportive EV community vibe about many of the point descriptions on PlugShare. Take this one, for example: "EV heaven; House with 3-phase 40amp Tesla charger (3-4 hrs empty-full), 20 amp built in J1772 charger and 2 standard 10amp GPO's. Funky food markets right across the road to enjoy while juicing up."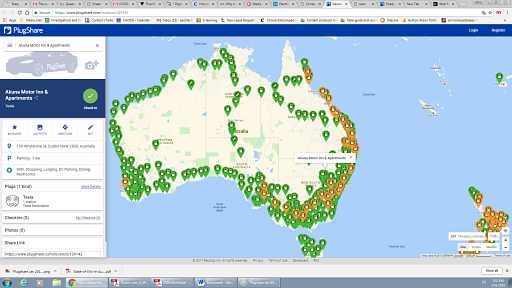 ABOVE: A screenshot of the online PlugShare map that reveals EV charging points across Australia and the world.
ChargePoint
ChargePoint is a global commercial plug-in EV charging network. It installs and maintains charging stations, and has a mobile app and account facilities to help EV drivers replenish their battery power and pay without anxiety.
How much does it cost to recharge your plug-in EV?
At this point in time, most publicly accessible chargers provide the power for free.
Exceptions include a handful of paid stations in South Australia and one in NSW on the ChargePoint network, and the RAC's 'Electric Highway' in Western Australia.
The latter is a network of charging stations located between Perth and the Margaret River region in the south west, paid for by the RAC motoring group. These include both DC and AC stations that can service all plug-in EVs on the road in Australia.
The cost of recharging on the Electric Highway is set at 45 cents per kWh of electricity, plus $1 per charging session to cover transaction costs. Unlike a conventional petrol service station, payment for using the RAC's charge station is through a prepaid account with a ChargeStar Genie card, which you register for on their website.
Anthony Middleton from ChargePoint tells CHOICE, "We will begin to see a roll-out of DC stations in strategic locations over the next two to three years, initially connecting corridors from Melbourne to Brisbane and urban fringes."
Middleton expects the pricing at DC stations to be above retail rates but he believes it would still equate to approximately 30% of what it costs to fill a petrol-fuelled car.
Patrick Finnegan from E-station also thinks that free charging will be phased out as the costs of providing power increases. He predicts that paid public chargers will be installed at service stations and city centre destinations, but particularly where electric cars travel long distances, such as intercity journeys.
A look at the PlugShare map shows that some people offering use of their privately owned power outlet do request payment. For instance, at the Nullarbor Roadhouse Caravan Park in SA, where they reportedly make their own electricity, a flat rate of $50 is requested.
Is it cheaper to run a petrol or electricity car?
EV promoter and blogger Leo Kerr, from information site My Electric Car, explains it this way:
If the average price for electricity is $0.25 per kWh, and it takes approximately 18kWh to travel 100km, it will cost approximately $4.50 in electricity charges to travel 100km.
The average petrol car uses 10.6 litres of fuel per 100km. If fuel is $1.50 per litre, it costs $15.90 to travel 100km.
(My Electric Car has a calculator that will show the difference in fuel costs.)
What range do I need for a longer commute?
Finnegan says range anxiety isn't an issue in practice because people purchase the car that suits the job it needs to do. He says, "Most pure electric cars, bar the Teslas, are town cars."
The average Australian commute is 15.6km one way, according to a 2015 government study. Coastal country regions have a significantly higher average commute of 25.8km, and drivers in remote regions had an average daily trip of 31.2km.
All of the BEVs (pure electric) vehicles we detailed previously would easily make these round trips in a day (doubling the commute length). But for those longer regional daily trips, some of the PHEVs (hybrids) would struggle to stay in electric-only mode.
Leo Kerr of My Electric Car says EV drivers adapt by working out the distance before departing, and he also believes evolving technology will put an end to range anxiety.
"With newer EVs such as the Renault Zoe, GM Bolt, upcoming Tesla Model 3 and new Nissan Leaf, the range will be 400km on a single charge, so range anxiety will not be an issue."
What about long road trips?
When we searched PlugShare for public charging stations from Sydney to Perth, it found just 49 along the 3925km trip, although this increases if you look further off the direct route.
Range anxiety kicked in for us when we couldn't find any publicly available charge points along the 1090 kilometre stretch from Wagga Wagga in NSW to Port Augusta in South Australia.
Unless we had access to a private power point along the way, we'd be in trouble if we were in a Leaf or BMW i3, and even in a Tesla. However, many of us may only do a drive across the Nullarbor Plain once or twice in our lives.
If Finnegan is right, towns and commercial businesses along long stretches of highway will see economic opportunities in installing charging stations, drawing plug-in EV owners to their establishments where they can power up, spending both time and money.
Driving range anxiety vs climate change anxiety
Prospective owners of plug-in pure electric vehicles could temper any driving range anxiety with the calming knowledge that they're not emitting climate-changing pollutants from their non-existent tailpipes.
And if they're drawing the power from batteries fed by solar power or another renewable source instead of fossil fuels, they could feel positively serene.
---
Join the conversation

To share your thoughts or ask a question, visit the CHOICE Community forum.