Woolies mix-up leads to kids accidentally eating dog food
What happens when you see Scooby-Doo dog treats next to Tiny Teddies and Arnott's Shapes?
---
Sydney mother Tania Toomey was shopping in the biscuit aisle of a Woolworths store when she figured the treats featuring Scooby-Doo – a character from a popular children's show – would make a fair snack for her kids come lunchtime.
"I bought these from the biscuit isle [sic] next to the Tiny Teddies at Woolworths on Concord Rd, North Strathfield," she wrote on the supermarket chain's Facebook page. "Put in lunch boxes and kids came home and said 'yuk, they are disgusting'."
A second look helped her understand why the Scooby Snacks didn't resonate.
"On closer inspection they are DOG treats. How many other families are feeding these biscuits to children?"
Scooby Snacks have print upfront that reads "pet food only" and a tag on the top left corner that says "individual doggy-bags", but the discrete labelling and the placement in the snack aisle duped Toomey – as well as a number of other shoppers.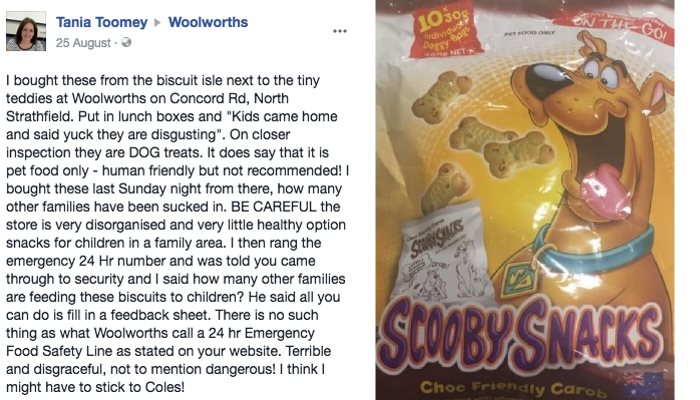 Image source: Pedestrian.tv (left) and News.com.au
CHOICE understands Woolworths does sell a range of Scooby-Doo biscuits, including some intended for children. Woolworths is describing the mix-up as a one-off.
"Woolworths can confirm that a single packet of Scooby Snacks dog biscuits was accidentally placed in the biscuit aisle…last week and subsequently purchased by a customer," a spokesperson told CHOICE.
The company confirmed the product is stocked in the pet food aisle, but a photo posted to Woolworths' Facebook page last month shows a box of them being sold alongside Tiny Teddies and Arnott's Shapes.
"I was shocked…that an item intended for animals was being sold alongside human food," wrote Dave Wolf in late July, who took and posted the photo.
"How many people have fed these to their children without knowing? I guess the numbers would be high."
Some of the 700 people who commented on Wolf's post claim to have bought the dog food from the snack aisle.
"Woolies I have done [sic] this mistake," writes Waina Peakman. "I actually bought these and they were in the snack aisle. My poor daughter ate almost half of the pack before I even noticed they were bloody dog biscuits."
Another woman made the same mistake when she was shopping at a store in Queensland.
"This happened in Woolworths Benleigh also," writes Acacia Warren. "My kids came home complaining they were disgusting and salty and it wasn't until I read the bag in detail I realised it was dog food."
The supermarket chain replied to Wolf's post, inferring at the time that the store had simply made a mistake.
"Hey Dave, it sounds like you have a mystery for us to solve in one of our stores," the reply began, which was riddled with Scooby-Doo references.
"We hope we can go back to being best buddies again when this mystery is solved.
"Perhaps we can celebrate the end of this mystery with some real (human food only) Scooby Snacks?"
---
Join the conversation

To share your thoughts or ask a question, visit the CHOICE Community forum.