Who owns my brands?
Are big companies giving us the illusion of choice, when in reality it's just more of the same?
Be brand savvy
---
When you're strolling down the ice-cream aisle at your local supermarket checking out your options, do you feel overwhelmed by choice? And would you be surprised to learn that the majority of the products on offer are made by one of the three big players in the ice-cream arena: Unilever, Regal Cream (also known as Bulla) and the not-so-sweetly-named Pacific Equity Partners (PEP)?
When you're choosing which financial institution will handle your accounts, do you consider the Bank of Melbourne, Bankwest or BankSA as competition to the big four? Or would it shock you to learn that they are all owned by one of the big four?
Market segmentation
Market segmentation is the subdivision of a large market into smaller, more tailored areas. Professor Emeritus Ken Miller from the University of Technology, Sydney's Business School, Discipline of Marketing, says, "Companies are going for different segments, price points and markets… Take ice-cream, for example. Some people want a cheaper ice-cream, some want a premium one, some want a creamier one, others a low-calorie one."
Consumer psychologist Adam Ferrier says that market segmentation is a means for a brand to provide a wide variety of choices targeted at specific types of consumers, without compromising their core brand proposition. "Consumers have different needs and there are different types of consumer. One brand may have a mass mainstream appeal for most consumers, but there might be a niche that doesn't buy into that brand's values. So they might acquire another brand," he says.
"For example you might be a big four bank, and there might be a group of people who are attracted to a proposition around having the lowest rates possible, so you'll create that brand. Take NAB. It's a big mainstream brand that appeals to all Australians. But it's decided somewhere down the line that it wants to start acquiring a younger, tech-savvy consumer, so it created a new bank, UBank, to do that. It decided that what NAB stood for wasn't a strong enough proposition for those consumers."
The illusion of choice
According to Dr Richard Denniss, executive director of The Australia Institute, "Maintaining additional brands while driving up the cost of banking products by further increasing their expenditure on advertising remains a highly profitable strategy for the big four banks because it helps maintain the farce that there's genuine choice and competition in the banking industry."
"An important part of this strategy on the part of the banks is that there's only so much shopping around that busy people have time to do. So if the big four banks own and heavily advertise a few extra brands, then the odds are that even those customers who do shop around will wind up being a customer of the big four anyway," he says.
So although consumers may think they're getting a huge amount of choice, what they're really getting is just an illusion of it.
Divide and conquer
"There are some sound business reasons and some sound consumer angles for sub-branding," says Miller. "There's an old study that looked at bread branded with different letters. It was the same bread, but they found that with time, some people became loyal to one of the types of bread, while other people were not loyal and just price sensitive. And if one brand goes bad, the others don't suffer. For example [with] milk, if one brand has [an image problem] like permeate, you can isolate that brand from the premier product."
The question is, are consumers aware of the saturation of sub-brands?
According to Ferrier, the answer isn't clear cut. "I think it's a really good question, and the answer is: it depends. There are several ways marketers manage brand portfolios. They might have a master brand approach, and they stamp the endorsement brand [the parent brand] on everything, such as BMW. Or, at the other extreme, you might have a number of [sub brands, also called purchase brands] operating under quite a silent endorsement brand, such as Mars. In the middle you have a model where both the endorsement brand and the purchase brand have a high visibility for the consumer, where both offer something to the consumer, such as Kellogg's."
When The Australia Institute surveyed a panel of bank customers about their understanding of which organisations own the banks they use, the results were mixed. While 89% of the 83 St. George, Bank of Melbourne and BankSA customers surveyed said they realised their banks were owned by Westpac, only 17 of 26 Bankwest customers were aware that their bank was owned by Commonwealth Bank.
So, who owns your brands?
These market share statistics were gathered in late 2012: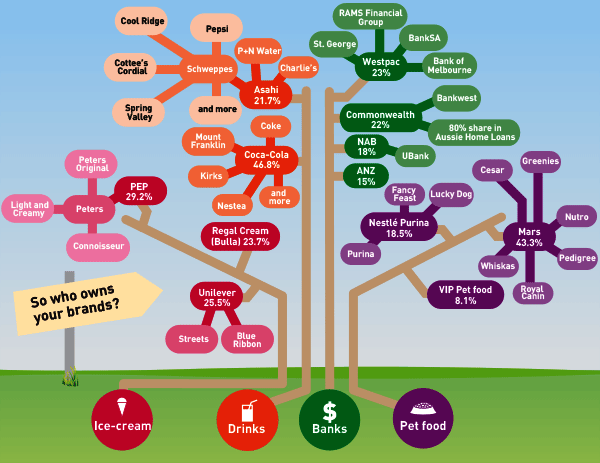 Market share statistics as at 2012
*Additional research by Vanessa Duffy
---
Join the conversation

To share your thoughts or ask a question, visit the CHOICE Community forum.