ShopMate and US freight-forwarding services
What are your postage options when US retailers won't ship your purchases to Australia?
Pass the parcel
---
Freight-forwarding services let you buy items from the US that aren't available in Australia

But be aware you won't know how much you'll pay in freight until your package hits their warehouse – it may be more than you thought

A service that repacks and removes excess packaging, or consolidates items into one package, could save you money

Any Aussie who regularly shops online will know the frustration of picking out purchases on an American website, only to discover at the checkout that the company doesn't ship to Australia.

Freight-forwarding services look like the answer to this problem. They allow consumers to 'shop without borders' by providing them with the necessary US address – often a warehouse in a state with no, or low, sales tax – which receives their purchases and forwards them to Australia for a fee. But are they everything they're cracked up to be?
This article examines the pros and cons of freight forwarders and takes an in-depth look at Australia Post's ShopMate service.
Plus, freight-forwarding companies compared, and how to choose the right freight forwarder for your needs.
Should I use a freight forwarder?
Freight-forwarding was a particularly great deal for Aussies back when we could bag overseas bargains on the favourable exchange rate, and it's still useful for buying items that aren't available here at all.
But it's not a perfect system. Generally the freight-forwarding company can only give you a definitive quote on the freight costs for your product once they take delivery of it. They need to weigh or measure it (usually both) to determine the cost, so you won't know exactly how much you'll pay until your package hits their warehouse. And sometimes it can be more than you bargained for.
And remember, as of July 2018, the GST will be applied to low-value (ie, less than $1000) goods imported into Australia – so bear in mind this will add 10% to the cost of your purchase.
But if you can't live without that designer handbag or pair of runners from the US, freight-forwarding services are a great option – just make sure you do your research first. You may need to contact the retailer directly to ask for the package's weight and size – amazon.com can be useful for this. Freight forwarder US to OZ recommends getting three weight estimates to find the average.
What's ShopMate?
Australia Post launched its own freight-forwarding service, ShopMate, in November 2014. And while it's great to see Australia Post getting in on the freight-forwarding game, a number of CHOICE readers told us they're not happy with ShopMate's service – so we decided to take a closer look.
How does ShopMate work?
Sign up for free by creating an Australia Post account.
Shop with US retailers using ShopMate's mailing address, located in the sales-tax-free state of Oregon.
Once your goods arrive at the ShopMate warehouse, you'll be notified by email of the shipping costs.
Log in to your account, declare your package and pay.
Track your delivery through your Australia Post account.
Receive your goods within five to eight business days of your shipping costs being paid.
ShopMate customer service criticism
The Postal Industry Ombudsman's office received 83 complaints about ShopMate in 2014–15 (out of a total 5600 complaints about Australia Post and private postal operators). Many of the complaints were during the peak Christmas period, not long after ShopMate launched, and most were in relation to delays and call centre wait times. Other gripes were about shipping charges, package dimension calculations and size limits.
While most freight-forwarding services use couriers like FedEx, UPS or DHL, ShopMate operates through the US and Australian postal services, so it's not all that surprising that there were some complaints about slow service and missing packages. Couriers generally offer faster and more secure delivery than traditional mail.
Since its launch, complaints about ShopMate have decreased significantly – down to 33 complaints in 2016–17. An Australia Post spokesperson says it's "pleasing that the number of reported complaints to the Ombudsman have more than halved", and that AusPost "welcome[s] customer feedback".
However, ShopMate's reputation doesn't seem to have improved, with many customers still taking to online review sites to criticise the service.
Packing problems
Package consolidation service
In its infancy, one common complaint about ShopMate was its lack of a consolidation service. Some customers were hit with unexpectedly high shipping bills when US retailers sent their items in separate packages.
When CHOICE reader Louise from South Australia ordered 2.9kg of clothing from US retailer Banana Republic in 2015, she calculated the freight forwarding to cost $52.65 based on ShopMate's charges of $22.95 per parcel, plus an additional $4.95 per 500g – but her actual bill came to over $120.
"It turns out that the retailer sent my order in four separate packages even though it was ordered and paid in one transaction. As a result each package attracted the $22.95 charge and each package was charged a minimum of 500g. One package contained one pair of socks, valued at $US4. In the end I paid the extortionate postage for most of my items. The socks missed out. I won't be using ShopMate again."
ShopMate has remedied this by offering a consolidation service for a fee. But the catch is they'll only consolidate packages from the same retailer – so you can't combine shoes from one retailer with a book from another, for instance. For parcels from different retailers, ShopMate offers a bundling discount. You pay the full fee for the first package, then receive a $7.50 discount per subsequent packages.
All of the other freight-forwarding companies we looked at for this article can consolidate packages either for free or for a fee, which is likely to reduce the overall shipping bill.
Cubic weight vs actual weight
When calculating shipping charges, ShopMate measures the cubic weight (also known as volumetric or dimensional weight) and the actual weight of your parcel, and charges for whichever measurement is greater. This is standard practice for most postal and courier services.
To measure a parcel's weight in cubic centimetres, ShopMate uses the formula Height x length x width ÷ 6000.
For example, a pair of lightweight running shoes might weigh only half a kilo – but if they come in a standard shoe box measuring 35 x 25 x 12cm, their cubic weight will be 1.75kg. Odd-shaped packages can cause even bigger price shocks.
Sleeping on the job
CHOICE member Carolyn found this out the hard way when she ordered a special CPAP pillow to assist with her severe sleep apnoea in 2017. ShopMate managed to lose the parcel in its warehouse due to an admin bungle.
"After multiple emails being sent and resent and several phone calls over the following weeks stressing that this wasn't just a 'nice-to-have' item but a medical aid, I received an automated message at 2.38 in the morning to say my package had been delivered to the warehouse in Oregon," she says.
She then logged into her ShopMate account to find that the postage fee would be AU$67.55 – far more than she'd expected. "According to Australia Post, the actual item weight was 1.8kg and yet repacked it was 3.8kg (the 'chargeable weight') – they more than doubled the weight with their so-called 'cost-effective packaging'!"
Eventually, Australia Post waived all delivery fees and delivered the pillow to Carolyn in Australia. "My order was finally received on 27 June 2017 after being ordered on 24 April 2017. I haven't tried the service since!" she says.
Wasted space
Cassie used ShopMate to forward a parcel weighing a little over 4kg. "Much to my shock when the parcel arrived at their warehouse in the US I got an email saying that my postage would be $150 for a cubic weight of 10kg! ... If it is in a branded box (which everything would be!) their policy is not to repack it."
In response to Cassie's situation, Australia Post told us, "We will not repack the item if there is a risk of the package being compromised by doing so."
ShopMate can repack a parcel to reduce its cubic weight, for a $5 fee, but this is done at their discretion and only if there's a saving of more than two kilograms. They won't repack items that are in branded packaging (which rules out many retail goods) or items in protective packaging like Styrofoam.
Some of the other freight-forwarding services we looked at have similar restrictions on removing protective packaging, but most have no problems removing branded packaging.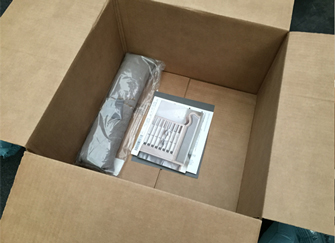 A US retailer mailed this tiny tablecloth in an unnecessarily large box.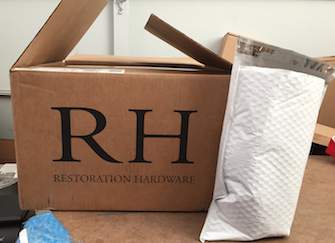 The freight-forwarder repacked it in an envelope to reduce its cubic weight before shipping to Australia. Photos: US to Oz
What if the store won't accept an Australian credit card?
Not only do some US retail websites refuse to post to non-US addresses, some will refuse payment from non-US credit cards too. For a fee, some freight-forwarding services can make a purchase on your behalf. This service goes by a variety of names, such as Assisted Purchase (Shipito) and BuyForMe (ComGateway and HopShopGo), among others. US to Oz can bid on US eBay or buy US iTunes gift cards for you.
Some companies, like ComGateway and HopShopGo, allow you to search for products and brands via their site, so you know you're already shopping with participating retailers.
Freight-forwarders compared
There are dozens of companies all over the world offering similar services to ShopMate. We looked at some of the main players shipping from the US to Australia:
Features
ComGateway
MyUS
Shipito
ShopMate
USA2Me
US to OZ
Cost to ship 2kg package to Australia
US$36 standard delivery (5–8 business days) or US$43.20 Express/Prime delivery (3–4 business days)
US$41.96 (delivered in 5–10 days by FedEx Economy) up to US$94.18 (delivered in 2–8 days by UPS)
From US$46.08 (4–9 business days with Australia Post) to US$122.79 (5–6 business days with USPS Express Mail)
AU$42.75 via US and Australian postal services

US$76.42 (Basic membership)
From US$14.02 to US$217.98 depending on membership level

US$67.10 for postage, plus 4.5% of the item cost, plus exchange rate fee
How shipping is calculated
US$24 (Standard) or US$28.80 (Express) for the first 0.5kg, then US$4 (Standard) or US$4.80 (Express) for every additional 0.5kg
Based on weight, regardless of package size and count
US$2 per package plus your choice of shipping. (Shipping varies by destination, carrier, weight, dimensions, declared value.)
AU$22.95 per package, plus AU$4.95 per 500g
Varies depending on membership level
4.5% of the value of your goods plus shipping, with a minimum fee of AU$12 and a maximum fee of AU$350 (plus optional insurance)
Online shipping calculator
Yes – has a live-quote feature
Yes
Yes
Yes
Yes
No – quotes can be requested via email or website form; use USPS shipping estimator for shipping cost guide
Warehouse location/sales tax*
Oregon / 0%
Florida / 6% (Although MyUS claims it is the only company of its kind to earn a tax-free postal code, giving customers tax-free shopping)
Oregon / 0%, California / up to 9%, Nevada / up to 7.1%, Austria (EU)
Oregon / 0%
Texas / 6.25%
Colorado / 2.9%
Membership
Free Standard membership. Every three shipments entitles you to six months of Prime membership
Free for a single package; 30-day free Premium trial ($7/month thereafter); Premium+MAIL $25/month
Free standard membership; Premium membership is $10 per month or $50 annually
Free
Four levels:

Basic – $23 set-up fee; no monthly fee
Standard – $15 set-up fee; $10 monthly fee
Premium – $15 set-up fee; $35 monthly fee
Ultimate – $15 set-up fee; $60 monthly fee

Free
Package consolidation
Up to 3 packages for free; additional packages US$1. Free for Prime members
Free for premium members
Premium members only – $3 per package
AU$4.95 per package; max. 5 packages from the same retailer
Free
Free
Repacking

Standard: US$7 for box cutdowns; US$5 for box to bag
Prime: US$5 for box cutdowns; US$3 for box to bag

Free for premium members
Premium members only – $5 fee
AU$5 per parcel for fragile parcels or to reduce volumetric size; won't repack items in branded packaging or styrofoam, or if it won't reduce parcel size by at least 2kg
Flat fee of $5 or for 50% of shipping savings
Free
Shopper service**

Yes – 10% of transaction cost; 7% for Prime members

Yes – for premium members only; 8% fee or minimum of $10 per order

Yes – $8.50 per 10 items from same retailer, plus 4.3% processing fee, plus 8% commission fee

No
Yes – $10 minimum per order or 10–13.5% of purchase price, depending on payment method
Yes – AU$5 per transaction
Storage fees

Standard: free for 30 days, US$1/day after.
Prime: free for 60 days, US$1/day after

30 days free for premium members only, then charges increase up to a maximum of $6/day after 90 days, for an oversized package
Free storage for up to 90 days (180 days in Nevada warehouse)
21 days free; AU$2 per parcel per day for parcels thereafter
Free for 30–90 days, depending on membership level, then $1 per lb
Will only hold items for a "reasonable" [unspecified] length of time
Other features

Ships primarily via DHL Express and FedEx Express

A large company with 400,000+ members in 220 countries and territories
Ships via USPS, UPS, FedEx and DHL
Can ship Dangerous Goods via FedEx (certain postcodes) and DHL (all areas)

Non-members can only have one package at a time handled by Shipito's warehouses
Use of the Austrian and Oregon warehouses, and services such as package consolidation are only available to Premium members ($10/month or $50/year)
Will send you three photographs of your item (for free) and will open and inspect the contents of your package if asked (for a fee). Additional photos available for US$2–5
Assisted purchase service – online and actual stores
Express processing US$5
'US Unlocked' program: you can get your own virtual prepaid US debit card, allowing you to shop in the US and have your purchases delivered to a Shipito warehouse

Ships via USPS, UPS, FedEx and DHL
Some membership levels entitle you to free shipping each month
Members can also sell in the US
Established 2004

Australian owned and operated – all payments in Aussie dollars to an Australian bank account
Charges for actual weight, not cubic weight (so a good choice for shipping lightweight but bulky items)
Ships mostly via USPS, but can arrange FedEx, DHL or sea freight
No online shipping calculator – price quotes via email or website form
Can make US purchases and bid on US eBay on your behalf
Exchange rate used for conversion from USD to AUD is the current exchange rate less 2.5 cents – eg, if the exchange rate is 0.745 then US to Oz will use a 0.72 exchange rate
Free photos of your order if requested



Prices and details correct as at April 2018. All dollar amounts are in US dollars unless otherwise specified.
Table notes: * Sales tax applies to goods purchased in US and is payable to retailer, not freight-forwarding service. ** Buy from retailers that don't accept Australian credit cards.
Tips for using freight-forwarding services
Don't base your provider choice on shipping price alone – service can be just as important.
How will your package be shipped? Couriers are generally faster and more secure, and they're not always more expensive than airmail.
Is this a one-off purchase or are you a regular international shopper? Some companies offer lower rates to members, and some are members-only.
Have you calculated the cubic weight of your parcel? You could save on shipping if you choose a service that can repack and remove excess packaging.
Buying multiple items? Look for a service that can consolidate your items into one package. And if your items are likely to arrive on different days, check whether you'll be charged storage fees for keeping them at the warehouse.
Buying something bulky? Check size and weight limits. Some companies offer sea freight for very bulky items.
Buying something dangerous? Check the fine print. Some companies may not be able to ship liquids, chemicals, weapons, tools, items with lithium batteries and other items classed as 'dangerous goods'.
---