Rashies review - which brands pass the test
We rely on rashies with high UPF ratings to protect our skin, but how well do they stand up to sun, chlorine and repeated washing?
Fun in the sun?
---
Whenever you hit the beach or the pool in summer, sun protection is a must. With very few kids willing to submit to full-body sunscreen coverage, UV-protective clothing like a rash vest, or 'rashie', can be an absolute blessing for parents – back, front and shoulders covered in one easy step.
When we surveyed 350 CHOICE members with children under 18, we found that 92% used rashies for sun protection.
However, rashies don't last forever, and the ravages of sun, chlorine, washing and stretching will diminish the protection over time – as the various warnings and disclaimers on the label illustrate.
We've put together this buying guide, covering:
We were also keen to find out how they would stand up to a summer of everyday wear and tear, so we put nine different rashies to the test.
What is UPF and how is it measured?
Ultraviolet protection factor (UPF) is a measure applied to fabrics that tells you how much of the sun's UV radiation is blocked, and therefore how much protection it provides. A UPF of 50 allows 1/50 or 2% of UV radiation to penetrate, while a UPF of 5 lets 1/5 or 20% of UV radiation through.
There's an Australian standard for UPF measurement, AS/NZS 4399: 1996. Using a spectrophotometer or spectroradiometer, a photodetector measures the UV radiation that penetrates the cloth. A large piece of fabric is tested in at least four different places, and the final rating takes the lowest readings into account.
The UPF of a material can be affected by:
its thickness – denim protects better than organza
the tightness of the weave – and stretching can reduce this
the colour – darker and intense bright colours provide more protection than light ones
the fibre – all other things being equal, synthetic materials provide more protection than natural fibres
the addition of UV-absorbing finishing chemicals or optical brighteners
moisture – dry fabric often has a higher UPF than wet fabric.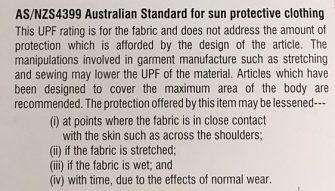 Information required on UPF clothing swingtags
The Standard requires the cloth to be dry and unstretched when tested, which means it may not accurately portray conditions in real-life use. As such, label warnings are required (right). Nor is there any requirement in the Standard for ageing of the fabric – exposure to sun and chlorine can break down fabric, as can sweat and sunscreen, while water and repeated washing may gradually remove optical brighteners and other chemicals that block UV in fabrics treated this way.
There have been calls to include testing of wet and stretched samples in the Standard, and research is being conducted to determine the best way of doing so when the Standard is revised.
Australian surfwear brand Rip Curl told us it does its own additional UPF testing on its rashies, including testing the UPF of their fabrics while stretched. Employees also put prototypes to active use, wearing them while surfing in the tropics (best job in the world?), with the tops tested for UPF afterwards.
How do you know if it's doing its job properly?
If you're wearing a rashie and not getting sunburnt, you may think it's doing its job. And it likely is – against the burning UVB radiation, at least. In general, fabrics provide more protection against UVB than UVA, so an absence of sunburn doesn't tell you whether it's providing effective protection against UVA – and that's the radiation most responsible for premature ageing of skin. It also causes skin cancer, including melanoma.
Visible tell-tale signs are a slackening of the fabric and losing its shape. Take particular note when it's wet, looking for excessive stretching and transparency. Ultimately, it's better to be safe than sorry, and buy and replace rashies regularly – and the good news is they don't have to be expensive to be effective.
Rashies we tested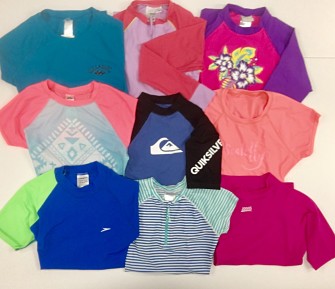 Top row - Billabong, Cancer Council, Emerson; Middle row - Kmart, Quiksilver, Seafolly; Bottom row - Speedo, Target, Zoggs
We wanted to see how well rashies stood up to the kind of treatment they usually get in use. We bought rashies from nine different brands; seven claimed to be UPF 50+, one was UPF 50 and one made no direct UPF claims. We chose lighter colours where possible, and all were suitable for use in chlorine pools.
The rashies were: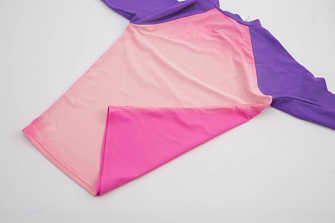 The Emerson rashie faded on the side exposed to the sun
exposed to sun
soaked in chlorine water
rinsed most of the time after being in chlorine water, but sometimes dried without rinsing
washed using a gentle wash in a washing machine, except those that said handwash only, which were placed in laundry bags as well.
The treatment was roughly equivalent to using them a few times a week over one summer. At the end of the treatment period, two of the rashies – Emerson and Target brands – had faded on the side exposed to sun, with some yellowing evident. But apart from the colour of these, they all looked in good condition.
Unbranded samples from each rashie were then tested according to the Australian Standard by the Australian Radiation Protection and Nuclear Safety Agency (ARPANSA), which is an accredited test laboratory used by many manufacturers.
All nine of the rashies passed with flying colours, with the lowest UPF rating being 140 for a top rated 50+, and the highest being greater than 300, which is the highest reading they can record.
| Brand and model | Price paid ($) | Fabric type | Measured UPF | Claimed UPF | Washing | Other claims/features |
| --- | --- | --- | --- | --- | --- | --- |
| Billabong Surfdayz Wetshirt | 55.99 | 80% polyamide, 20% elastane | >300 | 50+ | Cold handwash. Do not machine wash | |
| Cancer Council Long Sleeve Rashie | 39.95 | Polyester/ elastane | 180 | 50+ | Cold handwash or cold machine wash separately before use | |
| Emerson (Big W) Short Sleeve Rash Vest | 12.00 | Nylon/elastane | 140 | 50+ | Warm gentle machine wash | |
| Kmart Girls Rash Vest | 12.00 | Polyester/ elastane | 190 | 50+ | Warm handwash | |
| Quiksilver All Time Short Sleeve Youth | 39.99 | 92% nylon, 8% elastane | >300 | 50+ | Cold handwash | |
| Seafolly Summer Essentials Short Sleeve Rashie | 44.95 | 82% polyester, 18% elastane | 300 | none | Gentle wash in cool water. Do not soak | Chlorine resistant |
| Speedo Dissect Short Sleeve Sun Top | 49.99 | 53% polyester/47% PBT* | 210 | 50+ | 30°C machine wash | Chlorine resistant |
| Target Carribean Culture Noble Blu | 20.00 | Nylon/elastane | 210 | 50 | Warm gentle machine wash | |
| Zoggs Short Sleeve Sun Top | 36.80 | 53% polyester/47% PBT* | 150 | 50+ | Gentle machine wash 30°C | Chlorine resistant |
* Polybutylene terephthalate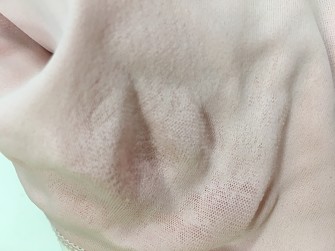 Old, used rashie showing deterioration
The test of time
We also tested a rashie that had been worn by a child for over a period of three to four years and had copped a battering in chlorine pools and at the beach, and while it was usually rinsed it was rarely washed. The material showed signs of wear (see picture, right) and had lost elasticity in patches.
This rashie was rated UPF 20 after taking the worst patches into account, which still places it in the 'good' category for protection. So while a new rashie is better, it's good to know that even a worn-out rashie is going to do an OK job if you don't have another option, and some protection is better than none when it comes to Australia's harsh summer sun.
For comparison, a thin white cotton t-shirt has a UPF of about 5.
Are expensive brands better than cheap brands?
Parents in our survey were divided on whether it was better to get cheaper or more expensive tops. Many thought that the cheaper ones were just as good as more expensive ones, though that may depend on how they're treated. Others believed the more expensive ones were better because they lasted longer than one season and could be passed on to another child when outgrown.
While our test scenario found that both cheaper and more expensive tops easily met the claimed UPF protection after a battery of sun and chlorine exposure and repeated washing, there may well be a difference between them after two or three years of use. On the other hand, buying cheaper ones could be a better choice if it would make you more likely to replace them more often, and err on the side of caution.
Tips for choosing a UPF rashie
Look for a label that says the rashie has been tested to the Australian Standard.
If you're using it mostly in chlorine, polyester is generally more chlorine-resistant than nylon. PBT provides stretch with chlorine resistance, however there are some relatively chlorine-resistant Lycra materials.
Get one with a high neckline – a zip makes it easier to get on and off.
Long sleeves provide more protection than short sleeves, and boys' short-sleeved rashies tend to have longer sleeves than girls', which may have the more 'fashionable' cap sleeves.
Darker colours and black provide better UV protection than pale colours. Bright colours are also good and make it easier to spot your child!
Make sure they're a relaxed fit, especially across the shoulders, because stretching the material reduces UPF. If they're too big, however, they become difficult to swim in and uncomfortable when wet.
Care instructions
For something that's likely going to be worn in salt water, chlorine and freshwater, in the sun and on the sand, by the children of harried parents, the care instructions can be pretty demanding.
Most labels point out you should rinse the rashies after use, but fresh water may not be available.
It's usually recommended you don't roll them up when wet or wrap them in a towel. The Cancer Council says this is to prevent mildew forming and staining light colours. It also prevents chlorine from the towel leaching back into the rinsed rashie. But parents might wrap them in a towel to keep the wetness contained as much as possible for the trip home.
Most recommend a gentle machine wash or even handwashing, but many parents use a regular wash.
Some recommend warm water, some say cold water only.
They should be line-dried in the shade. But when kids go in and out of the water all day, those shirts may well dry on the child – probably in the sun – and without having been rinsed.
Not surprisingly, parents may not strictly follow the care instructions – as Natasha from NSW argued: "The care instructions are unrealistic for a busy family".
Our only advice is to just do your best!
CHOICE parents surveyed on rashies
We surveyed 321 Voice Your Choice members about their buying, use and care of rashies for kids. Most people (58%) bought them from department stores such as Target, Kmart and Big W, especially if the kids were under 12. Surf brands, including Rip Curl, Billabong and Quiksilver, were also popular (35%), as was the Cancer Council (28%).
We were particularly interested to know how long rashies were used for, and found that while many kids only wore a rashie for one summer or a year (57%), outgrown tops that still had some wear in them tended to get passed down to other family members, friends or a charity collection – only 25% were thrown away – so a particular top could potentially be used for several years.
When it comes to care instructions, many members found the rashie care instructions confusing and hard to follow. While instructions vary from top to top, all those we bought say you should rinse immediately after use, and not tumble dry. Almost half (49%) said they always or often rinsed them in fresh water immediately after use, and 89% said they never tumble dried them.
Finally, we asked for tips when buying and using rashies – the best are included in our list of tips for choosing a UPF rashie above.
---
Join the conversation

To share your thoughts or ask a question, visit the CHOICE Community forum.