The most popular products in the EOFY sales
We round up the most researched products in the lead-up to the sales, and give you top tips to help you shop.
Shop smart
---
The sale period leading up to the end of the financial year (EOFY) is one of the busiest times for CHOICE, as lots of you visit our site to search for products and advice to help you make the most of the great deals available (and perhaps make last-minute purchases you can claim as tax deductions).
So, what products are you looking for in the sales and what do you need to know before you buy? From last year's data, we've rounded up the top five products researched on choice.com.au at this time of year, plus useful tips to help you get the best value.
1. Electric heaters
It's not surprising, given it's winter, that our review of electric heaters is the most popular at this time of year. But are electric heaters the best way to heat your home?
CHOICE experts say that installing a reverse-cycle air conditioner is actually the most efficient way to get toasty warm, both for cost and environmental factors. But this option isn't possible for people who either rent or can't afford the upfront cost. In which case, you may well be looking into an electric heater to beat the chill.
"One of the best tricks for getting the most out of an electric heater is to use it in conjunction with a ceiling fan," says Matthew Steen, director of Reviews and Testing at CHOICE.
"A ceiling fan will help circulate warm air around your room, making sure you don't end up with uncomfortable cold patches."
2. Washing machines
We find the CHOICE community likes to take advantage of EOFY sales and other key retail periods like the Boxing Day sales to pick up big-ticket items – but remember, even with a generous discount, a washing machine is an expensive purchase that you'll have to live with for many years, so it's important to do your research or you might be stuck with a dud.
"We tend to recommend front-loaders because they perform better and use less water, but there are pros and cons to each type," says CHOICE laundry expert Ashley Iredale.
"Convenience comes at a cost. Washer-dryer combos tend to break down more, use more water and leave you waiting longer for dry clothes."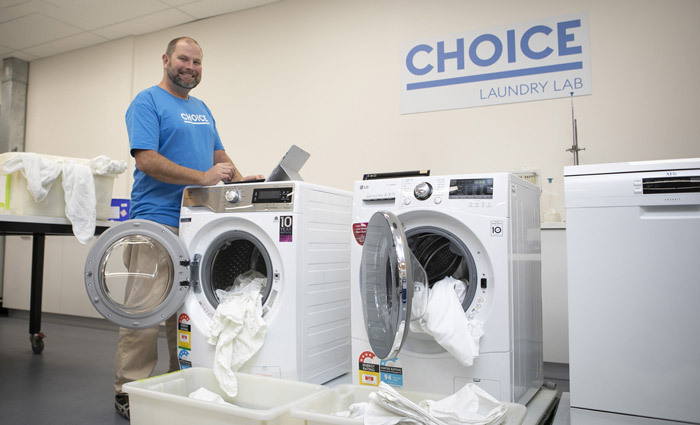 3. Televisions
The AFL and NRL seasons are well underway and your TV can make or break a good Grand Final viewing party come September/October.
We've released details of the best and worst new TVs for sport, but if the latest Marvel blockbuster matters more to you, or you just want an easy way to watch YouTube, read our TV buying guide to help with your decision.
"Paying attention to the specific product codes can pay off handsomely," says CHOICE television expert Denis Gallagher.
"Use the product codes to find out how old the TV on sale really is. If it's from 2018 or 2017 there's a good chance you can haggle even further."
4. Coffee machines
It seems the CHOICE community fancy themselves quite adept at the art of the perfect latte, with coffee machines coming in as our fourth most searched for item during the EOFY sales.
Recently an $89 Kmart coffee machine that beat a $949 competitor really caught people's attention, but there are plenty of other great deals to be found at this time of year.
Whether you're choosing a capsule machine or in the market for a more fancy manual espresso, doing your research (using our coffee machine buying guide) can help you make the right purchase and give you an idea of how much you need to spend on a machine that meets your needs.
5. Ovens
It's the perfect time of year to warm up the kitchen with a nice slow-cooked dinner and fill the air with the aroma of your favourite roast vegies. It seems this sparks many in the community to get cooking with a shiny new oven.
While you're here
After joining the CHOICE team just over six months ago, I've been lucky enough to get to know all the people who've shared their expertise above. They care about making sure that the products you rely on every day are good quality, that they're safe and that you're empowered with the right information, free from commercial interests.
You can support their work by becoming a CHOICE member. Not only do you get access to our full range of reviews, but you support a truly independent and non-profit consumer organisation. You can also support our work by signing up to one of our campaigns. Whatever capacity you have to support our work, we appreciate your contribution.
---
Join the conversation

To share your thoughts or ask a question, visit the CHOICE Community forum.