Petrek 3G pet tracker review
Is this GPS tracker the answer to wandering pets?
Finding Fido
---
A missing pet can cause a lot of heartbreak, but one company has come to the rescue with a wearable tracker for your furry friends. The Petrek 3G pet tracker is a lightweight, though bulky, plastic device covered in rubber that threads onto any collar. With a SIM installed at purchase, it acts as a GPS responder for when you want to track your pet or have it warn you when it goes out of a certain range.
In this article:
In the box
You'll receive the Petrek device with SIM installed (and $5 preloaded). There's no charger, but it does have a proprietary USB cord with a magnetic clip at the end for attaching to the device. The instructions call for a charger with output greater than 1000mA. It doesn't say what the result would be of not using one. Putting the onus on the consumer to supply this isn't great.
There are dim indication lights for power which are on the rear of the device and which will typically be concealed when attached. All access is via the app, including battery and reception levels and geo-fencing set-up. The Petrek 3G comes with limited instructions, with some in small print, but what's there is well written. While there's no troubleshooting section or email support, it does have a telephone contact. The website has a FAQ page only and there is no warranty specified so you'll be relying on the Australian Consumer Law.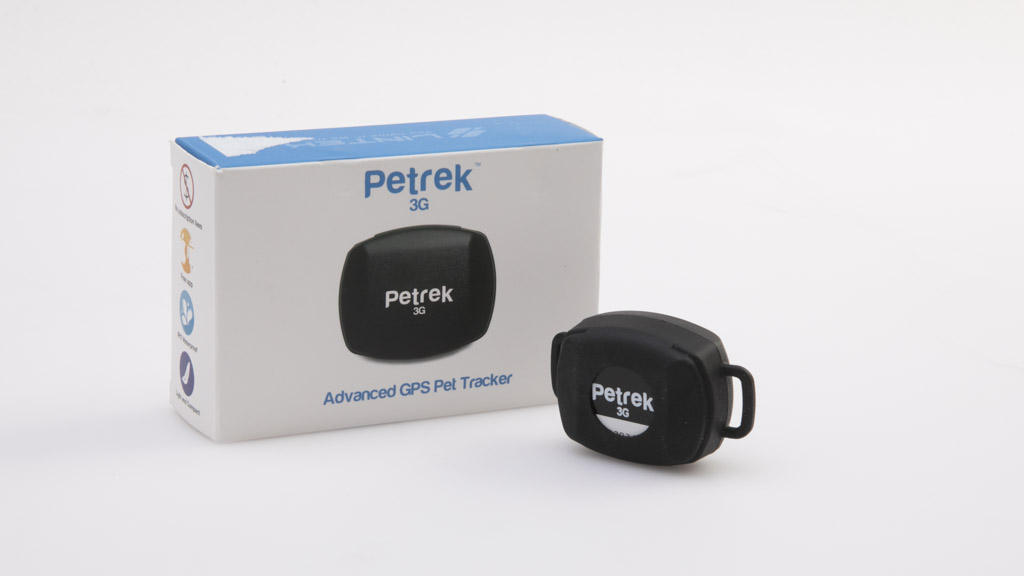 The Petrek acts as a GPS responder for when you want to track your pet or have it warn you when it goes out of a certain range.
Reception and tracking
We triggered the Petrek 3G to track in a variety of conditions such as over a short walking distance, on public transport and in a car, over a number of hours. While walking and travelling by car provided a good tracking outcome, the train journey didn't, probably because the metal casing of the train blocked the GPS signal.
It's unlikely your pet is going to hop onto a train, and if your pet is stolen and transported in a car, the thief would most likely remove the Petrek 3G (assuming they know what it is) so it's not going to help in this situation. But our results show the tracker is useful if your pet does get out from your property and goes exploring.
Geo-fencing
Setting up a geo-fence (a perimeter that triggers an alarm when your pet breaches it) is relatively simple, but you can only define a radius rather than a polygon on a map, which makes it less versatile. The geo-fence works well and recorded all the breaches when our tester went outside of the perimeter.
There are three different levels of responsiveness you can choose from: the device contacts the app every 30–60 seconds ('Urgent'), every 5–10 minutes ('Normal') or every two hours ('Power saving'). The different modes have different effects on battery life.
Battery life
You won't want to be removing and recharging every day but you may need to. On a full charge, we used the device in constant motion and at full settings (Urgent mode) for 6.5 hours; at the end of this the battery was at 60%. From this we can extrapolate that you're likely to get your work hours out of the device, but not much more. However, you'll probably only have Urgent mode activated if your pet breaches the geo-fence perimeter, and the battery life claim when the device is on Power-saving mode is a few days, which is reasonable.
Ease of use
Setting up the Petrek 3G is a relatively simple process. It comes with an Aldi SIM with $5 preloaded that you need to activate – Petrek claims this amount lasts for 3–4 months, so you'll need to schedule your top-ups. Charging takes a few hours on a daily basis if you use it in Urgent mode, and every few days if you use it in Power-saving mode. Like anything with a GPS, it needs adequate signal strength to actually track, so if your pet is regularly under cover (e.g. a housebound pet) you won't be able to track regularly.
The accompanying 'iPet' app is easy to use and set up, and there's a Youtube channel for set-up help as well. Once you've set up the tech side of things, it's a simple process to attach the device to your pet's collar, which threads through the silicone straps.
CHOICE verdict
The Petrek 3G pet tracker is a useful device for tracking your pet, as long as you remember to keep it charged and keep the SIM topped up. It's going to be most useful for people with wandering pets, but don't think of it as a security measure for theft. The recharge time is decent, and you really only need to activate Urgent mode when your pet breaches your pre-set perimeter so you can expect a few days' battery at least in Power-save mode.
---