You too can become a certified mortgage broker
The bar is set low for becoming a certified mortgage broker. How do we know? We took the course and got certified.
Learning how to line up clients – and commissions
---
The Certificate IV in Finance and Mortgage Broking may sound impressive, but to say it isn't rocket science is an understatement.
The main focus of the certification is sales, marketing and lining up clients – not acting in the best interest of aspiring homeowners.
How do we know? We took the course and got certified to prove the point.
In this article:
Mortgage brokers have been doing pretty well for themselves in recent years.
A broker's commission is based on the size of the home loan, which only got bigger as the property market climbed skyward.
In 2015, brokers were being paid a cumulative $2.4 billion in commissions, up from $1.5 billion in 2012, which increased the cost of mortgages by 16 basis points.
And in the final three months of 2018, 56.8% of all residential home loans were settled by mortgage brokers – the sector's biggest market share to date.
The leading bank-owned mortgage aggregators settled $48.77 billion of those loans.
Banks also incentivise brokers to steer business their way with "soft dollar benefits" such as free entry to conferences linked to the sale of home loans, and "broker clubs" that include various perks, travel and hospitality. Their budgets for these incentives and for commissions are substantial.
And mortgage broking is a profession open to just about anyone, as long as you're over 18 and know how to use a computer.
How skilled are mortgage brokers?
Unlike financial advisers, for whom minimum knowledge, skills and educational standards became mandatory in January 2019, mortgage brokers only need to acquire a comparatively less onerous Certificate IV in Finance and Mortgage Broking before they can start broking.
To find out how hard this course really is, or isn't, we paid $695 for on online version provided by the National Finance Institute (NFI), which is largely staffed by people with mortgage broking backgrounds.
The first unit lets you know this probably won't be the toughest course you ever took, saying "as a minimum, they [brokers] should be familiar with sending emails".
The multiple choice and simple true or false questions covered such subjects as what software you might use to produce a letter and whether or not a well-trained sales person would provide prompt, efficient service to their customers.
The course is presented in 12 units, each of which is followed by a series of online multiple choice questions. You receive your grades immediately after submission for this part of the course.
The questions here range from really easy to pretty easy in this trainee's estimation, mainly because the wrong answers are so obviously wrong in most cases.
Then there are four exercises and two assignments that you have to send in to the NFI for grading.
There's a heavy focus here on marketing and salesmanship, on how to grow your business or help someone else grow theirs. You'll need to submit a marketing plan and competitor analysis and demonstrate administrative skills.
The toughest bits are probably the actual loan application forms and related documents, where you'll need to break out your calculator. But you can refer back to the course examples and take as long as you like to get it right – as long as you stay within the six-month deadline for completion.
If you suffer from exam phobia, rest easy – you can take the mortgage broking course online and have the textbook open when you do the quizzes, exercises and assignments.
Better yet, you get three tries to get it right on all parts of the course.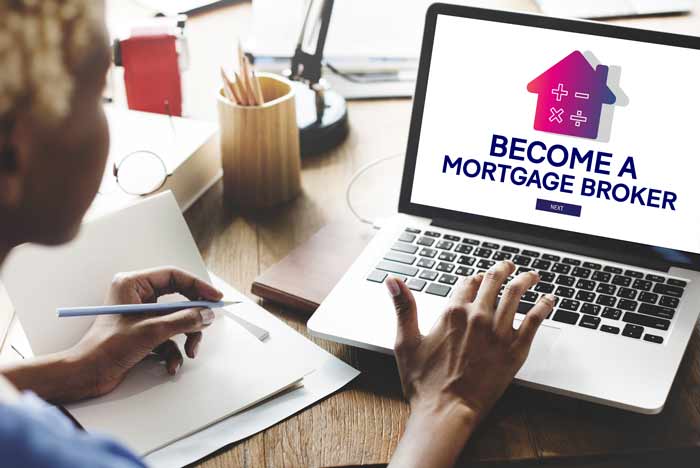 The course has a number of quirks, such as recommending you use MySpace and Bebo for networking, two services that had long since fallen out of favour last time we checked.
And fact checkers might want to question the reference to Telstra as a "government agency".
Aside from such curiosities, you will have to make your way through a lot of heavy reading, and the exercises – where you fill in actual mortgage applications and related client documents – do take a bit of practice. If numeracy is not your strong suit, you may have to check your maths a couple of times.
But once you get the hang of doing the calculations and filling in the forms, you're well on your way to setting up shop as an independent operator, as most mortgage brokers are.
As the course material puts it, "it may take six months to acquire a reasonable and regular volume of loans but you will be rewarded with repeat business if you have the right attitude."
The mortgage aggregator Mortgage Choice (partially owned by Commonwealth Bank) also strikes an upbeat note: "It is important to note that a lack of experience is not a deal breaker when it comes to becoming a mortgage broker. As long as you have a drive to succeed, love sales, and are a people person, you have everything you need to become a successful mortgage broker."
The focus on sales
The course gives some questionable tips, like how to trick prospective clients into thinking you don't actually work out of your bedroom lest they get the wrong idea. (Once you've earned their trust, you say you recently relocated to a home office.)
And there is this sort of guidance: "An interview for a mortgage broker is a sales situation. Cleanliness, neat hair, and good hygiene are extremely important to a mortgage broker's success."
And this: "Selling product to a client is not always easy because of the client's own preferences and risk tolerance. They will provide many objections and the mortgage broker must overcome these."
The course is clear on one controversial point: the size of the commission on offer from different lenders can influence the broker's recommendation.
Many in the mortgage broker industry have claimed that brokers earn their ongoing commissions by doing follow-up work for the client.
The Certificate IV in Finance and Mortgage Broking course doesn't say anything about this, but it does say "if a lender doesn't pay commissions, the broker might not include their loans on the list of products they recommend".
And it describes trail commissions as "a customer service cost by the lending institutions for retaining the client" not an ongoing fee for continuing services to the client.
Learning how to handle customer objections
A long section entitled "overcoming objections" goes into more detail on how mortgage brokers earn their commissions.
"Without objections, mortgage brokers would simply be commission-based salespeople, taking enquiries and processing loan applications. To develop into a successful mortgage broker you will need to become skilled at overcoming objections that prospects raise during the enquiry and pre-application stages. An objection is anything that the prospect says or does that interrupts or blocks the progress of the mortgage transaction."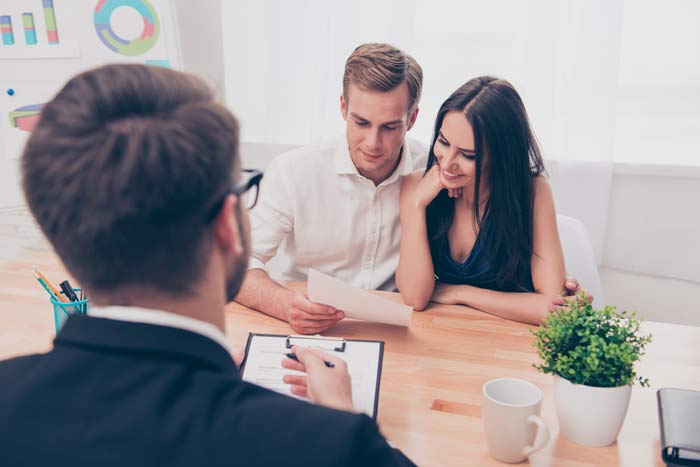 Meanwhile, the industry itself has long admitted that commissions tend to hurt clients. The Mortgage Finance Association of Australia's Advertising Guidelines of February 2007, for instance, says "if a broker receives commissions or other benefits from a lender there is potential for the broker to be influenced by factors other than the consumer's best interest".
What happens after you get your certificate
Once you get your mortgage broking certification, you'll have to do business under the mentorship of a more seasoned broker for the first two years if you don't have previous experience in the finance sector.
But the mentoring can be remote, and you don't actually have to work for your mentor.
You can more or less strike out on your own, though you'll need to make arrangements with a mortgage aggregator (such as Aussie Home Loans, RAMS Home Loans, or Mortgage Choice, all of which are partially or wholly owned by one of the four big banks).
The aggregators already have deals in place with a range of lenders – deals you wouldn't be able to set up on your own. They'll take a cut of your commission.
Being a representative of one of these financial services licence holders means you won't have to go through the vetting process they have to undertake, including police checks, credit checks and having professional indemnity insurance. You can stay an unlicensed representative for as long as you want.
Your main job is to find the client for the lender.
How important is responsible lending?
To the course's credit, it bends over backwards to remind trainees of responsible lending legislation, chiefly the National Consumer Credit Code (NCCP), which stipulates that brokers should only recommend loans that are "not unsuitable" for the client.
The wording makes sense given that brokers have a limited number of loans to choose from – or a limited "lender panel" – so they really wouldn't be able to find the "most suitable" loan.
Aside from regular mentions of consumer protections and the need to honour them, being a good salesperson and closing the deal is the overriding theme of the Certificate IV in Finance and Mortgage Broking course.
Broking's battered reputation
Though the housing boom has been profitable, it's been a rough past few years for the mortgage broker industry reputation-wise.
In early 2017, ASIC released a report that said going through a mortgage broker has a number of downsides for an aspiring homeowner, mainly due to the conflict of interest created by commissions.
The ASIC investigation – which focused on four years' worth of mortgage broker data gleaned from a range of industry stakeholders – found that brokers routinely put their own financial interests above those of the client as they chase commissions from the banks.
It also found that the loans mortgage brokers line up for clients aren't any better – and are often costlier – than what the clients could have gotten by going directly to the lender.
And the research showed that brokers often push clients into inappropriately bigger loans because they'll get a bigger commission.
The result of all the upselling? Borrowers who go through a broker were found to be up to 25% more likely to default on a home loan.
According to both the recent banking royal commission report and the UBS research, mortgage brokers are significantly overpaid for the amount of work they do per loan.
ASIC recommended that the industry part ways with its current approach to a commission-based remuneration model.
It's a position that CHOICE has long agreed with, and was also a recommendation made by the banking royal commission earlier this year.
The mortgage broker industry is less keen on the idea, claiming that ending commissions would leave borrowers at the mercy of the banks.
And apparently the industry has some lobbying muscle: the idea of ending commission-based remuneration in mortgage broking was quickly quashed by the federal government.
What industry groups say about mortgage broker qualifications
We asked both the Mortgage and Finance Association of Australia and the Finance Brokers Association of Australia (FBAA) – the two peak industry bodies for mortgage brokers – to comment on the quality of the Certificate IV in Finance and Mortgage qualification, saying we didn't think it was a very high standard.
Both groups declined to comment. The Financial Planning Association also took a pass.
Following the election of the Morrison government in May, however, FBAA managing director Peter White issued a triumphant statement.
"The royal commission findings and the political fallout saw many brokers retreat into a holding pattern, driven by fear about their very financial survival and what that would mean for borrowers. Now that the election is over, I want to urge all brokers to commit to doing everything we can to grow our businesses now that banks know we are a force to be reckoned with."
Related content
Mortgage broking and the best interest duty
Mortgage brokers and the banking royal commission
---
Join the conversation

To share your thoughts or ask a question, visit the CHOICE Community forum.