Mortgage tips
With interest rates running low, it pays to do your maths.
Interest rates won't keep falling
---
Home loan interest rates have been moving toward a historical low point for quite a while, but they won't keep falling forever.
The Reserve Bank of Australia (RBA) has dropped the cash rate 2% since November 2011, while the standard variable mortgage rate dropped 1.35% in the same period. The banks say the 0.65% variation is due to high wholesale borrowing costs and competition for your savings and investment accounts, but that's about to change.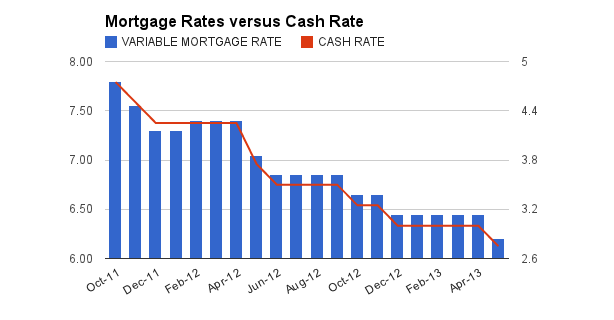 The RBA's assistant governor (financial markets) Guy Debelle noted in a 2013 speech that there has been a general decline in wholesale borrowing costs in the second half of 2012. Meanwhile, anyone with a savings account will tell you interest rates have been falling.
IMB, BMC Mortgage, and Holiday Coast Credit Union all cut their standard variable rates during February 2013, despite the RBA cash rate remaining unchanged since December 2012, while ANZ cut its variable rates by more than the cash rate in May 2013.
But what does all this really mean for you?
Buying a new home
While the smaller lenders are lowering their rates, standard variable interest rates have only been lower than current levels for less than two of the past 40 years on average. In the long run, interest rates are more likely to go up than down from their current levels.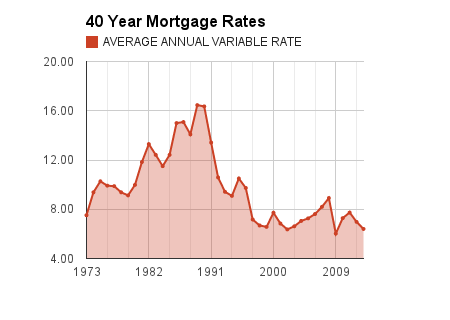 When buying a new home, Robert Drake of ASIC's MoneySmart website advises drawing up a budget and evaluating the reliability of your income.
You can use MoneySmart's mortgage calculator to get a sense of the repayments, but make sure you take into account any possible changes to your circumstances.
What will happen if you find yourself in between jobs, not getting as much overtime, retiring or adding the cost of a new child to the bills? Will you still be able to afford those repayments?
To address these scenarios and the possibility of a rate rise, Drake suggests building in a buffer of one to two per cent.
You should also consider paying this extra percentage down now, either into a mortgage offset account or redraw facility.
Anyone who has a mortgage will tell you the first few years are the toughest, so doing this can not only reduce your interest payments but also ensure you have a buffer to draw upon should your circumstances change.
Mortgage switching costs
MoneySmart's mortgage switching calculator can help you work out the costs of changing your mortgage, how long it will take to pay off the cost of the switch, and the difference in payback times.
Watch out for fees that can offset any savings made by switching to a lower interest rate. These include:
establishment fees
early termination fees
break fees
administrative costs
valuation fees
legal fees
Lenders Mortgage Insurance (LMI).
Mortgage lenders cannot charge early termination fees on new variable home loans taken out from 1 July 2011. However, variable rate home loans taken out before that date may still incur early termination fees.
Break fees on fixed rate loans can still be charged if you switch within the fixed-rate period, and with some lenders offering interest rates below five per cent, these loans can be very appealing. But if you're likely to need to refinance soon, fixed interest rates could end up costing you more in break fees than what you'd save by moving to a lower interest rate.
If you break a loan with a fixed rate of 7.5%, but the interest rate your bank currently offers is six per cent, you may have to pay the 1.5% differential. Ask your lender for the amount for which you may be liable before switching.
If you're borrowing more than 80% of your property's value, it's likely that you'll have to purchase lenders mortgage insurance (LMI ). LMI protects the lender from loss should you default on your loan and the amount from the sale of your property is less than the outstanding loan amount. The insurer will still try to recover any outstanding money from you if you default on your loan.
LMI isn't portable between mortgage lenders, and it's not guaranteed that you'll receive a rebate on your premium if you terminate your mortgage.
Mortgage funding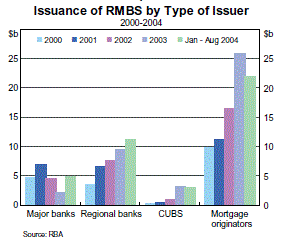 Smaller lenders don't necessarily operate on the deposit and loan system associated with the larger banks, where lending is primarily funded by money deposited in their accounts. The supply for their lending is enabled by wholesale funding, in particular through residential mortgage backed securities (RMBS).
RMBS are an investment bond backed by residential debt. Basically, a bank or mortgage originator organises your home loan, and your loan is then bundled with other home loans and sold to a trust. To raise the money required to buy these home loans, the trust issues a bond to wholesale investors. Your principal and interest payments are collected by the mortgage originator and passed on to the trust. The trust then uses these cash flows from the home loans to pay interest and return the principal to investors.
In Australia, the volume of RMBS plunged in 2009 in the wake of the GFC. RMBS are crucial for smaller non-deposit taking lenders and critical for competition in mortgage lending and, as a result, the federal government has been propping the RMBS market up since 2008 by investing in the bonds.
A better system
The Danish mortgage system is cited by experts, such as billionaire philanthropist George Soros, as a model example of resilience and transparency. Similar to the RMBS issuance in use by smaller lenders here, the system has some characteristics that would appeal to many Australians.
Transparency When a Danish mortgage bank grants a home loan, it sells an investment bond with matching maturity date and interest payments that correspond with the borrower's loan repayments. This bond is then listed on the stock exchange where the price is available for all to see on a daily basis. The homeowner knows exactly where the funding for their home loan is coming from and how much it costs.
Competition The open and stable market for these bonds provides competitive and reliable funding for smaller mortgage lenders and operates outside the traditional banking system of loans and deposits.
Buy back A Danish homeowner can square off their mortgage either by paying off the loan or buying the bonds themselves. This is useful because the price of homes and the price of the bonds are generally correlated, so if home values fall so does the price of the bonds. Therefore, if house prices decline, the amount homeowners must pay to retire their mortgage also declines.
---
Join the conversation

To share your thoughts or ask a question, visit the CHOICE Community forum.