Green home loans
Find out which banks offer lower rates or even discounts if your home is environmentally sustainable.
Climate-friendly mortgages
---
Green home loans encourage borrowers to buy, build or improve their home in an environmentally friendly way. They may offer discounted rates or lower fees to people investing in homes that have a prescribed combination of sustainable features.
In this article:
Green home loans in Australia
The green home loans market in Australia is small, but the loans we found had minimum lending amounts ranging from $500–$300,000, feasible for small-scale retrofits of green appliances to house purchases and new builds. They're an option for those looking to refinance while also adding more eco features like batteries or more solar panels.
A look at Canstar's home loan comparison tool shows that for a $350,000 variable interest loan, the range of interest rates on offer at the time of publication was 3.39% (comparison rate of 3.39%) to 5.67% (comparison rate of 5.81%).
The green home loans we found had rates ranging from 3.74% (comparison rate of 3.75%) to 4.68% pa for $350,000 (comparison rate of 4.73%).
Regional Australia Bank – Sustainable Home Loan
Interest rate: 3.97%
Comparison rate: 3.99%
Discount: 1.25% discount off the standard variable interest rate
Minimum loan amount: $500
Criteria:
The house needs to pass minimum state environmental standards and have one of these:
Grey water treatment system
Solar power system (with PV)
Wind turbine
Micro hydro system
Double-glazed windows
And two of these:
Solar hot water
Rain/storm water tank
5 star+ gas or electric heating
External awnings
Hunter United – Green Home Loan
Interest rate: 4.5%
Comparison rate: 4.62%
Discount: 0.09% discount off their Basic Variable interest rate
Minimum amount: $100,000
Criteria:
At least three of these features:
Solar hot water
Solar power
Double glazing to eastern, western and southern windows
Wall insulation
PV panels or wind turbine (min 1.5kw)
Water tank (minimum 2000L)
External shadings to northern, eastern and western windows
'AAA' rated water efficient fittings
Maleny Credit Union – Green Home Loan
Interest rate: 4.6%
Comparison rate: 4.66%
Discount: 0.15% life of the loan discount off the Advantage Plus Home Loan
Minimum amount: $0
Criteria:
At least three of these features:
Solar, gas or heat pump hot water system
Solar power
Rainwater tanks (minimum 1000L)
Eaves not smaller than 600mm on eastern and western walls
Insulated walls
Installing low emissivity glass (glass with low radiation ability)
Bendigo Bank – Generation Green Home Loan
Interest rate: 4.68% pa for $350,000
Comparison rate: 4.73%
Discount:The discount is up to 0.9% (for loans over $500,000) but depends on the size of the loan. However, Bendigo Bank's Basic Home Loan interest rate is lower than its Green Home Loan.
Minimum amount: $5000 (with a higher interest rate of 4.98%)
Criteria:
1. The building must comply with minimum environmental standards in the state.
2. You must install either, two of these items:
Double or triple glazing
Solar hot water heater or heat pump
Water storage tanks (min 2,500 L capacity)
Roof and wall insulation
Or, one of these items:
Alternative power supply
Solar power (min 1.5 kW PV system)
Wind turbine (min 1.5kw)
Micro hydro system (min 1.5kw)
Grey- or black-water treatment system (connected to laundry and all bathrooms)
Bank Australia – Basic Home Loan with a three- or six-month 'eco pause'
Interest rate: 3.74%
Comparable interest rate: 3.75%
Minimum amount: $10,000 (new customers only)
Bank Australia, which was formerly called bankmecu, used to offer a green home loan, but due to low uptake it discontinued the product.
Instead the bank offers an 'eco payment pause' in its Basic Home Loan, which allows a three- or six-month break in repayments for environmental upgrades to the home.
Bank Australia is also customer-owned, will not invest in fossil fuel related industries, is carbon neutral and offsets the greenhouse gas emissions associated with its car loans. It also owns a conservation reserve.
What are the advantages of a green home loan?
Some pros of green home loans include:
improving your property
cutting your energy and water bills
accessing discounted interest rates
reducing your environmental footprint
banking with community focused institutions
divestment from coal and other fossil fuel infrastructure.
Thanks in part to a green home loan from Maleny Credit Union, Maree O'Connor is living her dream: off the grid on an ex-dairy farm located 4.5km from the town of Maleny, Queensland.
Her pre-fab cottage built of termite-resistant cypress has water tanks that supply the house, a 3.5kW solar PV system with batteries, a generator, waterless toilet, wood heater and good insulation.
She and her husband are now saving money on power and water, but will also save a substantial amount in interest over the course of their loan as Maleny Credit Union's green home loan offers a reduced interest rate compared to its regular home loan rate.
"We get a discount of 0.15% on the loan, which means we'll have saved $135,000 over the term of the loan," Maree says.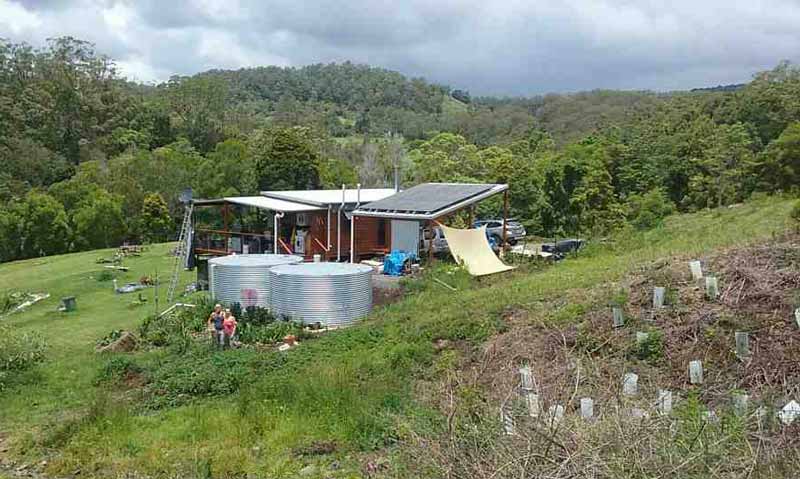 Maree O'Connor and her husband with their off-grid eco house just outside Maleny, Qld.
When is a discount a good deal?
Each green home loan is different and in some cases the 'discounted' interest rate isn't such a great deal because the discount is applied to a home loan product that has a relatively high interest rate.
The green loans we found aren't the cheapest home loans on offer, but they are often half the interest rate of personal loans.
For instance, Bendigo Bank's Green Home Loan interest rate discount of 'up to 0.9%' is applied to a product with a much higher interest rate than its Basic Home Loan.
Let's take the example of a $350,000 variable interest home loan.
At the time of writing, Bendigo Bank's Green Home Loan has an interest rate of 4.68% (comparison rate of 4.73%) applied to it. That rate comes from a discount of 0.8% being applied to Bendigo Bank's Residential Variable Rate of 5.48% (comparison rate of 5.66%). But Bendigo Bank's own Basic Home Loan offers a better interest rate of 4.38% (comparison rate of 4.56%).
Do energy-efficient homes have a decreased risk of loan defaulting?
That's a question being explored through the EeMAP Project, a European program being developed with banks to offer standardised green home loans with discounted interest rates for those buying or retrofitting homes.
EeMAP, or the energy-efficient mortgages action plan, aims to incentivise private capital investment into improving the energy efficiency of the housing stock in Europe to help the EU meet its Paris climate accord commitments.
According to the project's website, "At the heart of the initiative is the assumption that energy efficiency has a risk mitigation effect for banks as a result of its impact on a borrower's ability to service their loan and on the value of the property."
A 2013 US study examined loan performance data to assess whether residential energy efficiency has an impact on loan default and prepayment risk. It found that default risks are on average 32% lower in energy-efficient homes, after controlling for other determinants.
No such study has been undertaken in Australia as yet, and we couldn't find evidence that banks were taking this line here.
Nicole Hilton, business development officer from Maleny Credit Union, said all of their loans were assessed on the same criteria across industry. "So while it's a benefit to the customer to have cheaper running costs and we encourage it, it's not something that we see as reducing our financial risk," she says.
Related articles
---
Join the conversation

To share your thoughts or ask a question, visit the CHOICE Community forum.