CHOICE presents South Australia Consumer Forum
25 August 2015 | Cost of living pressures are especially acute in SA – CHOICE zeroes in on the most worrisome issues.
More than half of South Australians have cut back on non-essentials
---
CHOICE CEO Alan Kirkland will take part in a panel discussion focusing on a range of consumer issues at today's South Australia Consumer Forum in Adelaide, from free-range egg labelling and credit card interest rates to cost-of-living pressures that are especially acute in South Australia. The forum is sponsored by CHOICE and co-hosted by ABC Radio presenter Michael Smyth.
Independent Senator for South Australia Nick Xenophon will join Mr Kirkland to discuss consumer issues and take questions from the audience. Also on the panel is SA Commissioner for Consumer Affairs Dini Soulio, farmer John Rohde and cheese maker Kris Lloyd.
The event follows the release of the latest national CHOICE Consumer Pulse survey in July, which revealed that anxiety over every major household expense had increased for the first time since June 2014, with the cost of electricity, fuel and food among the nation's top concerns.
The survey also revealed that 65% of consumers are cutting back on spending to make ends meet, with one in five living off a credit card to get through to pay day.
Bad borrowing habits
Mr Kirkland will also discuss how the financial services sector contributes to cost-of-living pressures through lending practices that often leave borrowers worse off, including payday lending and high credit card interest rates.
CHOICE recently reported that consumers have paid an extra $2 billion in credit card interest since 2011 as a result of credit card providers failing to pass on official interest rates cuts. A government inquiry into the matter is currently underway.
Other topics on the table at the SA Forum will include the Trans Pacific Partnership (TPP) and the upcoming review of Australian Consumer Law (ACL).
South Australian concerns
Data from our most recent Consumer Pulse survey showed that 29% of South Australians are finding it difficult to get by on their current income, and 59% have cut back on non-essentials over the past 12 months.
The survey also found that 38% of South Australians have cut back on essential spending in the face of rising bills over the last year. While electricity was the top concern, with 83% of households feeling the pinch, 77% of consumers were concerned about the cost of food and groceries, 76% about the cost of fuel, 72% water costs and 71% health and medical costs.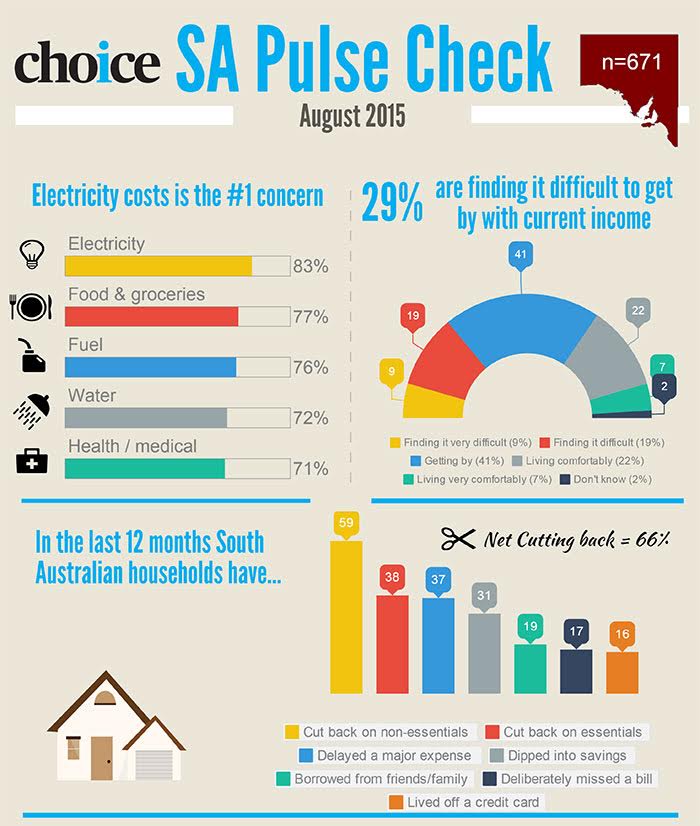 ---
Join the conversation

To share your thoughts or ask a question, visit the CHOICE Community forum.