Latest CHOICE Consumer Pulse reveals widespread money worries
Electricity tops the list - but it's far from the only worry.
Dealing with tough economic times
---
Australians are facing plenty of money worries these days, but the cost of electricity remains the biggest – as it has been since we launched our inaugural CHOICE Consumer Pulse survey a year ago. Keeping the lights on, however, is far from our only concern.
Download the full report as a PDF.
See below for a series of articles on how to manage the high cost of living.
Check out our handy graphics showing what people are most worried about and how they're coping.

Our fifth national cost-of-living survey, released in July this year, reveals that anxiety over every major household expense has increased on all fronts for the first time since June 2014, with fuel and food also among our top concerns. And in every state except NSW, only about a quarter of Australians are optimistic about the economy (in NSW about 37% say the economy is in good shape). For the fifth survey in a row, about 30% of Australians say it's hard to get by on their current income.
Young families and renters feeling the heat
Families with school-age kids are feeling it more than most, with nine out of ten saying their bills had increased in the last 12 months as compared to 85% nationally. Three-quarters of parents with children under five are worried about childcare fees, and families with young children are getting hit the hardest by the impact of rising bills.
Renters and young Australians are also bearing a disproportionate share of the national financial worry. In June 2015, three out of four renters and two out of three people with a mortgage said they are concerned about the cost of housing. And three groups in particular are more worried than others about being able to afford a place to live: parents with children under five (70%), people living in share houses (68%), and parents with school-age children (66%).
Stretching your food dollar
Food and groceries have come in as one of the top three consumer costs in each of our five quarterly surveys, which probably explains the high level of interest in our June 2015 investigation into grocery prices. We found that consumers can make substantial savings on the shopping bill by switching to private label items or by shopping at Aldi, which was 23% and 27% cheaper than equivalent Coles and Woolworths private label shopping baskets.
Our latest survey found that worries about borrowing and saving have increased since September last year. Half of Australians are worried about interest rates, two-thirds about their level of savings and just under half about their level of debt, including mortgage and credit card debt.
Nearly eight in ten people who are carers or full-time parents (78%) are worried about their level of savings or investments. And over three in five Gen Ys (61%) and parents with children under five (63%) are worried about their level of debt.
Not surprisingly, those with the least wherewithal are worried the most. Consumers on the lower end of Australia's income scale are more likely than the more fortunate to borrow money from friends and family. One in five Australians have lived off a credit card in the last 12 months to get through to payday.
Life is expensive – here's how CHOICE can help.
Click on the links below for further info.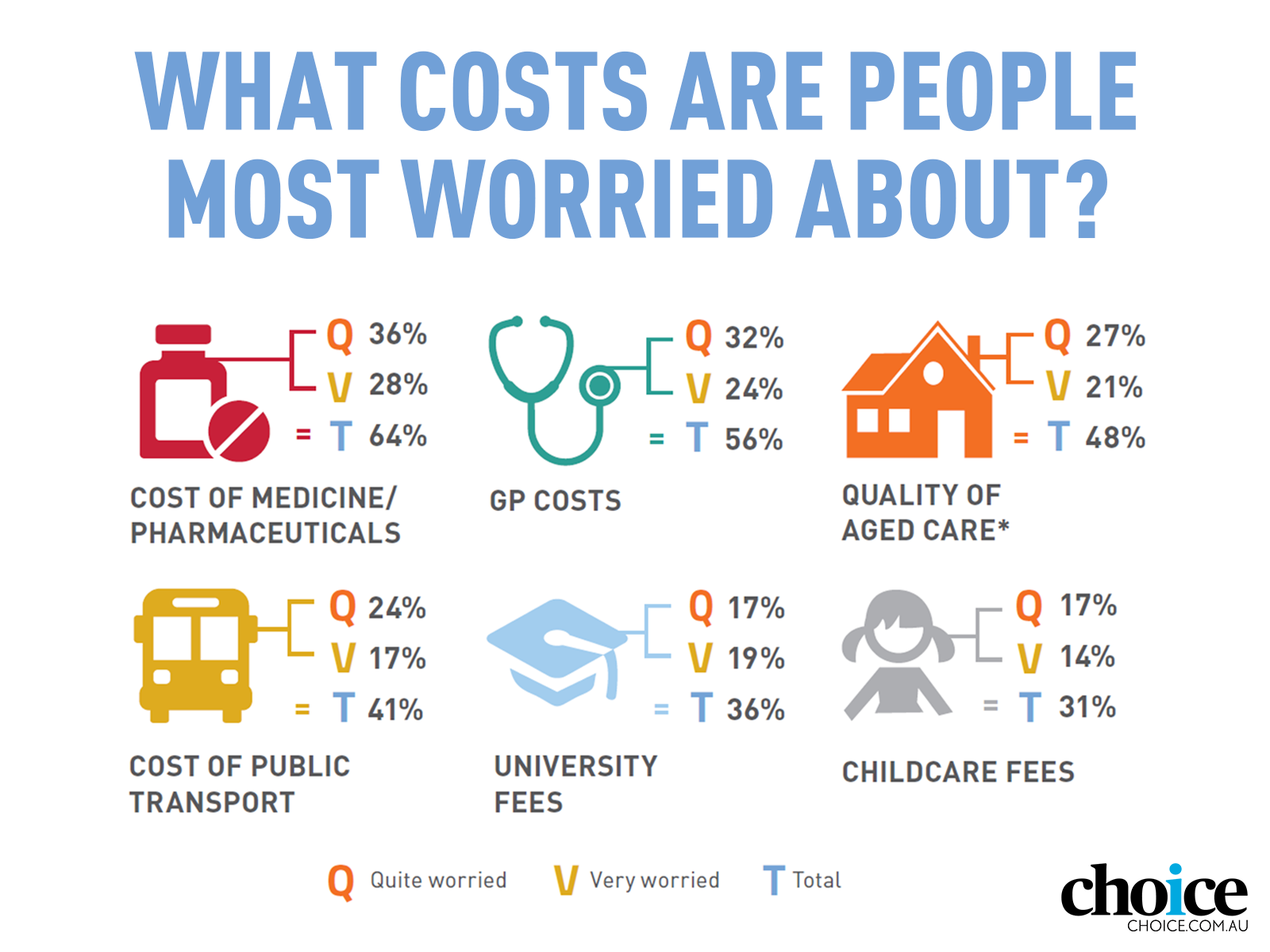 Note: Responses to 'How concerned are you about the following?' Base: all people. June 2015 n=1372 *(i.e. retirement villages / nursing homes).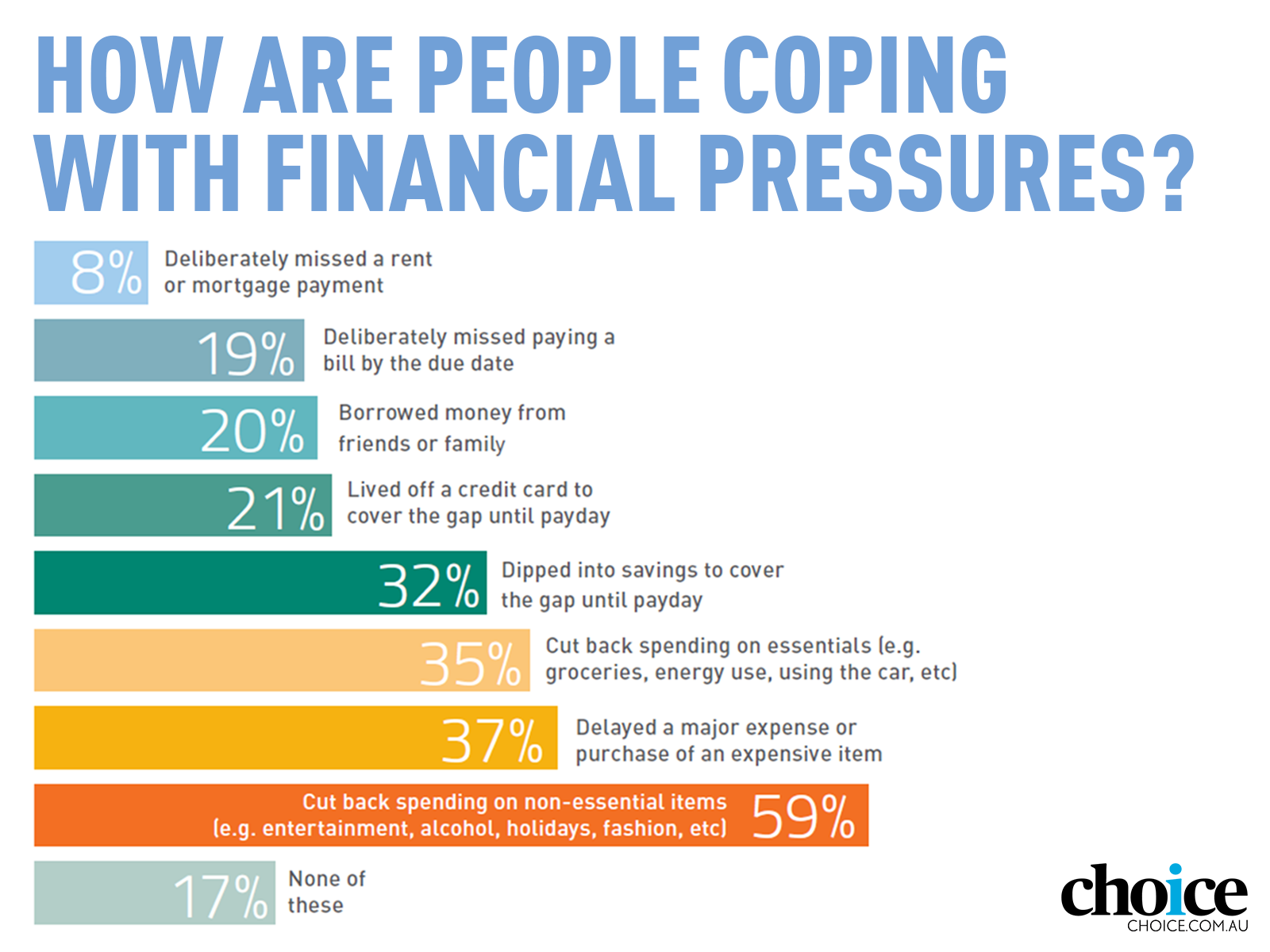 Note: Responses to 'Which of the following have you experienced in the last 12 months?' Base: all people. June 2015 n=1372
Downloads
---
Join the conversation

To share your thoughts or ask a question, visit the CHOICE Community forum.