McDonald's menu boards breach labelling laws
8 September 2015 | Health group complaints about unclear kilojoules leads to action.
Not on board
---
McDonald's is being forced to change its new menu boards, which have been found to breach food labelling laws. The fast food chain's digital menu boards, recently introduced to 700 stores, don't clearly show the kilojoules for each item – a requirement for larger fast food chains under labelling laws in NSW, ACT and SA.
Hidden kilojoules
McDonald's customers reportedly must wait for up to a minute for the animated menu to scroll through the full list of items, and the kJ information for each individual product is only displayed (in faint print) for a matter of seconds. Critics say the new boards make it harder to see and – perhaps more importantly – compare the kilojoule content of its food.
McDonald's digital menu boards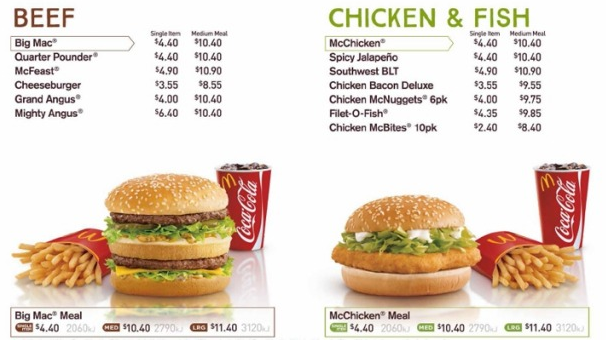 Fast food chain food labelling laws require that "kJ content must be clearly legible, displayed next to, and in the same font and in at least the same font size, as the price for each item".
'Best practice' menu board
The NSW Food Authority, in its user guide to nutrition labelling for standard food outlets, provides the following example menu board: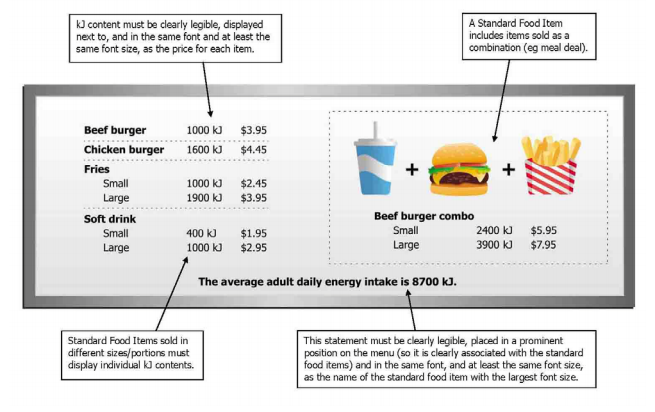 Following complaints from health groups about the new boards, the NSW Food Authority consulted with McDonald's to see if they complied with legal requirements. The outcome is that McDonald's will now change the boards, reportedly by the end of September.
With the high-kilojoule food on offer from the fast food chains, CHOICE thinks it's vital that customers have the option of checking and comparing the health stats before they buy.
---
Join the conversation

To share your thoughts or ask a question, visit the CHOICE Community forum.