Taste test: hot cross bun ice cream from Coles and Woolworths
Spiced buns and ice cream, together at last. We put the new Easter-flavoured dessert through its paces.
Get the scoop
---
Hot cross bun fans, rejoice – your favourite spicy, fruity buns are now available in ice-cream form. Easter's (almost) here and CHOICE staff are giving you the scoop on which of the limited-edition treats from Woolworths and Coles is the best.
Spoons are raised and opinions are divided – is this dessert hybrid a taste sensation or a shameless seasonal novelty?
First impressions
The Coles version is noticeably more chunky with pieces of spiced cookie dough and plump raisins, while the Woolworths one has fewer raisins interspersed with a hot cross bun flavoured ripple.
Slightly scandalous on the price front: at $4 for 500ml, the Coles hot cross bun ice cream is almost twice the price of its Woolies counterpart ($4.70/litre).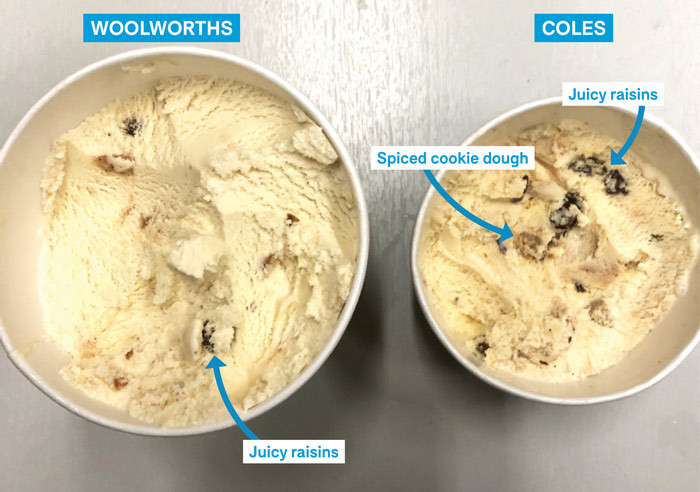 The verdict: Coles wins, but only just
"Any ice cream is good ice cream" was the over-arching view of the 40 volunteers who stepped up with a spoon for our blind tasting. Some did cry sacrilege at the concept (if this is you, you may prefer our premium vanilla ice-cream taste test, or our ranking of Australia's best hot cross buns).
55% of CHOICE staff preferred the Coles ice cream over Woolworths
The Woolworths hot cross bun ice cream was noted for being "surprisingly delicious and creamy" and for its strong hints of cinnamon (which some found overbearing). On the Coles version: the chunky spiced cookie dough and plump raisins drew many fans and comparisons (not always complimentary) to classic rum 'n' raisin.
Price check
The stats at a glance

| | Woolworths | Coles |
| --- | --- | --- |
| Price per tub | $4.70 (1 litre) | $4 (500ml) |
| Price per 100ml | 47c per 100ml | 80c per 100ml |
| Fat content per 100g | 9.9g | 9.1g |
| Calories per 100g | 211 | 226 |
Any last words?
"Surprisingly, I don't hate the idea of sultanas in my ice cream as much as I thought I would – so that's a plus. The hint of spice is nice. Yeh, I'd say for a novelty ice cream, it's not bad." Marianna
"This is a bit of a fail. I eat a lot of gourmet ice cream, and I'd put this in the novelty ice cream camp. I'm a bit of a harsh critic, but I've got to be honest." Doug
"This is rum 'n' raisin masquerading as hot cross bun – very dodgy". Viv
"I like it. I like it a lot." Saimi
---