Camel milk health claims disappear from website
11 October 2016 | Camel Milk Victoria has removed dodgy health claims from its website after receiving a CHOICE Shonky Award.
CHOICE busts a hump
---
After receiving a CHOICE 2016 Shonky Award last week for "milking the truth" about the apparent health benefits of camel milk, it appears that Camel Milk Victoria has now updated its homepage to remove the health claims.
Shonky health claims
Camel Milk Victoria was the recipient of a CHOICE Shonky Award last week after the company made claims on its website that camel milk was known to help "improve the immune system by fighting off bacteria and infections and aid those who have autism, diabetes, tuberculosis, cancer, stomach ulcers and more". Celebrity chef Pete Evans has also been spruiking the wonders of camel milk as an alternative to human breast milk.
So, while camel milk might be so hot right now (well in some quarters) the trouble is that none of the above health claims are correct and when CHOICE checked with the food regulator not one of them was on the list of permissible food health claims.
As a result CHOICE not only gave Camel Milk Victoria a Shonky Award but also referred it to the ACCC and the Victorian food enforcement bodies for making misleading health claims about the product.
Screencapped today, gone tomorrow
This week we noticed that Camel Milk Victoria has quietly removed all health claims from its website. We've tried contacting the company for comment several times but so far have not received a response to our enquiries.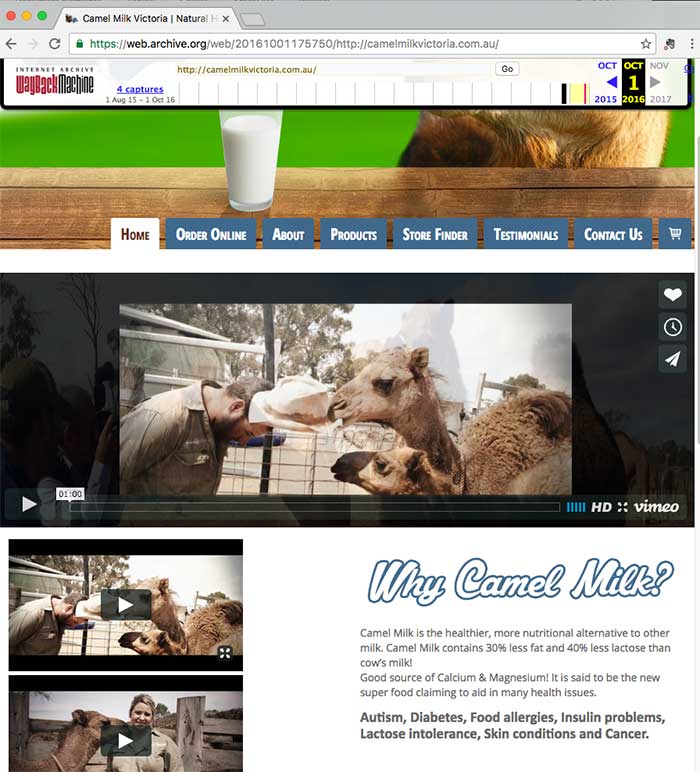 Screenshot of the the CMV website from 1 October 2016
Our first Shonky win
Can this be our first post-Shonky win for 2016? We think it might be! It's also a win for anyone who is interested in buying camel's milk (despite the whopping $21 per litre price tag) without being led up the garden path by thinking it can improve the immune system, aid those with autism, cancer and much more.
More honesty when it comes to marketing this fashionable new milk? We'll say cheers to that.
---
Join the conversation

To share your thoughts or ask a question, visit the CHOICE Community forum.