Apple iPad Air and iPad Mini review
Hands-on with the 10.5-inch iPad Air (3rd-gen) and iPad Mini (5th-gen) which both now support the Apple Pencil
Bigger Air, better Mini
---
The iPad Air and the iPad Mini are this year's comeback kings, with long-awaited upgrades after several years, including support for the Apple Pencil. We went hands-on with both models courtesy of Apple to see how they compare.
In this article:
CHOICE verdict
Keyboard choices
Almost-identical twins
Write or draw
Pick your price point
Which to choose
Aside from not having the Smart Connector, the 7.9-inch iPad Mini is really a mini version of the 10.5-inch iPad Air – same speed, same screen features, same cameras, same connectivity but in a smaller size. And a lot of people love the iPad Mini, simply for that convenient size. It'll easily pop into many handbags and even coat pockets. If portability is your prime concern, pick the Mini. If you need the larger screen and ability to connect a decent-sized keyboard, go for the iPad Air.
Price:
iPad Mini (7.9-inch) from $599 (64GB, Wi-Fi)

iPad Air (10.5-inch) from $799 (64Gb, Wi-Fi)
Contact: apple.com.au
Don't let its smaller size fool you, the iPad Mini is every bit as powerful as the iPad Air. Both have Apple's proprietary A12 Bionic chip with Neural Engine; 8MP (megapixel) rear camera and 7MP front camera, both with HDR (high dynamic range) and 1080p Full-HD video; and Retina display with TrueTone (automatic adjustment for ambient lighting). Both also have a Lightning connector and Touch ID fingerprint access button.
Both new iPads come in Silver, Space Grey and Gold, with a choice of 64GB or 256GB of storage, and you can add the cellular option for $200. Having 4G access to the internet everywhere is a convenience option worth considering especially for the super-portable iPad Mini (less than 350 grams and 6.1 millimetres thick).
The key difference apart from screen size is that the iPad Air has Apple's Smart Connector for attaching a keyboard. This draws power from the iPad, so it doesn't require charging like Bluetooth keyboards. However, note that the iPad Air uses the older origami-like Smart Keyboard design, rather than the Smart Keyboard Folio redesigned for the iPad Pro.

The iPad Mini doesn't have the Smart Connector, so it attaches to accessories via Bluetooth. There are plenty of Bluetooth keyboard options available, including full-sized standalone models that don't leave your fingers crammed up as they would be with an iPad Mini-sized keyboard.

Logitech, in particular, excels in compact multi-device Bluetooth keyboards that can switch between several devices at the touch of a button, plus the durable fully-covered Keys-To-Go mini keyboard, which we've reviewed previously and found to be a great on-the-go companion.
The iPad Mini retains the 7.9-inch screen of previous models. Artistic types may prefer the larger canvas of the 9.7-inch iPad or 10.5-inch iPad Air, but if you just do a lot of note-taking, PDF markup and document signing, the Mini is fine. It makes an ideal one-handed notebook when paired with the Apple Pencil, which is why it's become a favourite for workers in healthcare, hospitality and even the Queensland Police.

Note also that the iPad Mini and the iPad Air use the original Apple Pencil, not the second-generation version designed for the iPad Pro. And now that all current model iPads support Apple Pencil, Apple has updated its own Pages, Numbers and Keynote apps with enhanced features to match.

Some people just prefer to write than type. Fortunately, pencil-supporting apps can keep keyboarding to a minimum. For example, the MyScript Calculator app lets you simply write a calculation longhand and it gives you the answer. MyScript also has the Nebo app that transforms handwritten notes into digital text and diagrams into objects.
A cheaper alternative to the Apple Pencil ($145) is the Logitech Crayon ($100) though it doesn't have pressure sensitivity.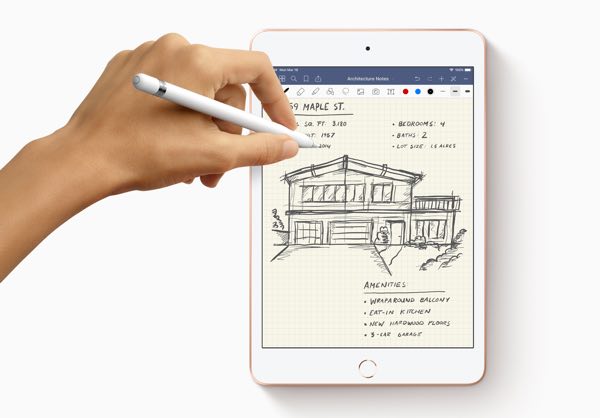 New Apple Pencil support makes the iPad Mini a digital sketchpad
Wondering which iPad to buy? Apple now has four clear classes to choose from, and they all work with an Apple Pencil. Which iPad you go with will depend on more than just cost, though for most people that's obviously a big factor.
The iPad Mini is the smallest (but still full-powered with A12 Bionic processor). This is for those who value compactness and portability above all.
The iPad (9.7-inch) the lowest priced but still a perfectly good option for all-round use, especially if you're on a tight budget, and who isn't? Pricing starts at $469 (32GB, Wi-Fi). While still a very capable tablet, it's outpaced by the faster processors in the rest of the family.
The iPad Air (10.5-inch) is a larger version of the iPad Mini (kind of like a lite version of the smaller pro model).
The iPad Pro (11-inch and 12.9-inch) models are the high-end flagships for professionals and well-heeled enthusiasts, with better sound, screens and USB-C connector, and exclusive Pro-only versions of the Apple Smart Keyboard and Apple Pencil. The 11-inch model starts at $1299 (64GB, Wi-Fi), and $1529 for the similarly specced 12.9-inch iPad Pro.
Unlike the basic iPad, both the new iPad Mini and iPad Air screens have True Tone colour matching, P3 colour gamut, and fully laminated display (though only artists tend to be picky about that). They also have an anti-reflective coating.
In fact, the new iPad Air is like a faster version of 2017's 10.5-inch iPad Pro, but without pro-exclusive features such as four-speaker sound and Apple's ProMotion screen acceleration. It can even use the same Apple Smart Keyboard.

Only the current iPad Pro models get the top-line A12X processor, 12MP rear-facing cameras, four-speaker sound, and Face ID (secure face recognition as password alternative).
The iPad, iPad Mini and iPad Air have a Lightning port for charging, syncing and accessories. The Pro models have a USB-C connector. This connector is currently limited in the types of devices that can connect, but will soon become a lot more useful with the release of the new iPad OS, which was announced in June. This will allow connection of external hard drives, just as you would with a laptop.

If you're new to iPad and don't know which model to choose, try to get some hands-on time in store. If you want to make the most of the iPad's multitasking features, the larger screens have an advantage, but if you want the simplicity of a powerful digital notepad-sized companion, the iPad Mini could be the ticket.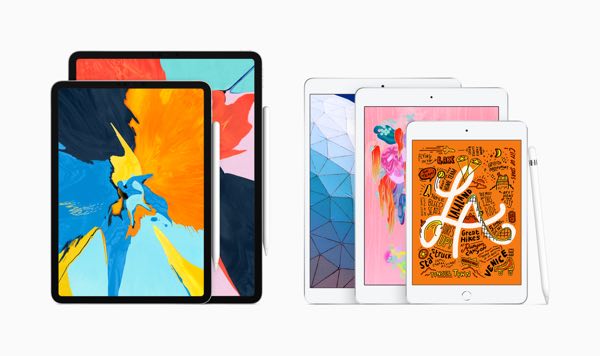 The iPad range includes (from left) iPad Pro 11" and 12.9", iPad Air (10.5"), iPad (9.7") and iPad Mini (7.9")
---
Join the conversation

To share your thoughts or ask a question, visit the CHOICE Community forum.