Apple iPad Pro 12.9-inch review
Hands-on with the third-generation 12.9-inch iPad Pro, with new Smart Keyboard Folio and Apple Pencil.
Professional power
---
Who'd have thought, when the first iPad was introduced back in 2010, that one day it would be mopping the floor with most laptops in benchmark performance tests?
The 12.9-inch model well and truly puts the "pro" into iPad Pro, with an overall rebuild that improves in every area – including performance – that leaves most laptops behind.
In this article:
The iPad is an amazingly versatile device. You can use all the standard office-type programs and if you have the right app, it can be a:
camera
scanner
notepad
word processor
multimedia editor
magazine and book reader
AR (augmented reality) viewer
game console
artist's tablet
PDF annotation tool and more.
As a piece of hardware, the iPad Pro is exceptional in almost every way. Its performance outpaces most PC laptops and the screen and sound are excellent.
At 5.9mm it's thin, relatively light and built to Apple's exacting standards and finish. It has a USB-C port (though only one), which is designed to be versatile.
The new Apple Smart Keyboard Folio works well and is easier to use and more securely attached than its predecessor.
The Apple Pencil is smaller and more conveniently designed with the strong magnetic attachment and a new tool-changing touch feature.
Price:
12.9 iPad Pro: from $1529 (Wi-Fi 64GB)
11-inch iPad Pro: from $1229 (Wi-Fi 64GB)
Contact: apple.com.au
We went hands-on with 12.9-inch iPad Pro, courtesy of Apple, and it was the top-of-the-line model with both Wi-Fi and gigabit-class cellular, plus a massive 1TB (terabyte) of solid-state storage.
The first thing you notice about the 12.9-inch model is that it's more compact, due to the reduction in size of the screen surround.
The casing is also thinner, with squared off sides and a flat back, reminiscent of the iPhone 5.
The 2018 iPad Pro is both larger and smaller than the previous generation. It comes in two versions made possible by reducing the screen surround area:
The 11-inch iPad Pro screen is larger, up from 10.5-inches in the previous model, but the external case is around the same size. So, bigger screen but no bulkier.
The 12.9-inch iPad Pro has the same size screen as the previous model, but the whole unit takes up 25% less overall volume. So, same size screen but noticeably smaller.
Both have curved, rather than pointy, screen corners thanks to the new "Liquid Retina Display".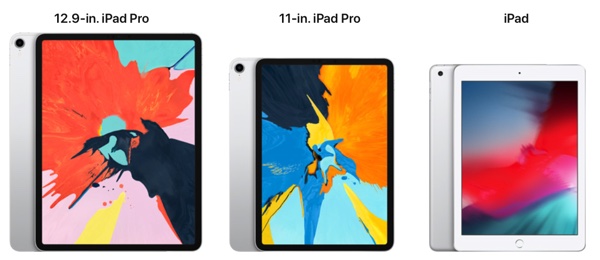 How the two iPad Pro sizes compare to the 9.7-inch iPad
The main processor is now an Apple-designed A12X Bionic chip. It's the successor to the A10X Fusion seen in the previous iPad Pro 12.9-inch and 10.5-inch.
Apple claims it delivers twice the performance. Plus, it includes a Neural Engine processor capable of up to five trillion operations per second. This is particularly important for AR apps.
The graphics performance is also double that of its predecessor. Apple says this puts it in the class of the Xbox One X games console, which Microsoft promotes as "the world's most powerful console".
Possible hyperbole aside, our tests show the iPad Pro is surprisingly speedy.
The display is Apple's brightest, which is great for a device that may be used outdoors a lot. Our measurements show that it is indeed brighter than many laptops (even high-end models).
It's exceptional for viewing streaming video content such as 4K Netflix or YouTube, and an excellent anti-reflective coating makes it usable in full daylight.
The iPad Pro has advanced new cameras and sensors for a better AR experience, along with the performance boost from the new neural engine processor.
In fact, due to its "viewfinder" (i.e. screen) size alone, the iPad is a better AR device than most. Expect more developments in AR over the coming year. Apple is spending a lot in this area.
You can unlock the iPad Pro with a glance using Face ID in portrait or landscape orientation.
Apple claims Face ID is the most secure facial authentication system in any tablet or computer, and more secure than the Touch ID fingerprint recognition that it replaces, just as in the latest iPhone XS range.
Face ID also authenticates for Apple Pay and many apps use it for security.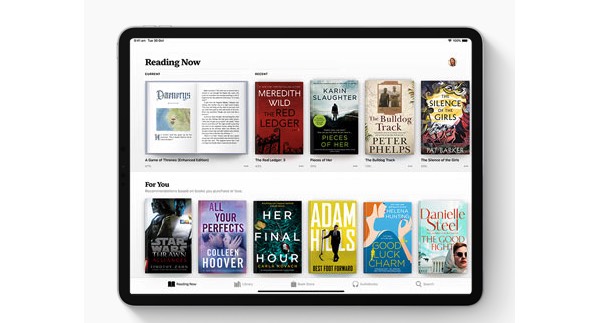 Facial recognition can be used with Apple Pay to purchase books and other items online.
Apple quotes all-day battery life, meaning up to 10 hours, and this is no different for the iPad Pro, though your actual battery life will vary depending on use.
In our heavy usage test we found that it lasted for more than five-and-a-half hours of continuous use, playing high-definition video with Wi-Fi on and the screen brightness set to 100% (and it's a particularly bright screen).
We expect that it should indeed last a full day in normal usage.
The iPad Pro is a better all-rounder when paired with the Apple Pencil and/or the Smart Keyboard Folio.
Of course, you can add third-party tools, but the Apple originals are greatly improved over the previous generation, though they're exclusive to this model.
Apple Pencil
The second-generation Apple Pencil is shorter and has one flat side, so it won't roll away on a table.
It works superbly, as did the previous version, but there are two big improvements:
Strong magnets keep it securely attached to the edge of the iPad Pro, so it stays put and gives it automatic pairing and wireless charging. No more cables or fiddly connectors to lose.
A new touch sensor detects taps, which apps can use for such things as instant tool switching.
Keyboard
The Smart Keyboard Folio protects both sides of the iPad when closed and provides a two-position stand when open, with strong magnets making it a secure base for use when resting on your lap (unlike the previous rather wobbly and much less secure version).
The keyboard itself is super-slim with minimal-travel keys that are nice and clicky, but without backlighting.
If you don't want the keyboard but still need screen protection, a keyboardless Smart Folio costs $149 for the 12.9-inch iPad Pro and $119 for the 11-inch model.

The Apple Smart Keyboard Folio has two positions
The iPad Pro doesn't have a headphone jack, so you'll need wireless headphones or earbuds.
You'll almost certainly need an adapter or two for connecting other devices – such as an external SD card reader, camera or musical instrument – to the iPad Pro's USB-C slot so it can read in photos and videos easily. This is a fast (10Gbps) USB 3.1 Gen 2 port, that replaces the previous Lightning port.
You can also use it to drive an external display of up to 5K resolution and, in a pinch, you can even use it to charge your iPhone.
Somewhat disappointingly however, we found that the iPad itself takes a long time to charge with the supplied wall adapter.
If you're going to outlay for the top tablet, forking out a bit extra to get the cellular version could be money well spent.
Sure, you can tether the iPad to your phone, but that's an extra step and it eats your phone battery life. Plus, the larger antennas in the iPad give better connectivity in our experience.
Of course, if you have Wi-Fi wherever you go, it's less of a problem. But Wi-Fi can be flaky and nothing is as convenient as having super-fast 4G on tap at the flick of an onscreen button, especially when on the move.
Adding a data-only SIM to your phone plan, with shared data, is the way to do it, so both the phone and the iPad can draw on the one (large) mobile data pool.
Apple's laptops don't have this advantage.
The iPad Pro is not a laptop like the MacBook, but it overlaps in that area and can't be ignored if you're looking for a powerful tablet that can work well with a keyboard and shines when used with a stylus.
The iPad started out as a kind of relatively cheap satellite device that, in functionality, fell somewhere in between a phone and a laptop.
Though the hardware performance has now exceeded many laptops, this third-generation iPad Pro still hasn't totally shaken off its satellite-device origins, despite the top model being on par price-wise with high-end laptops.
Software is where the iPad has attracted criticism. Sure, the iPad-specific multitasking features brought in with iOS 11 make it easier to move things around and do several tasks at once, but iOS 12 hasn't really raised the bar for professional workflows. There aren't a lot of new iPad-only features.
To outlay money for an iPad, rather than a laptop, you need it to do everything well. But compared to a traditional laptop it has several shortcomings, including no multiple-user accounts and the lack of a native file system that works with external volumes such as portable storage drives.
You can't just plug in a portable drive (HD or SSD) and use it as directly-connected external storage for your document files. While you could connect a wireless drive, that's not as fast and requires third-party apps to manage file transfers rather than using the native file system of the iPad.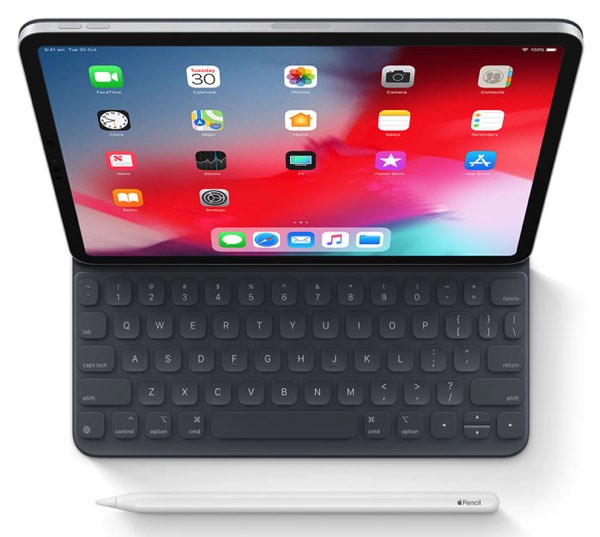 Connect a keyboard to make the iPad Pro ready for business.
Cost
Apple makes premium products, but Aussies pay even more of a premium for the privilege of owning them.
Our top-line model with Wi-Fi + cellular and 1TB of solid-state storage costs $2869. The Smart Keyboard Folio adds another $299 and the second-generation Apple Pencil $199, with the lot totalling $3367.
In the US the total is $US2227 ($US1899 iPad Pro, $US199 Smart Keyboard Folio and $US129 Apple Pencil).
A straight currency exchange at current rates would put this at $2828 here, but other factors come into play, such as local costs and the yo-yoing exchange rate at the time they set the local prices.
Nevertheless, pricing is what it is, so the question is "is the product worth the local cost to you?"
The value proposition
Apple claims the iPad Pro (the top-of-the-line model, of course) is faster than most laptops and our testing appears to bear this out.
In our latest comparison test of laptops, including Intel Core i7 models, the iPad Pro 12.9-inch (1TB) model top-scored for performance, even above second-placed current model 13-inch MacBook Pro with Touchbar.
This shows that Apple is very serious about making the iPad Pro a real contender for graphics professionals, especially those involved in image editing, music and various other creative pursuits.
There are full desktop-equivalent versions of graphics programs including Affinity Photo and Designer, Pixelmator and even Adobe Photoshop (coming soon). However, video professionals are still left out of the game a bit by the lack of Final Cut Pro, while audio professionals lack Logic Pro for iPad.
Time should solve this problem, as the iPad Pro's huge performance boost is starting to attract serious attention from major developers who now see its potential.
The bottom line
Not many devices polarise opinions like the iPad, and the cost increase for this year's iPad Pro adds fuel to the debate.
However, the iPad Pro can do many things exceptionally well and its stellar hardware is so good that it should last and stay competitive for years.
As the iPad-specific features of iOS increase and more pro-level apps appear, the iPad Pro you buy now will just get better with software updates.
If you're the sort of creative professional for whom the iPad Pro is designed, you'll probably already have (and continue to use) a Mac desktop or laptop for certain types of work, but it'll likely be the iPad Pro that you'll pick up most.
---
Latest Electronics and technology
Join the conversation

To share your thoughts or ask a question, visit the CHOICE Community forum.