Pro-Ject Juke Box E
All-in-one turntable system.
Plug and play turntable system
---
The Pro-Ject Juke Box E brings some 21st century tech to the humble turntable, with the ability to listen to your favourite vinyl directly through a set of speakers plugged straight into the turntable as well as music from your smartphone or even a CD player.
Purists may be looking elsewhere, but the impressive versatility makes it a solid option for record lovers to enjoy their vinyl as well as their online music collection.
In this article:
CHOICE verdict
The Pro-Ject Jukebox E is a great option for those looking for an all-in-one solution or to add to an existing HiFi system, with the ability to add music from your smartphone to the mix.
While the handy remote control isn't perfect as far as design and finish is concerned, the Bluetooth connectivity is a great feature to play music online through a smartphone.
Overall, this is a very interesting take on a very old music playing medium.
You might find a better turntable for the price, but you would be hard pressed to find a more versatile all in one turntable solution.
Price: From $799
Contact: project-audio.com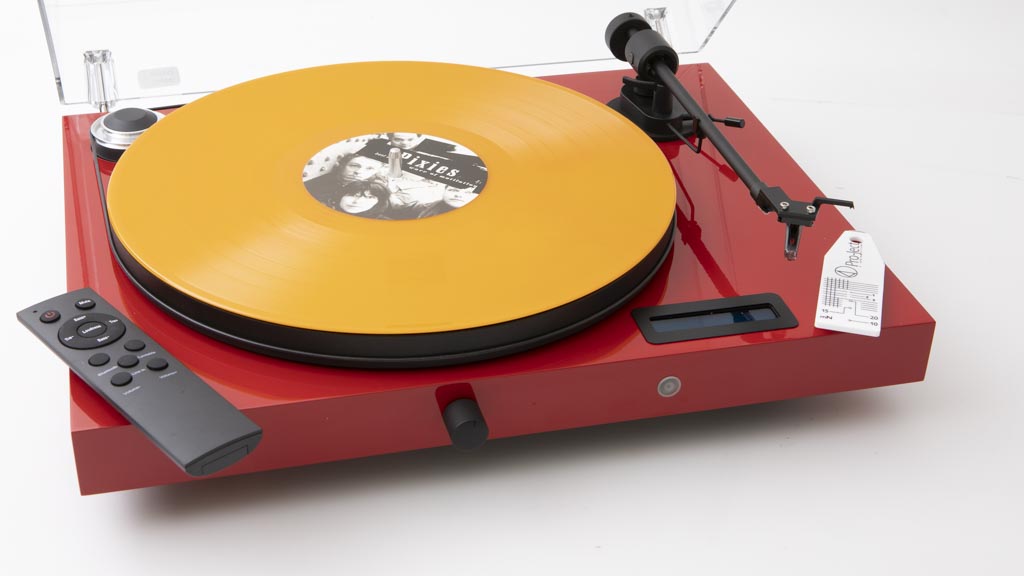 When a turntable comes with a remote, you know it's a little different.
So many connections
The Pro-Ject Jukebox E is a product for its time and is perfect for:
anyone with a collection of vinyl records wanting to enjoy some nostalgia without adding an amp or HiFi system
anyone wanting to enjoy their record collection in a small apartment or spare room in a large home, as you can get up and running with the turntable and a set of bookshelf speakers.
anyone wanting to listen to their record collection as well as music on their smartphone or home network.
A choice of connection options
The Pro-Ject Jukebox E connection options include:
Bluetooth with a (claimed) long-range antenna letting you enjoy your records and stream music from a Bluetooth device to a set of connected speakers. Our testing found the 'long range' claim to be a bit of a stretch. The difference between Bluetooth and Wi-Fi quickly becomes apparent when listening to music on the Jukebox E, as you can't really go more than 10 metres away before the music starts breaking up. On the other hand a Wi-Fi solution streams the music at a higher quality, and range is limited only by the quality of your wireless home network.
A 25-Watt amp lets you add a couple of bookshelf speakers using a standard speaker cable. If you want to use this as your spare system, a good pair of small, efficient speakers would be a great match.
Line input lets you hook up other things like a CD player or game console to get you an instant system.
A pre-amp is also an option if you want to hook the Jukebox E up to a more powerful amplifier.




Plug and play set-up
The Pro-Ject Jukebox E is ready to go, straight out of the box.
The counterweight and tracking force is already set so you can simply power it up, put some vinyl on the platter and start enjoying your favourite music.
A pair of gloves are included to handle your records as well as adjusting the drive belt.
While not required initially as the Juke Box E should be set to go, a couple of tools to adjust the tracking force and alignment of the cartridge are included, with guidance on how to carry out the task included in the printed instructions
Pairing is simple and quick with the Bluetooth antenna, providing a strong signal.
Simply plug in an additional CD player or games console into the line at the back of the record player to expand the system.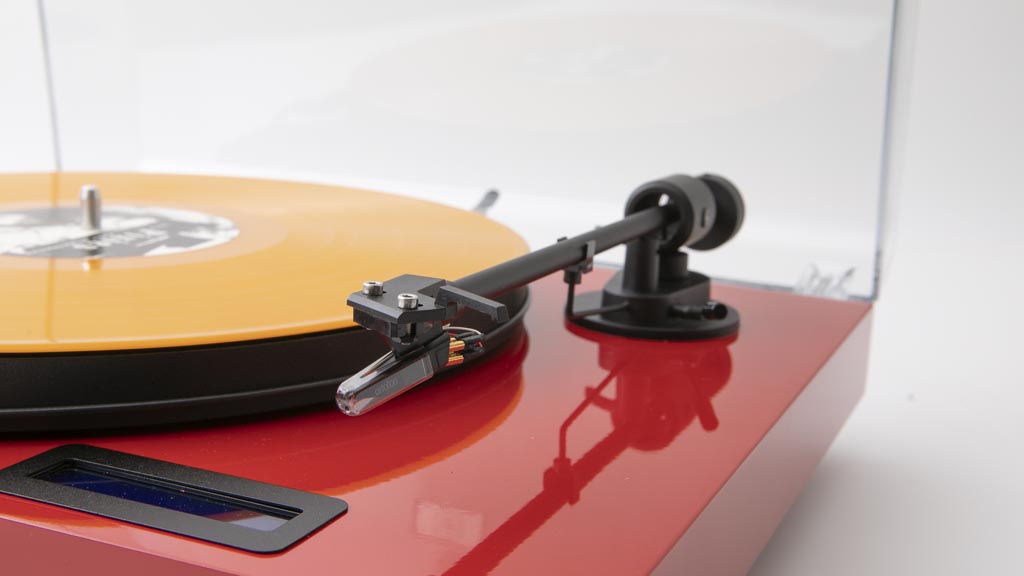 While adjustment of the cartridge is possible, it ships ready to play.
Ease of use
Compared to a standard turntable, where you simply start the platter and lift the tone arm onto the record, the Pro-Ject Juke Box E might seem complicated.
However, when you factor in the extra functionality and features on offer, the process is very easy to follow for anyone who's comfortable using a smartphone.
Once set up, playing a record is as simple as lifting the tone arm using the lever and placing it above the record before lowering.
Other functions not normally available on a turntable are explained, such as attaching speakers directly to the back of the turntable or the line input.
Other connections that turntable owners may have seen, such as line output (to powered speakers or a power amplifier), are illustrated. As are the separate power switches for turning on the turntable motor and the switch to turn the unit out of standby. Compared to a standard turntable, there are a lot of switches and dials to deal with, but after a short time, the process becomes straightforward.
A rotary dial at the front of the turntable serves to make an input selection (Bluetooth/Turntable/Line in) and also serves as a volume dial once an input selection has been made.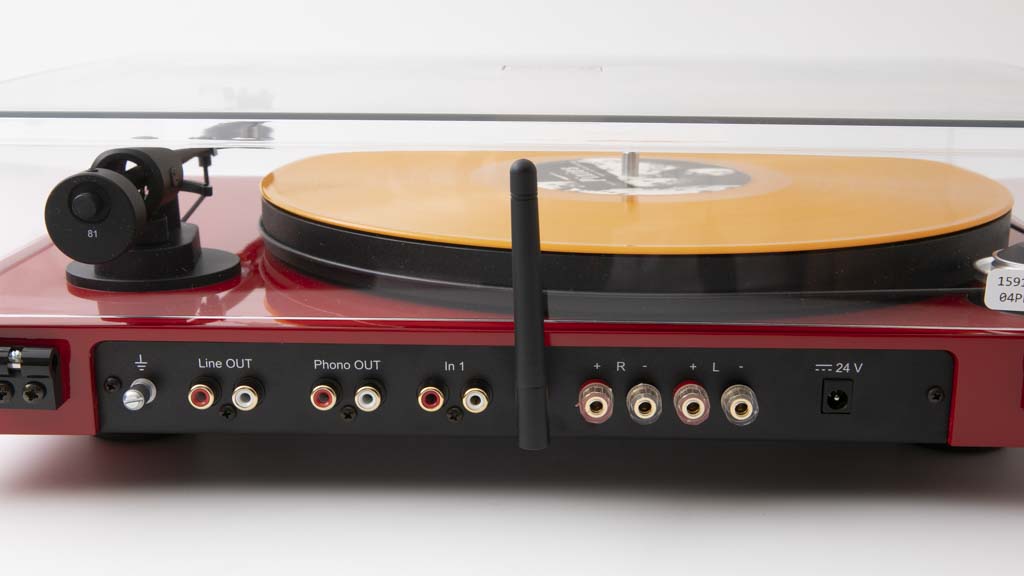 A look at the back of the Pro-Ject Jukebox E reveals the versatility to deliver music in several different ways.
How does it sound?
While the audio performance when listening to music over the Bluetooth connection is limited to the inevitable compression of the music, the overall sound through the test speakers (Krix bookshelf) was accurate and punchy with good detail.
Audio quality for record playback when played directly to the same speakers delivered a warmer sound, although the 25-Watt per channel may not perform as well if you were to turn the volume up to 11.
Our listening panel, including three music industry professionals, assessed the Pro-Ject JukeBox E among a half dozen other turntables including the Pro-Ject Primary E, Sony LX300USB and Denon DP-400 in our latest turntables project (available online in early 2019).
The overall listening performance was OK, but not as good as the other Proj-Ject turntables CHOICE has tested previously.
The panel commented that it produced a solid and crisp sound, with a fairly natural sound that's faithful to the original content.
What's not to like?
The remote. It's a frustratingly good idea that falls short in design and implementation. The icons and paint finish on the remote look like it was an afterthought, with long words that cross from one button to another. Also, the off button would have been a better idea if it actually turned the turntable off, rather than just shutting off the front panel LCD screen.
While the Bluetooth connectivity to play music from a smartphone is very handy, support for Bluetooth speakers or headphones when playing records would have increased its versatility even further.
Track force weight and anti-skate. Our tester noted that Pro-Ject have implemented several ways to carry out this very important task on different models, and the solution for the Pro-Ject Jukebox E isn't one that we feel is ideal. The adjustment virtually ensures that an absolute correct weight be impossible due to the lug nut requiring tightening, which moves the weight towards the cartridge.
Price. While it's easy to see where the price comes from with all the extra features and functions on offer, if you don't use them all, you should go with something like the Pro-Ject Debut or Pro-Ject Essential III.
---
Latest Electronics and technology
Join the conversation

To share your thoughts or ask a question, visit the CHOICE Community forum.