Smartwatch review
We strap on the new Apple Watch, latest Android Wear devices and the Pebble Time for a smartwatch face-off.
Smartwatches – are we there yet?
---
Everyone is talking about smartwatches right now – not because they're new, but because Apple has finally brought out its own version. So we lined up the Apple Watch alongside two Android Wear smartwatches, the Sony SmartWatch 3 and LG G Watch R, as well as Samsung's smartwatch inbuilt SIM offering, to see if these wearable devices are a must-have smartphone accessory, just an expensive tech gadget, or something in between. We also got our hands on the very latest Pebble Time, now the most successful Kickstarter campaign launch of all time.
Most smartwatches depend on a smartphone for almost all its functionality. If your fitness, social networking and email apps are loaded and running on your phone and you have your smartphone in your pocket or nearby, you should be able to see the same information on your smartwatch.
If you own an Apple iPhone 5, 5C, 5S, 6 or 6 Plus running iOS8.2, your only choice of smartwatch is the Apple Watch or the Pebble Watches (which also run on an iPhone 4S). Android smartphone users can't use the Apple Watch, but can strap on the other four smartwatches we tested as long as the smartphone supports Android version 4.3 (JellyBean) or later.
What's app?
When it comes to making the most of a smartwatch, it's all about the apps. Apple and Google have been populating their app stores with new apps and adapting existing ones to work with smartwatches. But it may take some time before we see a significant number of useful apps developed specifically for the smartwatch. Pebble has a smaller app community, but it's growing and almost all the apps work on the whole Pebble watch range.
Get connected
While Bluetooth is the default wireless connection option between the smartwatch and smartphone, Wi-Fi support on the Apple Watch and the Samsung Gear S with inbuilt SIM support creates a useful solution to the disconnection you may get at home once you move more than 10 metres away from your smartphone. Connect your Apple Watch to your home Wi-Fi network for an operating range of up to 100 metres. The latest version of Android Wear supports Wi-Fi connectivity and should appear on the next generation of Android Wear smartwatches as standard. Some existing smartwatches such as the Sony SmartWatch 3 that have a Wi-Fi chip should now have this feature enabled, so if you have recently bought an Android smartwatch, go through the upgrade process to enable the latest connectivity support. The Pebble Time watch is slightly different in that it does not support Wi-Fi so can't really operate within a wireless network without the smartphone. However it operates quite well when the connected smartphone is out of range and updates any information collected once a Bluetooth connection is established again.
Apple Watch
The Apple Watch comes in two different screen sizes (38mm or 42mm) with dozens of variations depending on the watch material or band type selected. You can pay anything from $24,000 for a solid gold Edition down to $500 for the cheapest Sport models we bought and tested.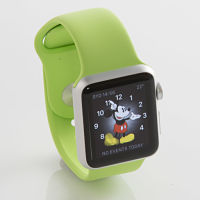 Apple Watch 38mm display
Both sizes of the Apple Watch feel more compact on the wrist than the other smartwatches we tested. Initial set-up is very straightforward; simply hold the watch face up to the iPhone's camera when prompted to pair the two devices and you're all set. To navigate, you select menu items and apps with your finger, or move through menu choices using a combination of button selections and rotation of the digital crown.
There's no virtual keyboard, but if you're familiar with the Siri voice recognition feature on your iPhone you'll find the Apple Watch a breeze to use as the voice-to-text feature for data input is simple to use and accurate.
You can't reply to emails, only view them, but you can read and reply to text messages using a selection of default responses or use your iPhone to add your own personal responses and save it in the list. You can also use Siri to send the reply as either an audio file or a converted text message.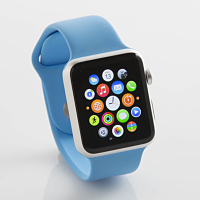 Apple Watch 42mm display
The apps you'll most likely use on a daily basis focus on notification (either via a sound or a small tap on the wrist) such as alerts for meetings, incoming messages and calls that you can take on your watch without having to remove your phone from your pocket. The fitness and activity apps are useful for day-to-day health checks rather than serious fitness, but provide timely reminders of when you should get up and stretch, walk around or generally take a break from sitting at your desk. Our tester found the heart rate monitor to deliver similar performance to the average fitness band, although unlike a fitness band, you still need to have your phone nearby.
The watch is charged with a USB-powered inductive charging cable, which you'll probably be using every night as a full charge only lasts a day. In fact, Apple claim they designed the charging cable to be so easy you can use it in the dark when you're not fully awake.
Android Wear devices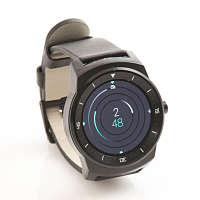 LG G Watch R
The Sony SmartWatch 3 ($299) and LG G Watch R ($359) operate on Google's Android Wear OS, designed specifically for smartwatches. Other companies committed to Android Wear include Motorola (Moto 360), ASUS (Zenwatch) and Samsung (Gear Live).
The pairing process for Android Wear watches, while not as straightforward as the Apple Watch, is not difficult and a short walkthrough on both smartwatches shows you the most common features and navigation instructions. Swipe left/right and up/down for the various settings and apps, and press the button on the side to turn the display on or off.
The out-of-box experience for the LG and Sony smartwatches is fairly basic, with the default messaging, calendar and fitness apps similar to the Apple Watch. However, there are many different apps to download and try out.
Android Wear's voice activation tool, which works in a similar manner to Siri, is called 'OK Google'. It works well for most situations, but our tester found Apple's Siri to be more accurate in recognising instructions.
If you receive a text and can't verbally respond, Android Wear smartwatches can respond from a series of options such as 'yes', 'no' and 'call you back'.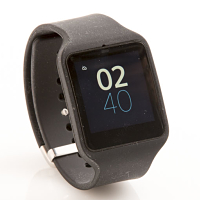 Sony SmartWatch 3
The Sony SmartWatch watch face is a similar square design to the 42mm Apple Watch, but it feels more bulky on the wrist. The black silicon band with metal clasp is easy to adjust to a variety of wrist sizes. The Sony is the only model we tested with a built-in GPS chip (the other watches depend on the phone's GPS) making it a useful option for fitness fans as you can store workout data on the smartwatch and sync with the smartphone after the run (although it doesn't have a heart rate monitor). The ability to save music playlists to the watch memory means you can work out and listen to some music without the phone in your pocket.
The LG G Watch R looks like a sports watch with a round face and minute notifications marked around the bezel. It doesn't have inbuilt GPS but does have a heart rate monitor so if you want to go for a run and record the data, you'll need to have the smartphone close by.
The Sony charges the watch using a direct micro USB cable connection, while the LG uses a small dock. Neither is as elegant as the Apple Inductive charging solution, but they're not particularly difficult.
Both the Sony and LG smartwatches deliver a small vibration or tap on your wrist to draw your attention to a notification and although effective, an audible notification would be a useful option, particularly if the smartwatch was on the table and not on your wrist.
Incoming calls appear on the screen and can be answered or cancelled from the Sony or LG smartwatch but unlike the Apple Watch, you can't take the call using the watch.
One major difference between the Apple Watch and the early version of Android Wear was the way the device dealt with notifications. If you closed an app on an Android Wear smartwatch it removed the app from your watch until another notification is sent by the smartphone. This can be irritating if you swiped an app's notification but wanted to keep it to view later. On the Apple Watch, you can select the app on the watch face and it will prompt the iPhone to show the relevant information stored on the smartphone. Thankfully the latest update to Android Wear has fixed this issue, with users able to keep their notifications on the watch and in the background.
Pebble Time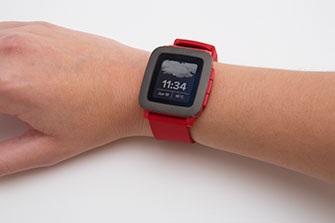 Pebble Time
The recently launched Pebble Time quickly became the most funded Kickstarter project ever, suggesting that many people want a watch that is smart (without being too smart) and lasts days rather than hours on a full battery. (Also, it helps if it's under $200.)
On the money
The latest Pebble Time adds a bit of colour (namely a colour e-paper screen), a microphone to dictate message replies and additional storage for more apps. Thankfully, it still delivers great battery life, an updated yet still easy to use interface and best of all, it's half the price of the cheapest Apple Watch and 100 times cheaper than the most expensive Apple Watch.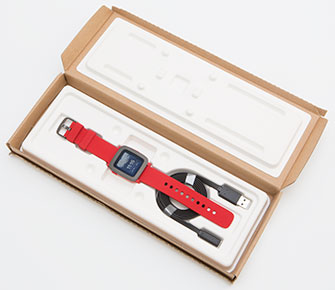 Pebble Time and the accessories it ships with
Our Pebble Time watch, purchased for just over $200 in the initial Kickstarter rollout, arrived in a recycled cardboard box, containing the watch, a proprietary magnetised USB charging cable (no charger) and a scrap of paper for a manual.
The 32mm diagonal display of the Pebble Time is small yet easy to read in normal lighting conditions, and it curves comfortably to your wrist. At only 43 grams and 9.5mm thick it's also lighter and thinner than the Android Wear watches from Samsung, Sony and LG and even the smallest Apple.
The silicone watchband is very comfortable to wear but its modern look may not appeal to everyone. Happily, you can replace it with any standard 22mm wide leather or stainless steel watch band and unlike some other smartwatches (we're looking at you, Apple Watch) you won't have to pay over $200 for the privilege.
Plays nicely with others
As with the original Pebble, the Pebble Time pairs with a smartphone (Android or Apple iPhone) via Bluetooth. Your iPhone needs to be a 4S or newer device and your Android device needs to support 4.0 or better. Once connected, the watch displays text messages, emails, incoming calls and social media updates, with a vibration alert to let you know when there's a new notification. You can choose from a variety of watch faces and backgrounds and the apps available cover productivity, health and fitness and entertainment. As with the original Pebble, you can use the Pebble Time as a remote control for a wide variety of products, from your TV and music system to an air conditioner or even an action camera. The fitness and sleep apps work particularly well with the Pebble Time as there's no need to take the watch off to charge every day.
A single button on the left side activates the back-light and also serves as a back selection. Three buttons on the right side of the watch include an Up button to view past events and a Down button to view upcoming events, while the middle button is used to make a selection. This timeline approach is a simple yet effective way to navigate around without the benefit of a touchscreen, though not as elegant as the Apple Watch crown dial.
While the Pebble Time supports both Apple and Android devices, the iPhone experience is a little restricted due to the limited support for features such as notification control and the inability to use the inbuilt mic to reply to SMS or email. Android smartphone owners can use the Pebble to reply with preloaded responses, emoji or input via voice using the mic.
The 'always on' colour e-paper screen is clear and easy to read. However the back-lighting is significantly less effective than the Apple Watch or most of the Android Wear watches we tested when reading small text in low light situations.
Open source option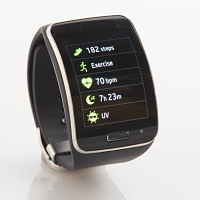 Samsung Gear S
The Samsung Gear S SM-R750B ($449) smartwatch runs the open source operating system, Tizen. The watch is unique in that it can accept a phone SIM card, effectively turning it into a communication device with full smartphone functionality. Once it's up and running (a Samsung smartphone is required for the initial set-up), you can load the fitness, social networking and email apps directly onto the watch. While the Gear S can perform most tasks without a smartphone, you still need to connect it to a Samsung mobile to upload apps, apply firmware upgrades and use the navigation feature.
The curved 2-inch display is excellent and offers easy readability. Although it's the only watch that lets the user enter text by tapping directly on the tiny on-screen keyboard, you can also use the Samsung voice recognition tool in the same manner as Siri or Google Voice.
It is without doubt the bulkiest watch in our round-up and looks and feels like a home detention tracking band. While this type of device won't be replacing the smartphone just yet, people wanting to ditch their smartphone may find it suits their lifestyle.
CHOICE verdict
The iPod, iPhone, iPad and now Apple Watch - Apple has generally waited for others to bring out the first generation of a device, allowing it to learn from their competitors' mistakes and deliver a more polished 'second generation' product to much fanfare and acclaim. In many ways, the Apple Watch is more polished and without doubt looks more like a normal watch, not a bulky sports watch, on the wrist. However, the Android Wear offerings perform their tasks well enough, and with many models at half the price would be better value.
The Pebble Time does a few things very well, such as telling time and providing clear notifications and updates, but doesn't try to be an all-in-one smart solution. So if you want a reasonably smart watch that's waterproof down to 30 metres, with some nifty watch faces and battery life measured in days rather than hours, then strap a Pebble Time to your wrist.
---
Latest Electronics and technology
Join the conversation

To share your thoughts or ask a question, visit the CHOICE Community forum.