Windows 10 update
Microsoft Windows 10 is finally hitting its stride. Is now the right time to upgrade or will you need a new PC?
Is this the best Windows ever?
---
Windows 10 was released to the public in July 2015. Since then, it's had several minor revisions and one major upgrade – the Anniversary Update, released in August last year. A second major upgrade ­– the Creators Update – puts a focus on augmented reality (AR), virtual reality (VR) and 3D. In particular, it supports creative tools designed for Microsoft's Surface Studio all-in-one desktop PC and accessories such as the Surface Dial and Surface Pen and will begin to roll out to Windows 10 users from 12 April.
In this article:
Reviews for Windows 10 have been generally positive, despite early criticism over automatic upgrading and privacy issues. Windows 7 still has the lion's share of the Windows desktop market, with around 48% (including laptops and Windows tablets), but Windows 10 is gaining ground and is now at over 25%, according to analysts Netmarketshare.

For comparison, Windows 8.1 is lagging at less than 7% and XP is still hanging in there with just under 9%. Although, keep in mind that the Windows 7 figures are bolstered by the large number of business and enterprise users that are generally slow to move to a newer OS.

Microsoft has aggressively pursued upgrading over the past two years by making it free until last July and for a while even automatic (if you didn't disable that option manually in settings). There's one exception, at time of writing the upgrade is still free for those who use assistive technologies.
Upgrade an old PC, or buy a new one?
For most people, upgrading will cost you $179 (for the Home version) and less if you qualify for an education discount. If you want the Pro version's features such as disk encryption, remote access, and support for virtual machines, plus more, you'll be up for $299. Compare the various versions.
Before doing either, first assess your current computer – if it's quite old you might be better off biting the bullet and just buying a new, faster PC with Windows 10 installed and the hardware to make use of it fully. Upgrading an older PC to Windows 10 will likely give you some but not all of the new Windows 10 features because some of the best stuff is hardware-dependent. You'll need a recent model PC to be able to use them.
What to consider
Even if you're not after the latest and greatest features that require new hardware, you need to decide if its worth trying to upgrade your old PC to Windows 10 (even if, technically, it should be capable of running it). While Windows 10 will run on relatively ancient Pentium-based PCs with as little as 2GB of RAM (memory), the experience isn't recommended. Try to do much of anything productive, like use Word or watch YouTube videos in a browser, and the system will slow, if not actually grind to a halt.
Our experience is the usability cut-off for low-end PCs is around Core 2 Duo models with 4GB of RAM. This will scrape through most day-to-day tasks, but it's worth seriously considering buying a better PC. Even the early Core i3 or i5 models will handle Windows 10 much better and for the i7 series it should be no problem to run Windows 10.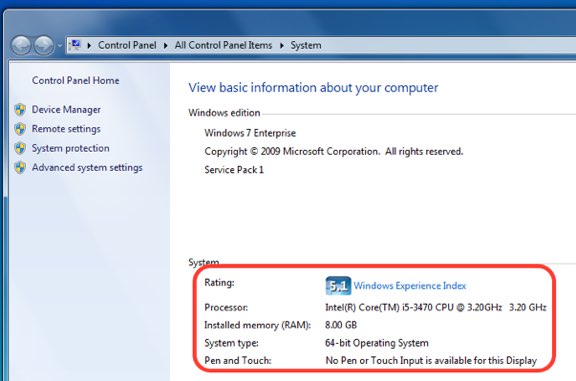 Check whether your computer is powerful enough in the system control panel
But again, there's more than just the processor to consider. Even if you update your several-years-old PC to Windows 10 you won't get the full benefits without fairly recent hardware. For example, speech recognition requires a high-fidelity microphone, and you need an infrared camera or a fingerprint reader for Windows Hello, the biometric security feature that can unlock your computer with your fingerprint or by recognising your face.
New features in 10
Like so many other Windows 10 features, the Edge web browser has learnt from the mistakes of Microsoft's past. Edge is now built on web standards, and since the Anniversary Update, Edge also supports plug-ins such as password managers, web clippers and ad blockers. Just like the Safari web browser in macOS, there's a reader mode to give articles a cleaner ad-free look. Edge also lets you turn off Adobe Flash support, improving security and battery life for laptop users.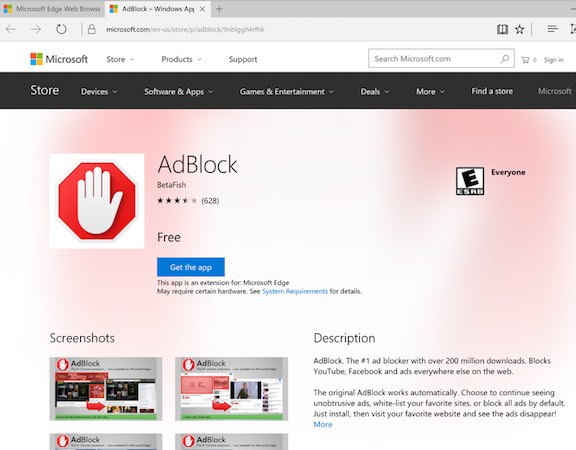 Since the Anniversary Update, Edge supports plug-ins, such as ad blockers
In fact, Edge could give your laptop battery an extra couple of hours, especially laptops based on Intel's M-series mobile processors. But it's only available on Windows 10, so you can't keep your history, search and settings in sync between computers using other OS versions. If you want to jump between Android, iOS, Mac and Windows, you might want to try the compact Opera web browser – it's notable for speed, built-in ad blocking, syncing on all platforms, and minimal battery use.
A new Windows Defender Security Center puts security and health options for devices together for easy access.
Always updating
Microsoft says Windows 10 is the last version of Windows – in name at least. From now on you'll automatically receive point upgrades to Windows 10, but it will keep the name Windows 10, just like Apple did with its OS X (for 10) operating system from 2001 to 2016 when it changed to macOS.
This "last version of Windows" idea is part marketing, part truth. Windows may never go up to 11, but last year's Anniversary Update was a major one. It was no XP-to-Windows 7 leap, as most of the look and behind-the-scenes code remained the same, but there were enough refinements to consider it a major upgrade. Think of it more like Android, iOS or macOS – they all get yearly upgrades that add new features and take some away. Sometimes the interface gets a polish, sometimes it's the underlying code. Overall, they're small enough changes that you won't feel lost, but over the years these incremental changes add up to a completely new operating system.
The main annoyance of the always-updating model is that Windows may choose the worst possible time for one of its mandatory security updates. To avoid an unexpected "just wait a minute, we're improving things" screen, you can now tell Windows when it's allowed to upgrade your PC, and what hours are off limits. This was yet another improvement brought by the Anniversary Update.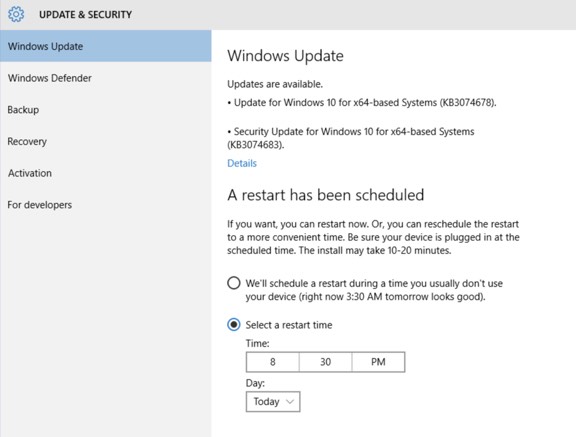 You have some control over when Windows can update and restart your machine
Smarter assistant
Cortana may not have the mind share of Apple's Siri, or the market share of Google Now, but it has the smarts to challenge both. Cortana was already a system-wide search tool, launcher, and internet (Bing) search tool, but the Windows 10 Anniversary Update gave Cortana the ability to understand more contextual requests and reminders.

For instance, you can tell Cortana to "remind me to put my phone on low-power mode when I leave the office" and it will do that, and "remind me to ask Malcolm about renewable energy when I see him next" and it will add that reminder to your next meeting, although it can't yet tell if you're in the same room with Malcolm.
Better yet, Microsoft has all but given up on Windows Phone so it's embraced Android and iOS. Both have Cortana apps that'll keep your questions in sync, so Cortana will have a more complete idea of who you are, and will better answer your queries.
For Android users, Cortana gets even more integration, and can read out notifications from your phone and let you know when your mobile needs a charge. You can even search for something on your Windows PC, and if the search returns a phone number, you can ask your PC to dial it on your connected Android phone. It's a clever way of Windows competing with the close integration of Apple's macOS on desktops/laptops with iOS on iPhones and iPads.
Pen support
The other major update was to Ink, Microsoft's support for on-screen drawing, signatures and the like. Windows 10 is built for touchscreens and the Surface Pen is one of the best stylus devices available, so it's natural for Microsoft to push these features heavily. Ink now lets you easily scribble over notes in OneNote, and sign off documents in Word or Acrobat. Drawing over the Maps application will even calculate the distance between two points. There's support for more pressure-sensitive hardware in creative apps such as Photoshop, too.
Clicking the Surface Pen will open up OneNote for quick note-taking on the Surface Book and Surface Pro, although some users may prefer being able to choose the app you want to open, as you can on most other Windows machines running Windows 10.
Get creative
Windows 10's latest focus is the Creators Update. The push from Redmond is on 3D, AR and VR, to enable the development and use of Microsoft's HoloLens. Microsoft's promotional material shows how the Creators Update lets you do such things as creating 3D objects in its Paint program and pulling them into PowerPoint. A new Paint 3D program lets users make 3D objects out of 2D drawings without any special knowledge of CAD (computer aided design). Users can share artwork at community site Remix3D.com and access a growing library of 3D objects that can be customised, saved and re-shared. You can also print directly to a 3D printer or printing service.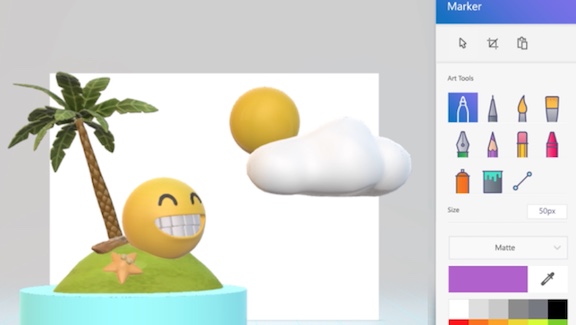 The Creators Update will let you paint in 3D
It's the kind of vision for the future that HP is pursuing with its new Sprout Pro G2, unveiled in January at the CES 2017 electronics showcase event. The Sprout Pro G2 is a Windows 10-powered all-in-one PC with built-in 3D scanner, that can turn a small object into a realistic, 3D rendered model that can then be placed in a virtual environment or CAD program.
Gaming on PC and Xbox
Gamers get a bunch of new features including Beam, which lets game players broadcast live gameplay on Windows 10 and Xbox One and allows interaction between streamers and viewers. There's also a Game Mode, which dedicates more graphics and processor resources to almost any PC game for increased performance. Gamers will also be able to take part in user-generated tournaments through Arena on Xbox Live. This will allow gamers to define competition rules, invite friends and track tournaments using various devices. Games can also be played in 4K resolution.
VR for all
Last year was seen as the year that VR hit the mainstream with the big guns being the Windows-based Oculus Rift and HTC Vive, although they have targeted their VR efforts largely toward well-heeled gamers – the price of entry being a powerful PC with buckets of RAM and high-end graphics cards.
Microsoft is keen to see VR experiences on Windows, for a mass audience looking for much more affordable gear than the high-end Oculus Rift and HTC Vive. To compete with the mid-range Google Daydream and Samsung Gear VR, Microsoft is partnering with Asus, Lenovo, Dell and HP to launch VR headsets for around $300. The headsets will include contain built-in sensors to enable six-degrees of freedom movement without requiring external sensors and work with new Windows Mixed Reality apps.
Before it had even left the beta preview, in many respects Windows 10 was already a better operating system than Windows 8, at least technically. In the 18 months since it's official release, it has matured into a stable, secure, full-featured OS. The Creators Update gives the platform a strong feature boost Microsoft hopes will breathe new life into PC sales worldwide.
Arguments for upgrading
If you're on Windows 7 or 8.1 your current operating system may meet your needs for now, but Microsoft offers fairly limited support for Windows 7 and 8.1, aside from security updates. Windows 10, however, regularly receives new features and functions. The Windows 10 one-year anniversary update is a good example, adding important online safety features, additional support for Cortana when the computer is locked, and improved power efficiency.
Windows 10 will also receive mainstream (regular) security updates until October 2020, but Microsoft stopped delivering these to Windows 7 in January 2015. In early 2020, extended (minor) security updates will no longer be released for Windows 7, whereas 10 will receive extended support until 2025. Once extended support stops, Microsoft will not guarantee system security, which is the case for people still using Windows XP.
Arguments against upgrading
There are a few valid reasons for sticking with an older version of Windows, such as if you are perfectly happy with your existing Windows 7 or 8.1 setup and aren't interested in the new bells and whistles that you get with Windows 10 (as long as official support for the OS continues, that is). Another reason is if you have a particular older program or piece of hardware that's absolutely essential, and you can't find a Windows 10 version (or similar program), you may want to stay on your current OS. Although most programs can run on Windows 10, either natively or in compatibility mode, some external hardware such as printers may not communicate properly. We recommend contacting the manufacturer to find out whether Windows 10 software drivers for your particular device are available.
Your computer must also match the minimum specifications for Windows 10, but the requirements aren't very demanding. If your computer's hardware is below the minimum recommendations, you should consider buying a new one if you want to run Windows 10.
How to upgrade
Our step-by-step guide takes you through the basic set-up of your new Windows 10 PC. This includes important custom privacy settings, which you should review. Although our guide is aimed at consumers who have purchased a new Windows 10 device, the steps are the same after you activate the upgrade on Windows 7 or 8.1.
Microsoft claims that your files, folders and programs will stay intact after the upgrade is complete, which was the case when we installed Windows 10 on our CHOICE test units. But you should still create a full backup before moving to the new OS, just in case something goes wrong.
---
Latest Electronics and technology