Parallels Desktop 13 merges Windows and Mac
Bring the best of both worlds to your Mac and more
Convenience wins
---
Parallels has once again waved its magic wand and given us a better Mac and Windows at the same time. By mashing up key features of both and then adding some special extra tools, you don't just get the best of both worlds, you get a seamless crossover that's better than either.
Just when you thought the very latest operating systems – macOS High Sierra and Windows 10 with the Creators Update – had all the bright ideas, Parallels Desktop for Mac 13 comes along with a few more new tricks up its sleeve, bringing Mac features to Windows and vice-versa.
Highlights
Picture in picture: Among the highlights of the latest Parallels Desktop is a new Picture-in-Picture mode that lets you keep an eye on one or more virtual machines (operating systems) at the same time while you're still working in macOS.
Touch Bar: Parallels also makes great use of the MacBook Pro Touch Bar. While support for the main Office apps and web browsers under Windows is included as standard, you can also build customised buttons for your favourite Windows programs to the Touch Bar.
People Bar: It also lets you put the Windows People Bar directly into the macOS Dock, giving one-click access to favourite contacts, and far more than the three contacts that Windows allows you to pin to the Taskbar in its own People Bar feature.
These sorts of conveniences are where Parallels shines, bringing added value that you don't get with a Boot Camp installation of Windows 10.
Easy installer
Installing Windows using Parallels 13 is actually easier than installing it on a PC. All it takes is a few clicks for a virtually unattended installation, including purchase of Windows 10 if you don't have it. Otherwise you can buy a Windows 10 product key anywhere and just plug it in later.
You can also move your existing PC to the Mac. Note though that while Parallels runs quite efficiently on a standard Mac, if you want to run multiple virtual machines then the more RAM you have installed the better, as each virtual machine will steal some from the overall memory pool.
Of course, there are free options for running Windows on a Mac, such as using the Mac's built-in Boot Camp installer, or using the free Oracle Virtual Box. Otherwise you could use VMware Fusion 10 ($108) or Fusion 10 Pro ($216)
But what you're getting with Parallels is a highly polished and super-convenient way to run Windows alongside (in a separate window), and even seamlessly integrated with your Mac programs in Coherence mode. It's especially suitable for non-technical users who just need both environments.
Each major Parallels update brings with it speed boosts – this time it's a claimed 47% faster working with Windows files – plus support for USB 3.0 mass storage and external Thunderbolt SSDs.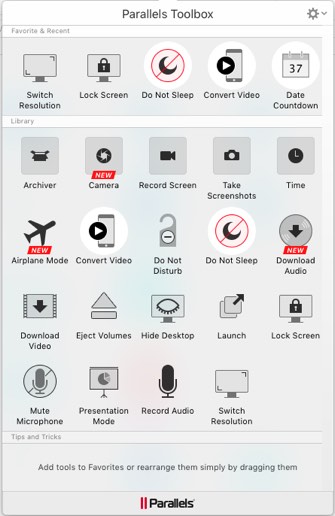 Toolbox grows
Besides Parallels Desktop you also get the latest version of Parallels Toolbox, now boosted to more than 30 quick tools for everyday tasks in both Windows and Mac. This year Favourite tools let you make an instant animated GIF, download a video from YouTube, Facebook or other sites, and record the screen including voiceover at the same time.
New for Mac is a Clean Drive feature to help remove clutter from your storage drive, while a Find Duplicates feature identifies identical files, even with different names, to help free up disk space. This handy set of utilities is also available as a separate purchase for both Windows and Mac.
Shortcuts
Also included in the Toolbox are shortcuts for:
switching screen resolution and locking the screen
downloading audio
switching to airplane mode
taking screenshots and screencasting (recording what's happening on your screen, which is handy for creating video tutorials)
converting video files for mobile devices
archiving files via zip compression, with the option to encrypt them with password protection
pop-up alarm, stopwatch, countdown timer and date countdown
one-click buttons for locking the screen, muting the microphone, recording audio and hiding the desktop – handy for when you're sharing or recording your screen, taking screenshots or doing a presentation.
Hovering your mouse pointer over a Toolbox item and pressing spacebar gives detailed information on its use. You can pin your most-used favourites to the top area of the Toolbox and they'll also turn up in Spotlight searches.
While Toolbox comes with Parallels Desktop, it's also available as a separate subscription for Mac and for Windows (you get 32 tools for Mac and 18 for Windows).
Toolbox can be a real timesaver, especially for tasks you do frequently. Sure, you can do most of these things the long way, if you know how and have the right tools, but the Toolbox makes you an instant expert. And it's this convenience that will keep you coming back to it, even when you're not actively running Parallels.
Parallels Desktop for Mac 13
Price: $99.95
Contact: parallels.com/au
---
Latest Electronics and technology