Razer Cynosa Chroma keyboard review
A comfortable, colourful keyboard for gamers that costs less than $100.
---
Expensive mechanical keyboards are, ironically, a dime-a-dozen these days, so it's nice to see Razer come along with an alternative that doesn't break the bank.
The Cynosa Chroma fills the gap between upmarket models and bog-standard options by combining the affordable functions of membrane keyboards with some of the bells and whistles usually reserved for their mechanical cousins.
Now yes, Razer does make a few compromises to give the Cynosa its $99 price tag, but the build quality and expansive LED lighting should satisfy enthusiasts looking to move up from entry-level keyboards that come bundled with their computer.
Ride the rainbow
Razer has poured most of its efforts into the Cynosa's light show – every key is individually backlit and can be reprogrammed using a bunch of pre-set effects (pulse, rainbow, wave and more) and game-specific settings. If a first-person-shooter users 'R' to reload their weapon, for example, the key may flash red when it's time for a new clip.
Lovely lightshow
Alternatively, you can adjust just about any setting across the entire keyboard using Razer's free Synapse software. It has a remarkably in-depth set of customisation tools so you can create various colour schemes and effects for a practical or simply aesthetically pleasing effect. Like the look of a blue keyboard that pulses rainbow when you hit shift? Program it in. Synapse can be a little tricky to get your head around, so prepare for a bit of trial-and-error before you really come to grips with the software.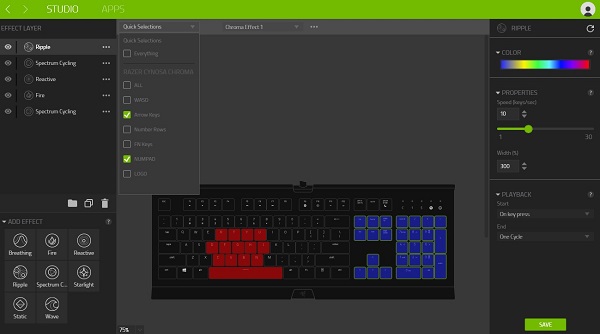 You can program lighting effects across the keyboard using Razer's free Synapse software.
Other features
Aside from the light show, Cynosa and Synapse also support:
fully programmable keys, so you can remap the layout to just about anything that suits your needs
full macro controls
game mode, deactivating Windows commands that can affect gameplay if accidently hit
10-key rollover, identifying up to ten keys simultaneously, which is handy if you want to perform multiple actions in games (such as reload and run).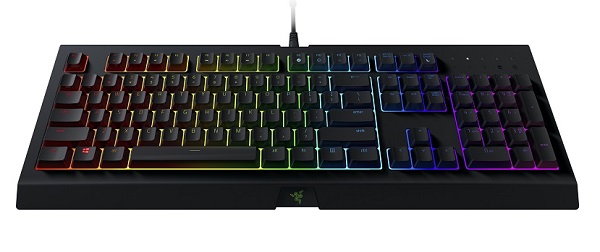 The rainbow lighting effect.
Build quality
Thanks to decent key size, spacing (pitch), travel and a well-designed body, the Cynosa is a generally nice keyboard to use. Sure, it's not as nice as mechanical keyboards, which deliver that satisfying "click" with every keystroke, but as membrane models go, it's comfortable and responsive.
Though Razer doesn't exactly specify what it means by Cynosa's claimed "soft cushioned gaming-grade keys", there's some semblance of truth to the vague description. The pressure required to type adds a springy, cushioned feel to each keystroke, so you don't feel like you're smashing keys against a hunk of plastic.
That said, it seems to be prone to damage, as the backspace key on our unit started squeaking after a few days – either a design flaw or an incentive to make fewer mistakes in life.
Still, the body is nice and solid for the price point, and will only start to flex if you put all your weight into it which, realistically, is unlikely to happen. Even then, the rubber grips do a good job of keeping the keyboard in place, while the splash-proof finish adds another layer of protection. The only real element that highlights its lower price point is the key plastic, which feels a little cheap.
While entry-level models generally do away with the bells and whistles, there are some noticeable omissions, such as:
dedicated media controls (play, pause, skip, volume etc.) – these are included as function keys
cable braiding to improve durability
a removable USB cable, as this makes transportation easier.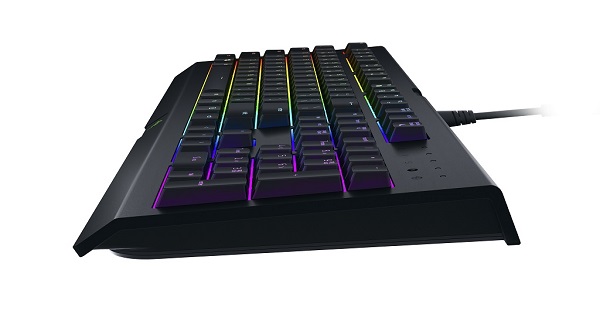 Thick build.
CHOICE verdict
The Cynosa Chroma can come up looking subpar when inevitably compared to typical 'gaming keyboards' with metal bodies and mechanical keys, but Razer isn't chasing that market. Outside this context, it's a comfortable, well-made alternative with a robust set of LED customisation tools that should satisfy the entry-level market and those who don't enjoy the clack, clack, clack of a mechanical board.
Cynosa Chroma:
$99
Cynosa Chroma Pro (includes additional LED lights under the base):
$139
razerzone.com/au-en
---
Latest Electronics and technology
Join the conversation

To share your thoughts or ask a question, visit the CHOICE Community forum.