Streets Paddle Pop and Smiths Snakata attract fines for health claims
11 July 2016 | Smiths and Unilever have been penalised for misleading "school canteen approved" logos.
Dodgy health claims
---
The Australian Competition Consumer Commission (ACCC) has ordered Smiths and Unilever to each pay $10,800 for false health food claims.
The move follows last year's CHOICE investigation which found that manufacturers were misleading parents by using made-up school canteen "certification" logos to imply their food was a good option for school lunchboxes.
The certifications claim that the products are "school canteen approved" and meet the amber criteria for the National Healthy School Canteens Guidelines, leading parents into believing products with these logos are a healthy option for kids.
Smiths' Sakata Paw Pizza Supreme Rice Snacks included a logo featuring the words "Meets School Canteen Guidelines" with an image of a sandwich and apple. Unilever's Paddle Pop Rainbow (10 pack) packaging included a logo on the front, back and one side of the packaging with the words "School Canteen Approved".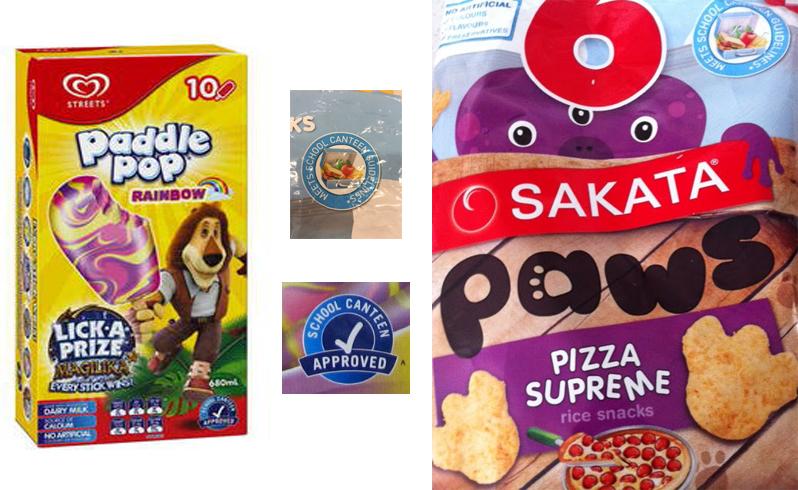 ACCC Commissioner Sarah Court said school canteen managers, parents, and caregivers rely upon product labelling when choosing healthy snacks for children.
"The ACCC believes both companies were using logos to claim that these products were a healthy option for school canteens to supply to children, when they were not," she said.
CHOICE spokesperson Tom Godfrey said the junk food giants were clearly misleading consumers with dodgy school canteen certification logos.
"The dodgy logos were deployed on packs to fool consumers into thinking they were making a healthy choice for their kids. This is a timely reminder to parents to be on the lookout for 'health halos' when navigating the supermarket aisles each week."
Unilever and Smiths have told the ACCC they will stop using the logos on their packaging.
For more on how to find well-balanced packaged foods, see our guide to lunchbox snacks.
---
Join the conversation

To share your thoughts or ask a question, visit the CHOICE Community forum.