Maxi-Cosi car seats recalled
25 June 2015 | Fabric cover could get caught in the harness adjuster.
Safety fears spark national recall
---
After weeks of customer complaints on social media, Maxi-Cosi has officially recalled one of its popular car seats, the A2 Euro, due to a safety issue caused by the fabric cover. To add to the consumer confusion, it's also withdrawn a more recent version from sale, the A4 Euro, after it hit major retailers' shelves before being properly certified.
Update 29/6/15: The A4 Euro trim has now also been recalled after the problem was found to occur with both models. Customers are being offered a replacement convertible car seat. In addition, the A4 Hera has been withdrawn from sale due to certification not being issued. Maxi-Cosi says a new trim will be available in August.
Harnessing the problem
Customers noticed that in some cases, the fabric cover on the A2 Euro convertible car seat (with two height markers) could get caught up with the harness adjuster, causing the shoulder harnesses to loosen. Anyone with this model (with a date of manufacture between 16 September 2014 and 12 March 2015) is urged to contact parent company Dorel on 1300 809 526 or contact customerservice@dorel.com.au to obtain a replacement fabric trim. The old trim will be returned to Dorel and not the retailer.
Consumers have not been told to stop using the A2 car seat, which is standards-approved and compatible with the latest ISOfix installation system, but while waiting for a new trim they must ensure the harness adjuster is clear of the fabric cover and that the shoulder harnesses are tight. More information can be found on www.maxi-cosi.com.au, the ACCC recalls site and on the Facebook page.(The A2 has also been tested by CREP, the consortium of motoring and government organisations.)
Update: The newer A4 Euro, with an additional shoulder height marking, has now been recalled due to the same problem as the A2. CHOICE has an A4 Euro in our labs right now and we checked to see if the fabric on the harness adjuster of the A4 could also become caught and cause the shoulder harnesses to loosen. Though difficult to replicate the problem, it was still possible. We urge parents to check that the shoulder harnesses are secure and that the harness adjustment mechanism of their car seat – regardless of model – is free from any obstructions while your child is being fitted, as this sort of trim design is a common one.
A4 version not approved for sale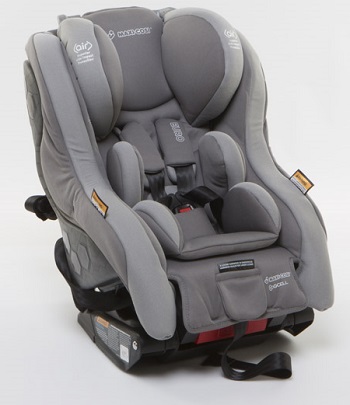 The Maxi-Cosi A4 Euro was withdrawn from sale pending official approval, then later recalled because it has the same fabric problem as the A2
In other worrying news, it's also been revealed that the newer Maxi-Cosi A4 Euro had been inadvertently released before the certification process was properly completed. Dorel has now withdrawn all the A4 models from sale. (Up until we called yesterday it was still planning to supply customers with an A2 as a replacement, but customers would have to wait two to three weeks until a version with the new trim arrived.)
The A4 is the same as the A2 but has three shoulder markings rather than two, and is designed to be rearward facing for up to 30 months (as opposed to only 12 months for the A2). Although Dorel says the A4 has passed the latest Australian car restraint standards, it nevertheless went on sale sporting an SAI Global approved sticker without official authorisation.
CHOICE recently tested the A4 for ease of use, but we won't publish our findings until it becomes officially approved for future sale.
The bottom line?
If you own an A2, you need to get a new trim for it. And if you own a newer A4? Well, not only did it go on sale without proper certification, but it's been recalled, too, and you'll need to get a replacement from Dorel.
Due to the recall publicity, consumers have reported problems getting through to the manufacturer hotline. Under Australian Consumer Law, consumers can contact their retailer to ask for a repair, or if it can't be repaired, for a refund or a replacement Retailer Baby Bunting told CHOICE that if its customers who bought an A2 or A4 from them are not happy with contacting Dorel directly (or are unable to), it is offering refunds and alternative replacements at discounted prices.
If you think you need to buy a new car seat, check out our buying guide.
---
Join the conversation

To share your thoughts or ask a question, visit the CHOICE Community forum.